Richard II
William Shakespeare
Shakespeare's Globe
–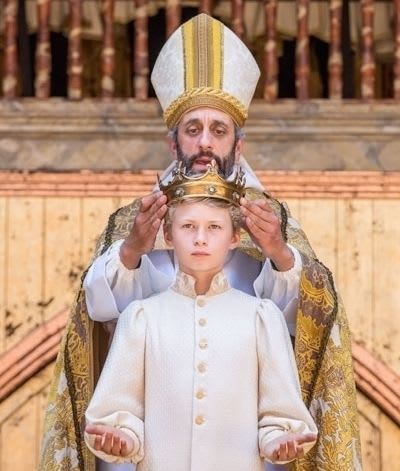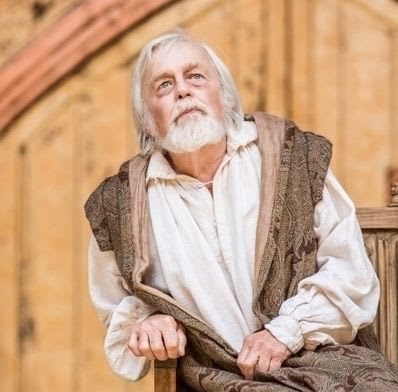 Shakespeare's play deals only with the last years of Richard II's reign when dissatisfaction with his rule among many of his nobles led to his abdication but director Simon Godwin opens his production twenty years earlier with the coronation of the ten-year-old king.
At the heart of this spectacle, the Archbishop of Canterbury, in words much like those that Richard himself will use later, refers to the monarch's divine appointment, thus establishing this theme from the start.
Designer Paul Wills has transformed the Globe stage. Simple wooden planking and more medieval arches replace its ornate renaissance façade but then he covers everything, stage floor, pillars and scena, in gold leaf, a glittering frame for the coronation chair and a shining embodiment of Richard's self-indulgent idea of his role and the extravagant life of his court.
A shower of gold foil falls on the groundlings at the crowning then as the boy king is replaced on the throne by the grown Richard, the richly sombre robes of his uncles and nobles contrast with the caps and patterned short tunics of his fashionable rather camp courtiers and the white-robed king over whom they are thought to have far too much influence.
Charles Edward's arrogant Richard has a caustic tongue and a confident authority. This king is clever, not a foppish fool despite his sycophantic hangers on. You can't be sure that what seems to be impetuously impulsive is not a pre-considered plan. There's a point when he sees through his own self-glorification and finds humility, falling like Phaeton. He doesn't try to conjure up sympathy but notches up points with intellectual gaming.
David Sturzaker as Henry Bolingbroke, the cousin Richard banishes who comes back to replace him, superficially better-looking and more likeable, doesn't seem at first a hard man, but behind the honest front of the opportunist there's a strategist.
The Duke of York, the uncle Richard leaves in charge of the kingdom while he takes his army to Ireland, is sometimes played as a fool but William Chubb gives him serious stature, making even more funny the comic scene when his wife (a passionate Sasha Waddell) and son Aumerle (Graham Butler) try stop him rushing off to tell the king of Aumerle's treason.
There is a strong Northumberland, rebel Henry's main ally, from Jonny Glynn; at one striking moment he hones his sword as Bolingbroke orders executions. There is a dignified Bishop of Carlisle from Oliver Boot (in contrast to his lively Mowbray) and William Gaunt as John of Gaunt, Henry's father, confronts Richard fiercely and delivers the famous "Sceptred Isle" speech with a leisurely relish.
The verse is consistently well handled and delivered trippingly on the tongue (as Shakespeare instructed). There was no need for the occasional musical underscoring, a distraction rather than being supportive.
With Richard's White Hart banners hanging from the galleries, processions through the groundlings speeding movement as scene follows scene, this lucid production gives a feeling of physicality to a play that is essentially cerebral.
From the royal pomp of its opening to the intimacy of Anneika Rose's Queen Isabel, Simon Goodwin ensures that the audience is always engaged with what is happening, observing not uncritically, amused by a court catwalk show, moved, in the end, by Richard's situation and wondering how Henry is going to handle the situation into which he has manoeuvred himself.
Reviewer: Howard Loxton