Richard III
William Shakespeare
Shakespeare's Globe
Apollo Theatre, Shaftesbury Avenue
–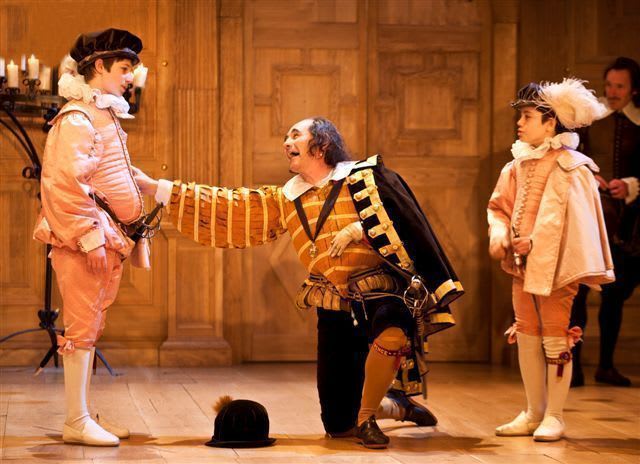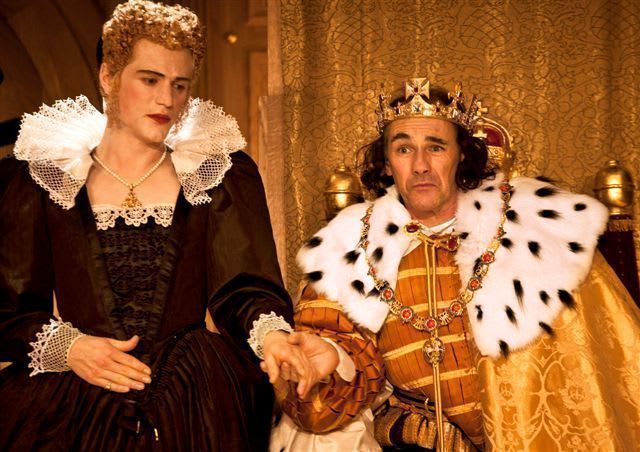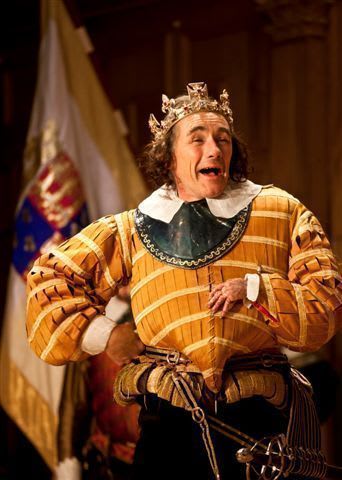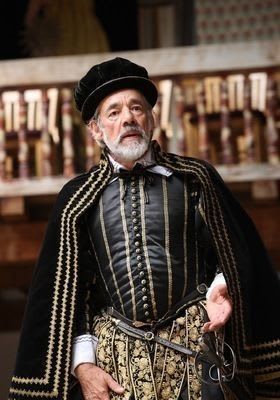 The bills call it The Tragedie of King Richard the Third but Tim Carroll's production, transferred to Shaftesbury Avenue from Shakespeare's Globe, is rather The Comedie of King Richard.
From his opening speech, Mark Rylance's Richard of Gloucester is getting laughs. It seems more like how Will Kempe, rather than Richard Burbage, might have played him. This is not just backstory and confession but an insider sharing court knowledge, someone saying, "watch me—this is what is going to happen—I am letting you in on it".
It is a perfectly valid and very intelligent presentation that is perfectly justified by the text but will be a surprise for those who don't expect to find tragedy funny—but this is Shakespeare and he never had any problem in bringing to the two together. The play has been judiciously and quite heavily cut and comes in under three hours including interval.
I did not see this production when it was playing at the Globe so cannot comment on any changes to adapt to a proscenium theatre, but imagine with no groundlings edging the stage it is perhaps a little less raucous and the temptation to play exaggeratedly to the house which sometimes affects performers there will have been less.
Designer Jenny Tiramani has turned the stage into a semblance of a late medieval hall. A portalled screen and minstrel's gallery, based on one still existing in Wadham College in Oxford, turns the stage into the great hall of a grand house or one of the Inns of Court. The addition of two levels of audience seating in galleried "standings" on either side also follows late Elizabethan practice and brings an additional suggestion of an indoor Elizabethan theatre.
Attendants are lighting hundreds of candles in multi mounted candelabra between two doors and four great hanging chandeliers which are then raised above. A nice cross-centuries touch is the modern blue-tied usher standing next to an actor-usher in Elizabethan garb who welcome audience members onto the stage to take their seats in the standings. Auditorium lights are never completely extinguished, which also helps unite the stage with the house despite the division of the theatre's proscenium.
The play is dressed and cast in the tradition established by the Globe of "original practices" productions. Costuming is of the period when the play was written and the female roles are played by young men. The music, arranged or composed by Claire van Kampen, uses sounds of the period and is played on contemporaneous instruments.
Mark Rylance gives Richard a halting gait and a quicksilver brain. His doublet is striped like a wasp with a cloak over one shoulder that may hide a hump. One arm is withered but the other can flash a dagger in the face as fast as a sting. This man is dangerous but he has a cunning kind of charm.
It's a cliché to say that an audience loves a villain but some of them adore this one, shouting out their support. Some of that Globe spirit has certainly crossed the river along with the actors.
While sometimes Globe actors get carried away by audience closeness and involvement, Rylance knows just how to handle it. He never goes too far. You wonder at this Richard's clearness and ability to always wrong-foot others, while at the same time he is cleverly manipulating you.
It is not until he is installed as King and no longer needs your support that wonder, almost admiration, of his plans evaporates at their fruition. His Queen, standing blank-faced and silent beside him, listens hypnotised like a rabbit by a cobra as Richard tells his minions to spread the news that the Queen is unwell and talks of marrying her replacement. Now the derangement that has always been present behind the cleverness breaks through. This Richard is a madman.
Richard's chief ally as he steps over bodies to the throne is Roger Lloyd Pack's Duke of Buckingham, confiding in the audience only so much as he needs to rouse up the rabble. You never quite believe him, for this Buckingham seems a cold politician who has no populist charisma.
This is a nation that has had years of civil war. Some are opportunists seeking preferment by getting on Richard's wagon, some just plain scared and some just shocked and exhausted, like Johnny Flynn's white-faced Lady Anne, just going through the motions, almost acting our mourning. It is not until the threat turns on the young princes Edward and Richard that she, and especially Samuel Barnett's Queen Elizabeth and James Garnon's Duchess of York, are sparked by outrage into a fiery attack upon mad, monstrous Richard.
Even when not on the stage, Rylance's Richard seems ever-present, dominating other performances. There are a couple of actors who don't make much of their roles but for the most part it is because these people are all pawns in Richard's game.
It is appropriate that, in the company's final Bergomask, Rylance holds back and lets the rest of the company get the candle light before coming forward himself, for around his performance is a hardworking supporting company in a production which, if not always crystal clear, is engrossing.
Reviewer: Howard Loxton