Richard III
William Shakespeare
Headlong, Bristol Old Vic and Alexandra Palace with Royal & Derngate, Northampton and Oxford Playhouse
Bristol Old Vic
–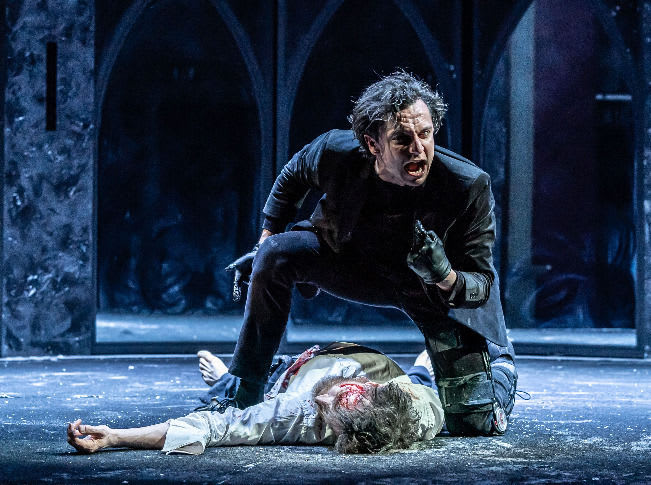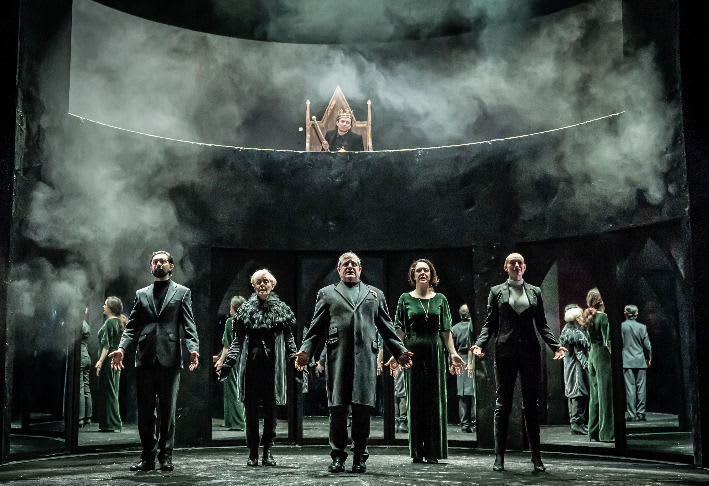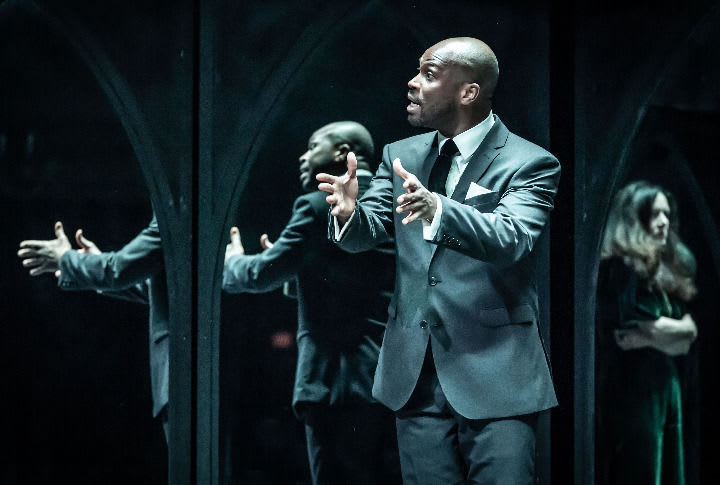 You can't help but think Richard III would enjoy being alive right now: posting endless selfies on his Instagram account, frantically applying all the filters to present an unblemished profile. While Bristol Old Vic and Headlong's dazzling new collaborative production of Shakespeare's most notorious serial killer doesn't quite reach this level of narcissism, director John Haidar succeeds in emphasizing Richard's ingrained combination of vanity and self-loathing and rooting it firmly in the present.
The stage is set by Chiara Stephenson's crown-shaped, tiered design of two-way mirrored doors that offer multiple perspectives, revolving for entrances and exits but staying firmly closed as Tom Mothersdale's Richard takes centre-stage. In this circle, he plots his ruthless schemes or imprisons yet another of his victims and Mothersdale, in a mesmerising performance that marks his arrival as a top-flight force to be reckoned with, makes the space his own. Twisted out of shape, his left leg braced, his Richard is nonetheless capable of moving with swift dexterity, his physical speed more than matched by the mercurial machinations of his mind.
Mothersdale's portrayal of this most complex of men is detailed and nuanced, full of character tics as he prowls the stage seeming to capture every fleeting thought. His Richard veers from murderous venom to dark humour to charismatic charm in an instant, wooing Leila Mimmack's Lady Anne to be his wife despite her being fully aware of all he has done. And the audience is no less susceptible, witnessing misdeeds yet still drawn in by his direct address and sly asides.
Crucially, Haidar's production, in reshaping the text with elements from the three parts of Henry VI, shines a light on Richard's relationship with his mother, the Duchess of York, allowing a glimpse of the underlying traumas that have brought her son to where he is.
The play's central character is supported by a strong cast speaking Shakespeare's verse with impressive clarity, notably Stefan Adegbola as Richard's smoothly faithful ally Buckingham, whose squeamishness at killing the young princes in the tower is ultimately his undoing. Heledd Gwynn brings a striking presence to her dual roles as Ratcliffe and Hastings and Eileen Nicholas is an impassioned, desperate but steely force in holding Richard to account as the Duchess of York.
Scenes are enriched with Headlong's trademark theatricality: red flashes accompany a violent death, the circlet of light above intensifies, sounds judder and buzz and there are jump-in-your-seat moments as the body count rises. But it isn't overdone; Richard's coronation is marked with a visually and musically exquisite but simple ceremony. When he finally attains his coveted place on the throne, the crown that has been suspended out of reach in the first half is finally his.
At times, the mirrors fade to glass to reveal the mounting casualties of Richard's tyranny, looking on from behind and beckoning yet another to their fold. As Richard's merciless victory begins to unravel, he is increasingly haunted by their presence; ghosts that crowd his mind, mocking and tangible in his dream before the final Battle of Bosworth. By his own death, Richard becomes the eternal outsider, caked in mud, vilified and shut out by his own actions.
Whether Shakespeare's tale was anti-Plantagenet propaganda or not, this vivid new Richard III is a compelling reinterpretation; an outstanding contemporary take on the most heinous of kings that almost—just almost—elicits your sympathy and certainly dwells long in the mind.
Reviewer: Claire Hayes