Richard III
William Shakespeare
York Theatre Royal and Nottingham Playhouse Theatre Company
York Theatre Royal
–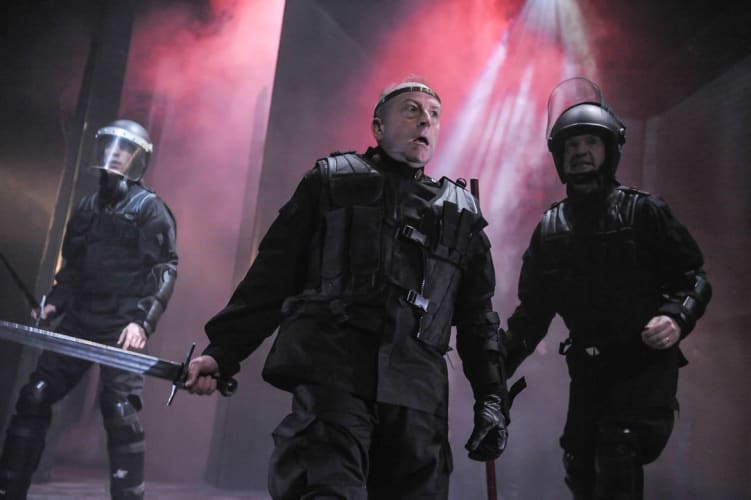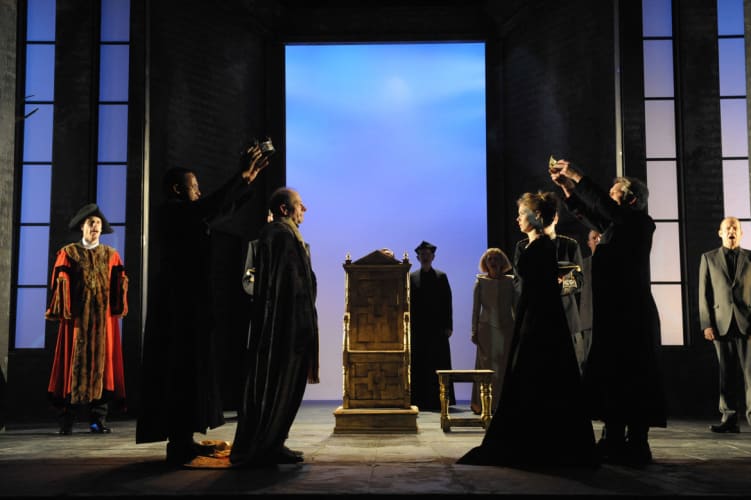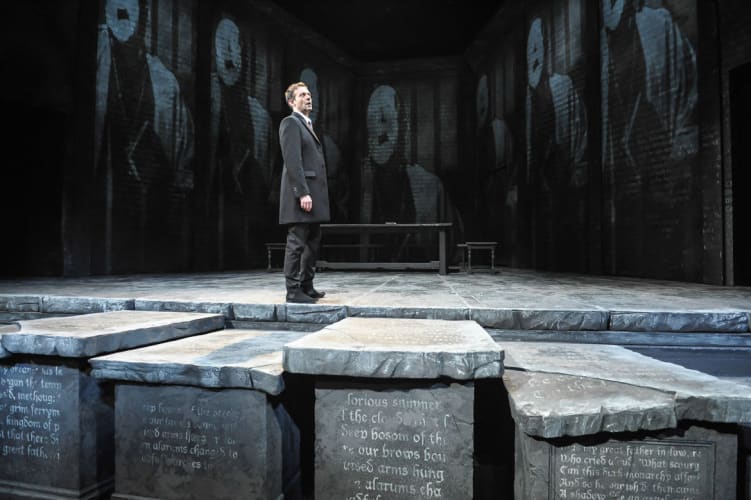 The hefty, etched stone memorial slabs which tower the height of the Theatre Royal's proscenium arch and jut out towards the stalls, making up the walls and floor of a cavernous playing space, act as a constant reminder of the recent rediscovery of Richard III's twisted bones beneath a Leicester car park.
Against this grand and effective backdrop, we see early hints of the mixed / modern setting of this version, with the 'sun of York's' entourage glimpsed carousing to disco music as Richard appears, launching his vitriol over these idle pleasures of the day.
Simon Higlett's imposing set, together with Mark Jonathan's varied and atmospheric lighting design, is one of this production's strongest points, but its multiple transformations don't quite always connect with the show in convincing ways. Loveday Ingram's direction is full of visual and technical trickery but falls strangely flat in some of the play's most powerful scenes.
It's perhaps telling that Ian Bartholomew's Richard draws a laugh on his declaration that he is 'subtle', false and treacherous; already at this stage he has shown his hand as a Richard leering occasionally into villainous winking at us. Yet at moments (even here), we see an actor unafraid to talk plainly and powerfully to the audience.
After the interval, when he's called upon to show increasing bursts of energy as his machinations escalate even out of his own control, Bartholomew is much more roundly convincing—at times gripping. He treats his pre-battle qualms with a simple terror which suggests a Richard which might have been, had he dug deeper into genuine power.
Bartholomew, along with the rest of the cast, is not helped by some patchy staging. The wooing of Lady Anne (Natalie Burt), like several of the early scenes, is curiously static, and Ingram's use of bodies in space rarely matches the excitement of the set's technical capabilities. Actors in duologue are often left facing each other across the width of the stage, emoting on more or less a single note for a whole scene. Again, here, the costumes, a mixed bag from across the ages and idioms, look nice but hamper the actors' physicalities at crucial moments.
Milo Twomey's Buckingham is efficiently suave but, like many of the other supporting cast members, he gets stuck in postures rather than exploring the nuances of the verse. Despite dutiful work throughout the cast, this is Bartholomew's show—and the problem is that he is only sporadically truly gripping.
This is not to say there is nothing to commend here. It's merely a production curiously hemmed in by its technical trickery, and by moments at which concept takes precedence over text. There are some points at which it all comes together immaculately, such as the enticement of Richard to take the throne.
Bartholomew is somewhat unnecessarily (albeit impressively) projected across the height of the stage, but his performance here is pleasingly straightforward, like a pontiff in his balcony, demurring with stately presence. And in the pre-battle scene, the camps of the opposing sides are swiftly and imaginatively conjured.
The battle itself perhaps embodies one of the production's main flaws: the whinnying of (the indispensable) horses mingles with gunfire as opposing factions don riot gear only to fight with broadswords and wooden poles. Even if we embrace these mixed metaphors, the staging is similarly unsettled, privileging momentary tricks which only sometimes cohere into a thrilling whole.
Reviewer: Mark Love-Smith