Richard III
William Shakespeare, adapted by Edward Hall and Roger Warren
Propeller
Yvonne Arnaud Theatre, Guildford, and touring
(2010)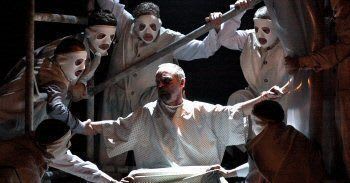 Appointed only this year as the new artistic director of Hampstead Theatre, Hall must have his work cut out to re-establish this as the forward thinking producing theatre of former years, but he hasn't deserted Propeller, the all-male company he founded in 1997, and is directing the productions of Richard III and Comedy of Errors which, performed in repertory, have begun an an extensive national and international tour.
At Guildford we have Richard III, the sixth and final chapter in Hall's staging of the Wars of the Roses cycle, which promised to be the bloodiest and most gory of them all - and they didn't lie. The scene (designed by Michael Pavelka) is a wasteland of scaffolding, screens and eerie mists as the cast begin to appear one by one, creeping silently and menacingly onto the stage to stand motionless, staring fixedly and threateningly at the audience through what appear to be hollow eyes, and every one carries an instrument of destruction - a hand drill, a saw, a hammer or a knife. Even a chain saw appears later in the play. The fact that their faces are covered with a version of surgical masks hiding all but their eyes and mouths induces apprehension and fear, and the play proceeds as a cross between Casualty and Hammer Horror films as Richard begins his bloody assent to the throne annihilating everyone in his path.
In the midst of tragedy there is comedy and much is made of witty repartee and visual humour, particularly obvious between Richard and Jon Trenchard's Lady Anne whom he woos over the bleeding corpse of Henry VI. He certainly has charm, I'll give him that, but it appears to be a large and expensive ring which wins the reluctant lady, forcefully regained when she is discarded. The murder of the Duke of Clarence too has its humour with the two murderers performing a comical double act, happy in their task.
Blood is everywhere, splashing up the screens and the white coats of the masked ones and many an agonised scream rips through the atmosphere, closely followed by a cheerful song. Even Down Among the Dead Men (an 18th century folk tune) has a pleasing swing as it charts Richard's descent into Hell. There is so much music (provided by Propeller, with additional arrangements and original music by Trenchard) that some actors have renamed the show Richard III - The Musical.
Richard Clothier, a long-standing member of Propeller, is Richard - a mesmerising performance of steely and ruthless ambition interspersed with some comical, but meaningful, conjuring tricks as he produces from nowhere a bunch of flowers or a bloodied handkerchief, and when he finally gains the throne he has to jump up to it suggesting that the role of ruler is too high a position for him to manage, and eventually self-doubt creeps in.
The two little princes are appealing and totally delightful as they trustingly hold onto their mother's skirts, play and giggle with each other. Easy to forget the fact that they are puppets expertly controlled by the puppeteers, and the soothing lullaby which is played as they happily bed down in the tower adds to the illusion of adorable little children, soon to be no more.
This inventive company bring the most thrilling, and the most wayward, production you are ever likely to see - truly mesmerising.
Touring (with "The Comedy of Errors") to a festival in Girona, then the two productions visit Sheffield, Newcastle, Coventry, Norwich, Edinburgh, Cheltenham, Salford, Newbury and Plymouth. There are also international dates in Ann Arbor, Michigan, Boston, Neuss and Galway.
Velda Harris reviewed this production at the Lyceum, Sheffield.
Review by Sheila Connor (2010)
Reviewer: Sheila Connor