The Riddle of the Sands
Philip Dart after Erskine Childers
Chalkfoot Theatre Arts
Jermyn Street Theatre
(2010)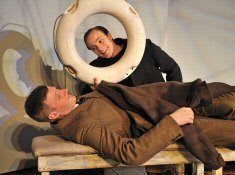 Espionage drama these days is such serious business. It's all split screens, ticking time bombs and torture. It's enough to make one yearn for simpler times, when a rather staid civil servant type could foil a dastardly German plot in the course of a yachting holiday in the Baltics.
Enter Chalkfoot Theatre Arts, with an inventive adaptation of Erskine Childers' novel The Riddle of the Sands. The story's influence on writers like Fleming, Buchan and Le Carré is so clear throughout that it's hard to fathom why Childers isn't more of a household name; perhaps this production can help rectify that, at least for as many households will fit in the cosy Jermyn Street Theatre.
What the production lacks in tension - and there is some, but no more than in, say, an episode of Scooby-Doo - it makes up for in playful good humour. A boat chase is acted out using a pair of little models, which the two performers wave about with deadly seriousness. A climactic dinner party makes a comedic virtue of the unfavourable performer to character ratio. The yacht's low ceilings and narrow companionways make for some mime-based sight gags that could almost be called clowning.
It's a cuddly, rose-tinted portrait of a time when baddies obligingly labelled themselves as such with eyepatches and wobbly German accents; a time when heroes needed no more motivation than a spirit of adventure and a sense of patriotic duty. In reality there probably never was such a time, but to imagine there was is a welcome change of pace from an increasinly tense, suspicious, cynical world.
Until 22nd May
Reviewer: Matt Boothman