Rider Spoke
Blast Theory
Barbican
(2007)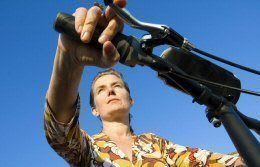 Every fifteen minutes five cyclists leave the Barbican equipped with a small computer screen, in-ear headphone and mike to find 'hiding' places where they can answer questions posed by a soft voice in the ear and spelled out on the screen or listen to those that other participants have recorded. In theory participants are invited to explore the City of London: wherever they like, provided that they can get back in one hour. This is Rider Spoke, or rather perhaps Bikers Speak.
The Trek bikes provided by one of their sponsors are very light and comfortable to ride and I liked the idea of exploring London from the Tower to Temple Bar, looking for 'secret' hiding places, perhaps discovering things about the City I had never known and becoming part of some interactive drama. The instructions were go City-wide, I couldn't get the person who briefed me to be more specific, but I did wonder just how far afield was possible.
Where to go? With one way systems deciding some directions for you, choice is limited and I certainly couldn't think of anywhere that I would call a hiding place. I had to find one to get properly started by recording a message identifying myself and giving my self-description - but it can't be any hiding place, it has to be one that the system approves of and one that no-one else has used. An identifying symbol appears on your screen if you have found one and it took me quite a time before that happened. That might be because I was concentrating on cycling, watching the road and not the screen, and went off road to find my secret places and only coming back onto the road from one did I receive the needed confirming image.
In fact, not having previously cycled in this part of London and finding the night streets unfamiliar and still full of traffic I didn't go far afield, exploring some of the close neighbourhood and the Barbican complex itself.
It slowly dawned that I could cycle around until an image appeared, and it certainly didn't happen in anywhere that I would call a hiding place! What I thought was something to encourage participants to seek out the nooks and crannies of the city and especially interesting places selected by Rider Spoke creators is actually a matter of finding somewhere within range of a wifi internet point. When you start looking for other people's hiding places there is little point in trying to find somewhere special that might have attracted others and then checking your computer screen. You can just as likely be cycling along a main road as being somewhere special. The hiding is purely electronic: it is not about the nature of the place but about its orientation. More like sticking pins in a map than exploration. This turns out not to be a show about planned physical revelations, though being on a bike in this part of town at night and forced to follow one way signs did give me a much stronger reaction to some aspects of the environment then walking through in daylight or hurrying along known routes from the underground or bus route to and from a play or concert.
One of the questions I was asked was actually about the environment: 'Find me a stinking arsehole of a spot and tell me all about it.' In fact the spot I found didn't produce a symbol and I left my message about traffic fumes and menacing office blocks from somewhere that gave me respite from them and the same went for when asked to find a place my father would have liked. I had ride past several pubs before I could find one and suddenly got contact some fifty feet past one of them.
There is nothing in these questions that relates them to the Barbican, let alone any exact place; they certainly aren't truly site-specific. Some questions do ask you to chose particular types of location and then comment, to look through a window, or select a building, and describe what you see and why you would like to go through it or what you would want to do there. These could be applied to all cities and many other locations. Perhaps this is deliberate - one show fits all venues.
The input is really all your own or that made by other participants whose messages you find. Other participants may have better luck, but the message from others that I encountered were of little interest. One just stalled after repeating the question, another, which described being drenched in the rain, was clearly not recorded that fine-weather first day at the Barbican but a prearranged plant.
I'm not complaining that the creative team added something of their own. This is supposed to be a theatre experience - at least it is part of BITE (Barbican International Theatre Event) and theatre is not real life, though it may incorporate it. But this is not theatre as I would normally define it (and let's leave that definition for another occasion or the run will have ended before you read this!) - it's a kind of computer game. Indeed, it has been devised as part of the Integrated Project on Pervasive Games with Matt Adams, Dan Lamont, Ju Row Farr, Hannah Talbot and Nick Tandavanitj who make up Blast Theory collaborating with the Mixed Reality Lab at University of Nottingham, Sony Net Services and the Fraunhofer Institute.
Does it work as a game? Does it break new ground? In theory it works, though I cannot say I found it a very stimulating experience and I have certainly attended earlier experimental work where I recorded my own messages and listened to those of others. It is certainly an idea that could be developed. With a format like a treasure hunt it could incorporate a narrative, it could be part of a promenade that involved elements of site-specific performance, or it can be used as a form of tourist or heritage guide - indeed I think wifi already is used this way, and four years ago in Linked Graeme Miller created a route of sound pick-up points that recaptured the story of a area of London suburb demolished to make way for a motorway.
I found Rider Spoke insufferably slow. Having found a hot spot 'hiding place' it takes a long time to for the computer to make its connections and it was this, rather than looking for the hot spots that meant I only found three messages and recorded four. I was not alone in finding the initial briefing failed to give us the information needed to get started. You don't answer the opening question when you receive it, you must ride on to find another place of your own to make your first recording, and a demonstration of the recording method would be helpful
In a theatre work I expect some sort of interaction. That may not be between characters in the drama: it may be between work and spectator, and I accept that this can still be a solitary experience, like Deborah Warner's St Pancras and Tower Projects. It is the quality of the experience that matters and, for me, Rider Spoke scored low, at least in this location. If I was getting the atmosphere of the place I could just wander around on foot and see the same the glass high rises, council estates, blank warehouse walls, the garbage truck blocking my way, the dinner-jacketed wealthy going into a reception, I could have gone into pubs, spoken to real people. In another location cycling might open up the experience, here I felt it closed it. But is choice of location restricted to somewhere with an existing wifi network or is it installed for the project?
Blast Theory made no attempt here to construct a narrative or to give the experience a dramatic structure. This is my first exposure to their work, and that may not be where their interest lies, but it would seem to me that to apply these techniques in that direction would be a much more fruitful exploration of them.
Until 21st October 2007. Blast Theory are exploring the possibility of presentation in other locations.
Reviewer: Howard Loxton