Rigoletto
Giuseppe Verdi, libretto Francesco Maria Piave
Maggio Musicale, Florence, Italy
Released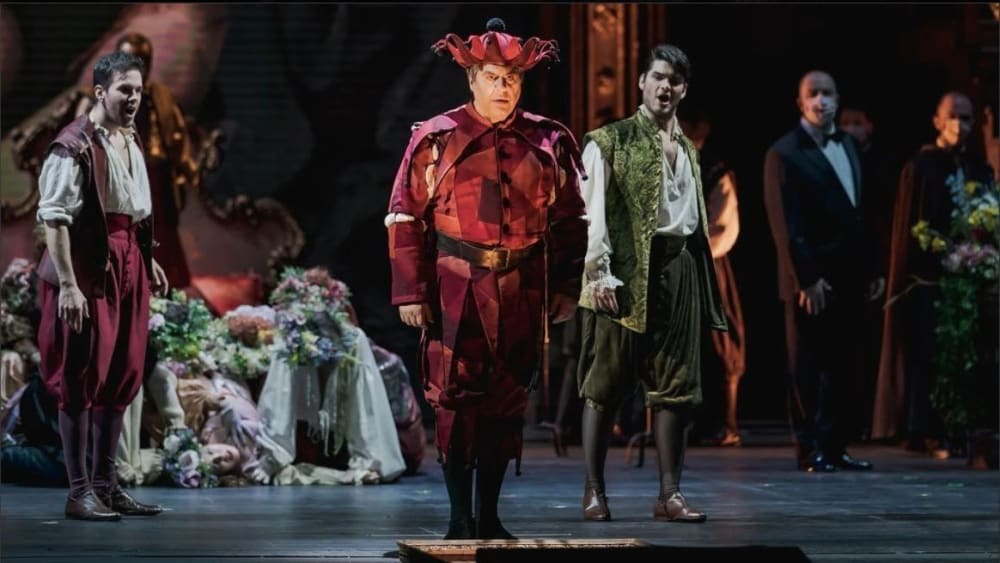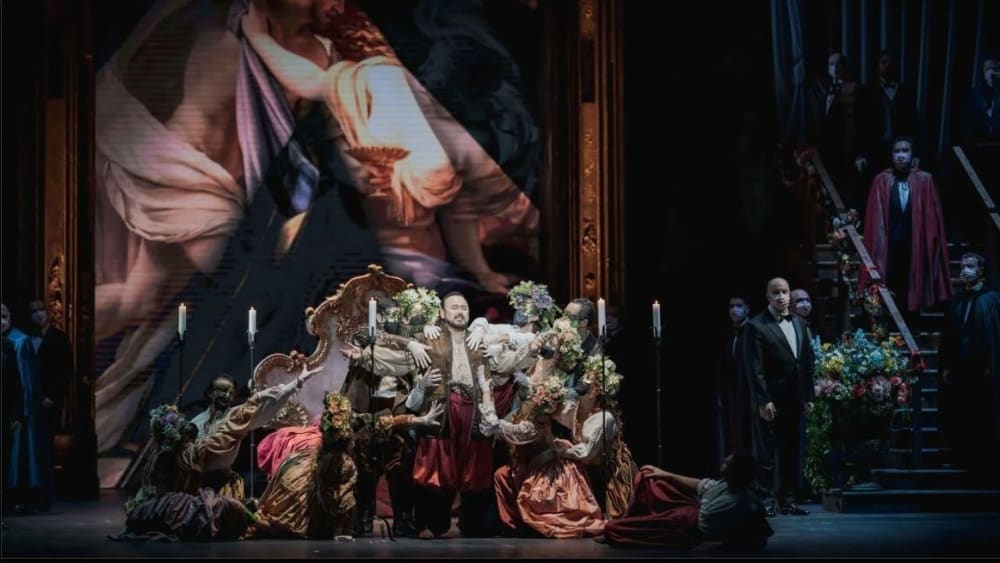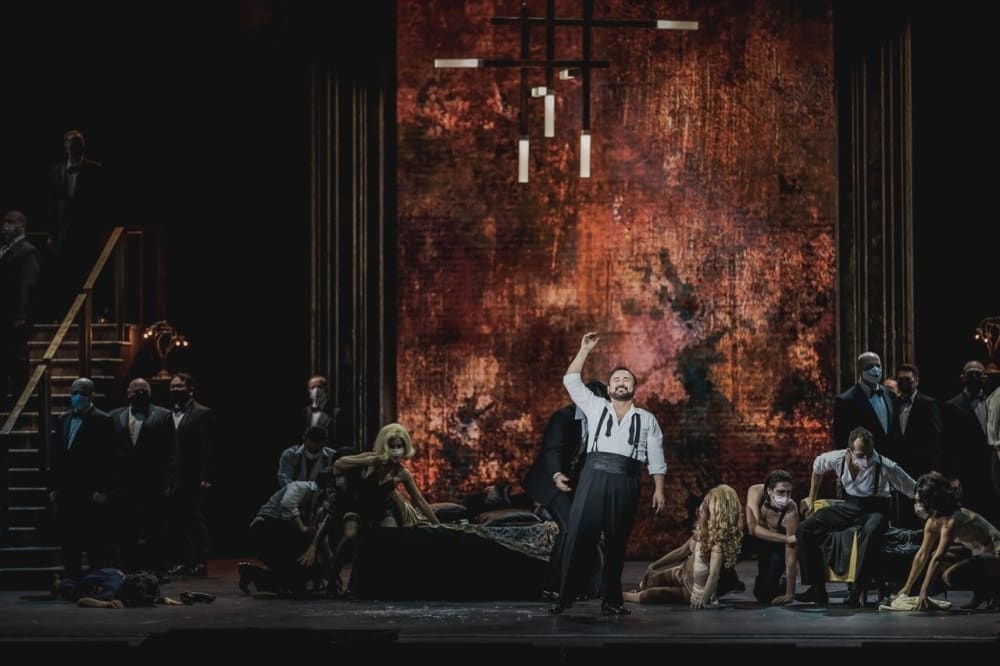 All credit to Italian opera houses that have continued to mount shows throughout the pandemic, even when it has meant playing to empty auditoria, with performances broadcast and/or released on DVD.
It is particularly gratifying therefore to be able to praise so highly this excellent, insightful Davide Livermore production from February 2021, which is in many ways one of the best interpretations of Verdi's masterpiece that I can recall.
Firstly the singers: Luca Salsi was recently seen as a superb Falstaff at Piacenza, a part that he made all the funnier and sympathetic by refusing to play it over-the-top. Here he is just as sensitive, just as credible as Rigoletto, sans hump, no grotesque, who keeps emotions on a human level, under check until the moment of explosion.
That comes as he rages against the courtiers in Cortigiani, his powerful, faultless baritone as it were shaming his auditors into immobility. Then there is a moment of exquisite pathos as he holds the long, soft note at the end of his duet with Gilda.
There have been many fine Rigolettos of recent memory. Salsi is among the best, but what sets this production apart is the characterisation of the Duke and especially of Gilda.
Livermore will probably be familiar with Jonathan Miller's Mafia setting for English National Opera and certainly with the Met's casino version. For Florence, the Italian director has set the count's court in an upmarket night club, where costumed and half-costumed faux shepherdesses cavort with customers beneath semi-erotic images of Old Masters.
But Javier Camarena's Duke is no Don Giovanni, no grand seducer, rather an oleaginous Hugh Heffner, and the women who paw him, while staff look on impassively, are not so much adoring devotees as paid playmates.
Camarena nevertheless brings out different shades of this shady, shallow wretch—his casual arrogance of "Questa o quella" addressed to the world at large, an ingratiating tone of a self-convincing Lothario for "E il sol dell'anima", and notes of morning-after-the-night-before regrets in "Parmil veder le lagrime". Not for long, of course, as he regains his mojo, supported by a lascivious grin for "Possente amor".
The most significant triumph of the production, however, is realised by the performance of Albanian soprano Enkeleda Kamani as Gilda, a part too often surrendered to being a weak daughter with little will of her own. Not here.
"If only I can make you happy," she tells Rigoletto, when he tells his sad tale, but with her back turned, the body language says something different. Here is a teenage girl who has been kept indoors for three months, who is, frankly, thoroughly pissed off with dad. She might as well say, "Whatever."
No wonder she is ready to fall for the Duke, posing as a poor student, or it might have been anyone else who came along. She silently mouths his words of seduction, and Kamani's lovely "Caro nome", with its expressive timing, is simultaneously song and sigh, a portamento of imagined ecstasy.
Gilda and Rigoletto's home is a launderette, and as she fantasises a future she cradles a long sheet that might be a wedding dress—or later a shroud. It's a nice touch, rather spoilt as the washing machine comically devours the item thereafter.
Alessio Cacciamani as Sparafucile nor Roman Lyulkin as Monterone (in a moustache seemingly surplus from Kenneth Branagh's Poirot) keep up the emotional drive without quite matching the power of the principal voices.
Conductor Riccardo Frizza delineates the strands of this many-layered narrative consummately.
Sets by Gio Forma are striking—Sparafucile's tavern turned into a casino for example—Gianluca Falaschi's costumes manage to be colourful and vivid without ever being out of place, and Antonio Castro's lighting highlights the drama very effectively.
The finale mirrors the prelude, in which the leading characters enact the death scene in flashback, adding to a feeling that Rigoletto may sense his fate. The setting is a bleak underground station, void of any presence, but in which the flashing lights of trains rush by at the end. Gilda, whose bloody shift has earlier made plain that she has been raped, rises as a ghost. Rigoletto's suffering it seems will not end.
It's a poignant climax to a magnificent and profoundly moving spectacle achieved in Florence's empty Maggio Musicale.
Reviewer: Colin Davison