Rigoletto
Giuseppe Verdi, libretto by Francesco Maria Piave
Met Opera on Demand
Metropolitan Opera House, New York
From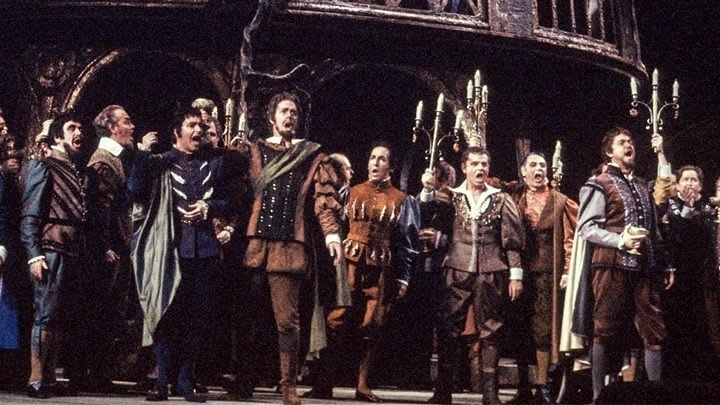 When Verdi was asked which of his operas was his favourite, he replied it was Rigoletto, an adaptation of Victor Hugo's play Le roi s'amuse, which had had its première in 1832. Verdi thought it might well be the greatest drama of his times and that the hunchbacked court jester was a creation worthy of Shakespeare.
The Venetian censors, like their Parisian counterparts who had banned the play, were so appalled by the repellent immorality and obscene trivialities that they wanted to ban the opera. Verdi and his librettist, Mario Piave, did some quick tinkering, mainly changing the names and locality.
The opera's première in 1851 was a huge success with the public; and it has been a box-office draw ever since. Rigoletto has a great score and one of the best librettos. The final scene is superb melodrama and deeply moving.
I have seen two productions many times. They are Franco Zeffirelli's sumptuous Renaissance revival for the Royal Opera House and Jonathan Miller's brilliant Mafioso update for English National Opera. Both were extremely popular and had extremely long runs. Whenever ENO was strapped for cash and desperately in need of full houses, they revived Miller's production.
John Dexter's production, designed by Tanya Moiseiwitsch and conducted by James Levine at The Metropolitan New York, dates from 1977 and stars Cornell MacNeil as Rigoletto, the hunchback jester, Ileana Cotrubas as his daughter Gilda and Plácido Domingo as her seducer. This is the first time I have seen the opera in its correct period (16th century) in nearly 40 years.
Rigoletto's mockery has so antagonised his victims that they decide to kidnap his mistress, unaware that the woman is in fact his daughter. Gilda, who has been locked up in the house in order to protect her from lascivious men, loses her virginity. Her father hires a professional killer to murder her seducer.
Placido Domingo's Duke would win any girl's heart. With his good looks, his flattery and singing ("I shall love you all my life") he's every girl's romantic dream. The Duke, a notorious lady's man, has the cheek to say women are fickle when he is the ficklest person around; even the prostitutes think his behaviour is unacceptable.
The intensity of Rigoletto's love for his daughter is such that he suffers greatly. He cuts a pathetic figure when he is pleading with the kidnappers to give Gilda back to him. The cry of anguish is even greater when he discovers the Duke is alive and it is his daughter who has been killed. His grief, superbly sung and acted by MacNeil, is comparable to Lear's grief at the death of Cordelia.
To hear the duets Gilda has with her father and the duets she has with the Duke sung by McNeil, Cotrubas and Domingo is a real treat. The high spot, as always, is the third act quartet, one of opera's great quartets.
There are a number of ways of tapping into this opera and others at will. The Met Opera on Demand service offers annual ($149.99) and monthly ($14.99) subscriptions as well as a one-off payment ($3.99) for those who have limited time or only want to watch the occasional opera.
Reviewer: Robert Tanitch