Rigoletto
Giuseppe Verdi
Opera Australia
State Theatre, Arts Centre, Melbourne, Australia
–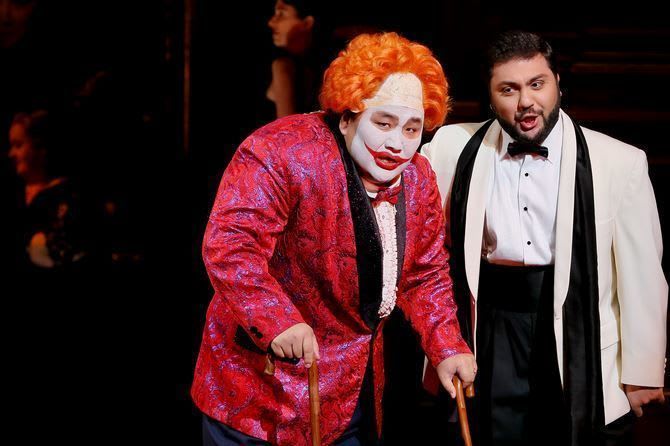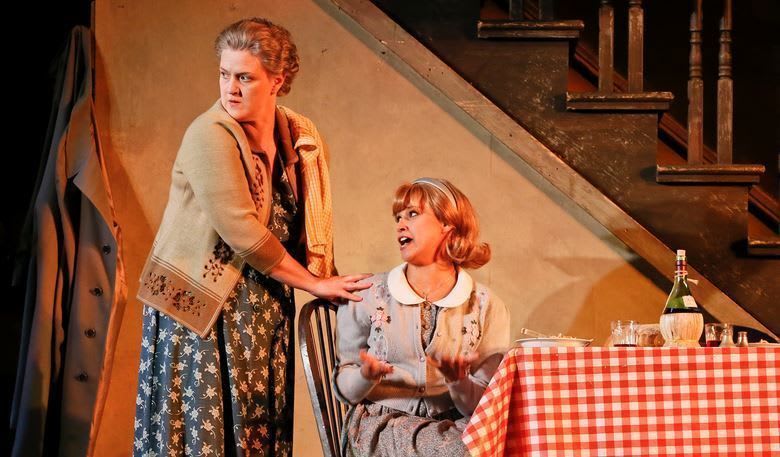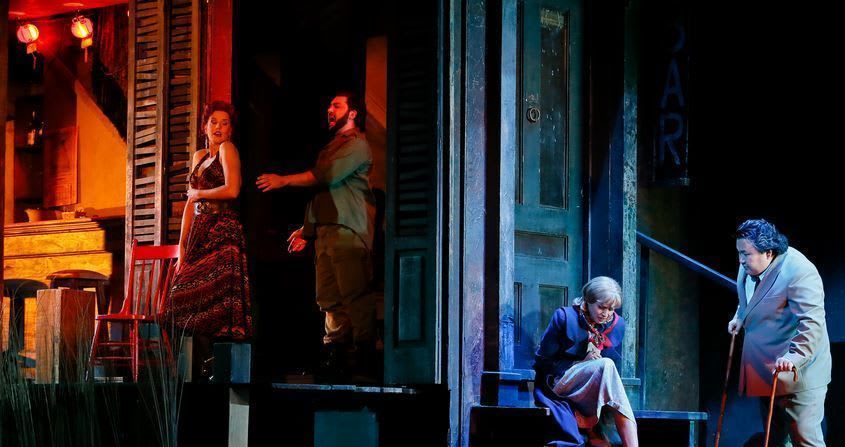 There is no finer production of Rigoletto in current performance than Elijah Moshinsky's venerable version, now nearly 30 years old. Now his terrific original has been finely finessed by revival director Hugh Halliday, with three excellent principals to do it justice.
Moshinsky bequeathed a powerful modern-day vision of Verdi's masterpiece, with a revolving stage that moves the action between the frivolous court to the dark streets of Mantua without missing a beat. It's shot-through with intelligence and imagination, and Halliday plays his own variations on the theme.
There is never a dull moment, and modest background improvisations help highlight the central drama rather than becoming distractive. Rigoletto's affectionate homecoming scene with daughter Gilda is played to Dominica Matthews's truculent maid Giovanna draining pasta; and Gilda's tearful account of her abduction is accompanied by a not entirely forgiving Rigoletto stumping around uncomfortably on his crutches.
And what a Rigoletto in Amartuvshin Enkhbat, remarkably the first of two Mongolian baritones honoured by the Cardiff Singer of the World in successive years from 2015. Far from the more histrionic interpretations of the role, this was the embodiment of a credible individual, with issues from the outset, protective, loving, but never far from violence, even if engendered by resentment at a worthless ruling class.
The voice too is correspondingly mature and nuanced, modulating in moments from rage-driven power to tenderness, rising again to a great proclamation of vengeance at the end of act I that would give pause to the most cynical of unbelievers.
Local girl Stacey Alleaume, in her third principal role for the company, is a winsomely alluring, vulnerable Gilda, secretly reading romantic magazines in her protective home prison. She was tear-jerkingly expressive, giving proper weight to every syllable in the love reverie "Caro nome". If there was not the perfect roundness of the highest notes at this early point in her career, that should come with time.
And no wonder she fell for dashing Armenian tenor Liparit Avetisyan's Duke of Mantua. He is a natural actor with a lovely vocal tone, and a thrilling, smooth, seductive legato. The slimy sod, don't you love / hate him?
Sian Sharp as Maddalena and Roberto Scandiuzzi as Sparafucile added their particular spices to the magnificent final act.
The balance between singers, particularly in those wonderful father-daughter duets and the famous closing quartet—possibly the greatest in all opera—and between singers and orchestra were perfect throughout, with conductor Andrea Licata giving the former just enough latitude of tempo to achieve freedom of interpretation without disrupting the dynamic flow, notable especially in the Duke's ebullient "Questa o quella".
One quibble: The surtitles are much too 'sur'—high above the stage making them difficult to read from the stalls without straining the neck. Extra screens at the side would help.
Reviewer: Colin Davison