The Ring of Truth
Wynyard Browne
Orange Tree, Richmond upon Thames
(2009)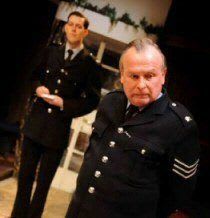 A now almost forgotten playwright who flourished in the 1950s, Wynyard Browne is best remembered for his Christmas weepie The Holly and the Ivy.
But in 1959, three years after the arrival of the Angry Young Men at the Royal Court, his country house comedy The Ring of Truth, complete with french windows and a string of servants, could still enjoy a six-month run at the Savoy Theatre.
The Orange Tree publicity for this revival cites a recent West End survey by Charles Duff, which places it alongside Coward's Blithe Spirit and Orton's Entertaining Mr Sloane as a similarly outstanding comedy achievement.
But Auriol Smith's stylish, well-cast revival reveals it as a conventional domestic farce of the period in which a series of family misfortunes follow the mysterious disappearance of an engagement ring. What sets it apart from others of its kind is a brilliantly written centrepiece mocking local police procedures.
The play opens at midnight, following a New Year's Eve dinner party given by the happily married Tom and Emma, proud parents of a small daughter.
He, a plain-speakimg statistician with a job in industry, is strongly played by Steven Elder. She, a professional designer with a belief in fate and ill fortune, is given a portrayal by Orange Tree regular Cate Debenham-Taylor combining feminine charm with a gift for light comedy.
The principal diners are Tom's titled boss and his Lady wife, the occasion intended to clinch a salary hike and promotion to the company board, while Juliet Howland's much married divorcee is a decorative house guest who may have outstayed her welcome.
Minutes into the New Year, and as an omen of bad luck, Emma suddenly realises that her precious diamond ring has vanished from sight, perhaps stolen by a person or persons unknown.
Morning brings a curiously helpful insurance man, soon followed by the police. And when Tom countersigns a false insurance claim his troubles really begin — not to mention a below-stairs crisis as the serving menials, under suspicion, all threaten to leave, led with terrific attack by Briony McRoberts as the outraged Nanny.
So far, so hectic, when a visiting perpetual student in a duffle jacket clasps Emma to his chest to give her a passionate kiss, while Tom's elegant but dotty mother, played by Jane How, abandons her granny flat and live-in companion, to pile up her belongings in the living room.
But the plot with its contrived sequence of farcical events suddenly takes off in the second act when the local cops arrive to interrogate the suspects, finding criminal, carnal and mental health implications in every innocent word and situation.
Ian Talbot as Sergeant Borall, ably supported by Paul Westwood as his young assistant constable, creates a blissful thirty-minutes of hilarity with his beautifully timed, superbly observed portrayal of pompous but well-intentioned police routines and 'psychological' insights.
Alas, having completed their inquiries and drawn all the wrong conclusions, they depart back to police headquarters, never to return. Meanwhile the play goes into a long and drawn out dénouement, only to reach an inevitable conclusion that the Orange Tree poster has already clearly signalled to us with its portrait of a gleeful three-year old child encircled by the diamond ring in question.
Need I say more?
Reviewer: John Thaxter