Riot Act
Alexis Gregory
Alexis Gregory in association with Team Angelica
King's Head Theatre
–

Listing details and ticket info...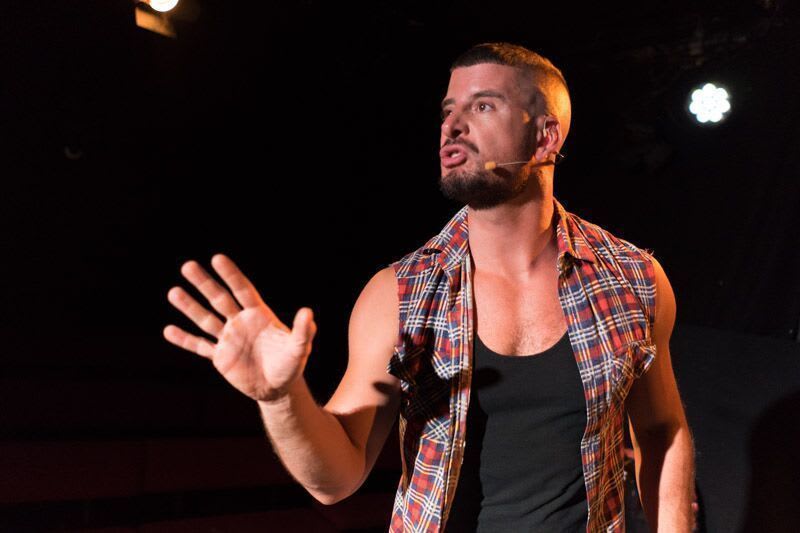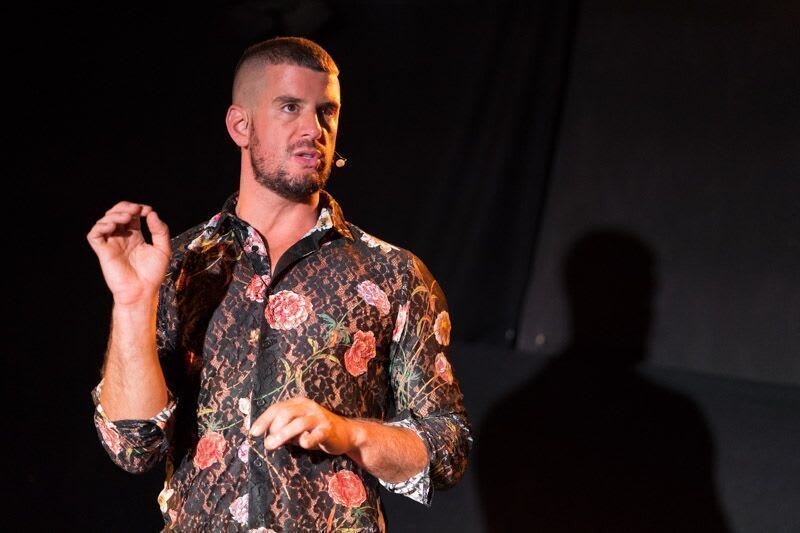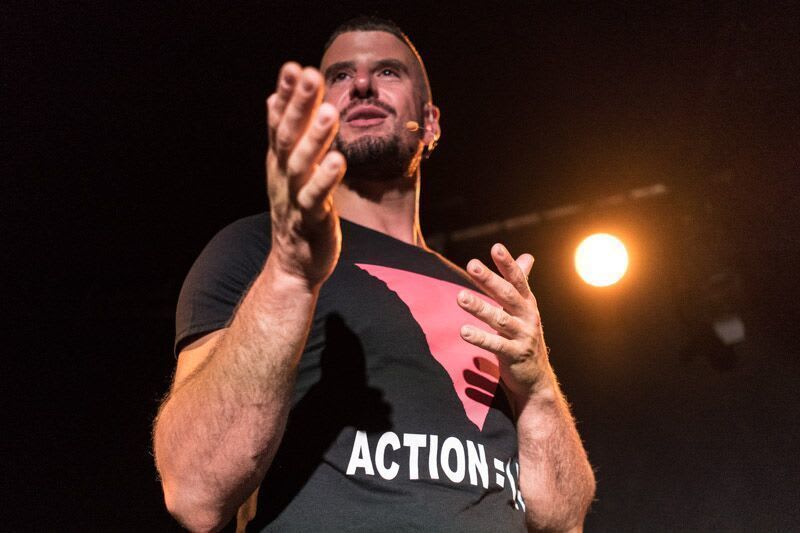 Created especially for the King's Head Theatre Queer Season, nothing could be more apt than this new work from Alexis Gregory. He is both writer and performer but the words are not his. It is a verbatim piece based on interviews with three gay men and delivered as three separate monologues.
This is oral history, carefully shaped by Gregory and directed by Rikki Beadle-Blair to be delivered with unembellished directness that totally engages. There is no special setting but simply the raised platform of the production which precedes it each evening and a chair as a handy place to put a bottle of water and a couple of shirts to change into. There are no wigs and no make-up, even though the men being quoted are of an older generation than the actor, yet he seems to become them, or perhaps more specifically them at the time of the events that they look back to, lending his younger body to them.
The performance opens with a cliché, but a totally appropriate and accurate cliché: "Somewhere Over the Rainbow". In the days (and they are not entirely over) when homosexuality had to be hidden, gay men would ask of another "is he a friend of Dorothy?" This euphemism for being gay may be linked to a British society lady called Dorothy or to New York wit Dorothy Parker or even to a character in one of L Frank Baum's Oz books who remarks, "You have some queer friends Dorothy!" though popular belief would make it Judy Garland in The Wizard of Oz film who became a gay icon.
Garland died on 22 June 1969; on 28th (the day after her funeral), a bar in Greenwich Village planned to show A Star is Born movie in commemoration. That bar was the Stonewall Inn and the first testimony that Gregory delivers is that of Michael who was there that night.
Michael–Anthony Nozzi was 17, he had gained a place at the American Academy of Dramatic Arts and it was his first night in New York. He describes a dreary and dirty place, a sleazy joint with outdated jukebox, its customers old men, elderly drag queens in their mothers' three-piece suits, gloves up to the elbows to hide hairy arms, a few hustlers. Usually there were only a couple of dozen but this night the film brought in hundreds deserting the other bars for Judy, but before they began to show it the police raided. This was the night of the Stonewall Riot.
Gregory gives Michael a gravelly American accent to deliver his account of what happened with details you will never have heard before: the blood on the walls and on pavements that had coins glued to them spilled from the charity collection the police tried to take, cleaning up wounded and walking them off to taxis which the police wouldn't let near, yet feeling safer among these people than he had in his home town in Pennsylvania.
Michael doesn't just talk about Stonewall, he describes the next phase, the clubs and the saunas of the '70s with their back rooms then into the '80s when AIDS hit, friends died: "we lost 80% of our people"—a loss that removed a bridge generation between old and young gay men.
With a change into a more decorative shirt and high heels, Gregory becomes Vin, an English drag queen born a year before Michael, who hadn't a clue about being gay until a school chum said, "I can't be your friend any more." He speaks of the world of the Chepstow and the Black Cap, of gay squats and a commune of radical queens, recognizable names for Vin became part of Bloolips, of the growth of Gay Lib, then AIDS again. It's an account that takes him to America, Amsterdam and Berlin. He is a performer for whom drag is still liberating on stage but, as he gets older, on the street attracts unwelcome attention.
The third voice is Paul, a dozen years younger, in an ACT UP tee-shirt. It was AIDS that made him an activist with the AIDS Coalition to Unleash Power (that's what it stands for) but it was the zaps rather than marches that he liked being part of: direct action like being handcuffed to a chain across Westminster Bridge to stop the traffic. He went on to be involved with OutRage. He talks about attitudes to AIDS, gender-based politics. But this isn't polemics; it's about pain and feeling. A reminder of how hard gay men have had to fight, how far they have come and the need to be aware of that past and to go on fighting.
Alexis Gregory brings his own energy to all three voices, taking the audience through fifty years of gay history and giving them a gripping immediacy. The subject is serious but the telling is often funny as well as being moving and honest and truthful. These are voices worth hearing and young gay men especially should try to catch a performance that is theatre at its simplest and at its best. If you can't get to see it, get the script (Oberon Books), but it's a production that surely we haven't seen the last of.
Reviewer: Howard Loxton