Riot
Devised and written by Tom Brennan, Emily Greenslade, Jesse Jones, Kerry Lovell, Jesse Meadows, Helena Middleton, James Newton, Ben Vardy and Edith Wooley
The Wardrobe Ensemble
Stage 2, Northern Stage, Newcastle, and touring
–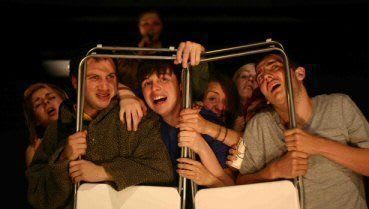 At midnight in February 2005 a new branch of a certain Swedish furniture store opened in Edmonton, North London, with many special offers and very low prices. What was intended to be a happy occasion turned into what was almost a riot with fights breaking out between customers and accusations of bad organisation and total chaos.
In Riot The Wardrobe Ensemble, supported by Bristol Old Vic, gives an essentially impressionistic view of what happened, from both staff and customers' points of view, linking in some stories of relationships among some of the staff. The piece features text, physical theatre, music and some quite clever use of freestanding lights to tell the story.
At about an hour long, Riot is fast and furious but, like the event itself, confused. It lacks focus and the hectic pace compounds the problem. That lack of focus is a problem which bedevils so many devised shows: trying to unite so many ideas into a coherent whole. Each idea may be good in itself and the company members become fiercely protective of them, but they don't always hold together.
Such shows need a strong - indeed, ruthless - writer (or at least director) to turn the ideas into something which is tightly structured. As in all writing, the trick is to know what to leave out!
Unfortunately director Tom Brennan has not achieved this and so Riot, although entertaining and often funny, is too diffuse and feels more like a series of sketches than a play.
"Riot" tours to Luton, Salisbury, Bristol, Reading, Guildford, Bath, Leeds and Hull.
Reviewer: Peter Lathan