Rita & La Serva Padrone
Donizetti and Pergolesi
Popup Opera
The Bull, Highgate
–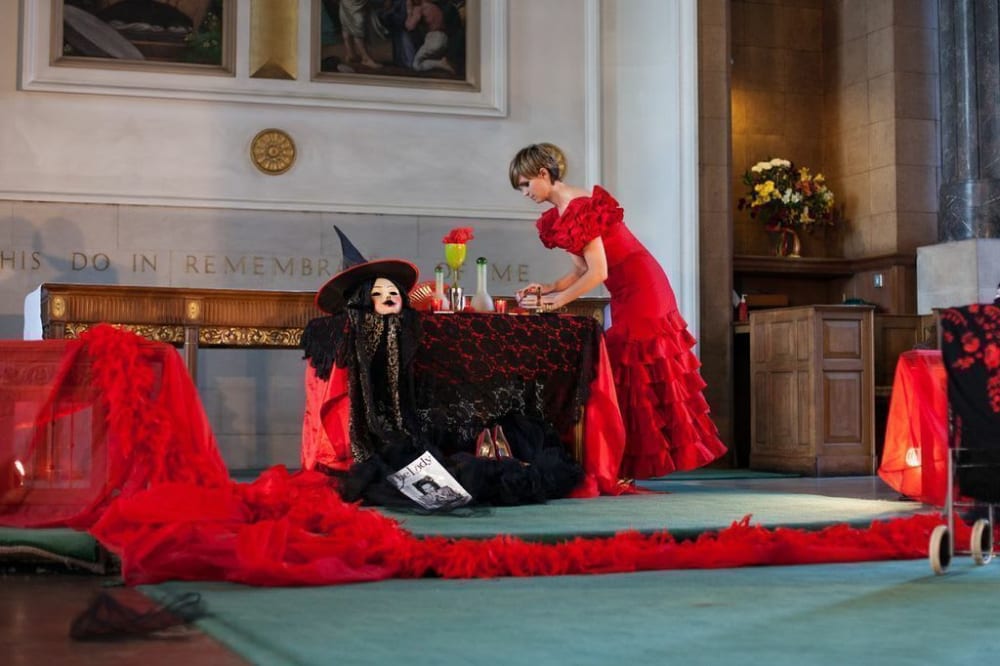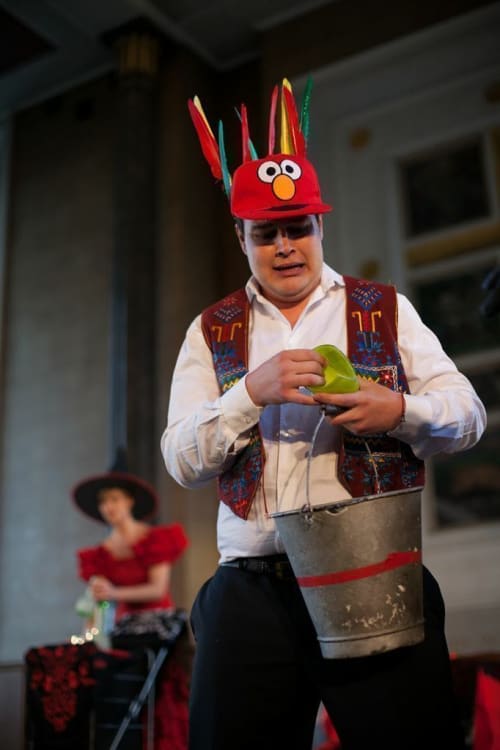 Despite being squished onto the smallest of stage spaces, the last Popup Opera show was a roaring success. I had high hopes returning just two months later to watch their new production of Rita & La Serva Padrona.
These two one-act operas have been combined to make one story, delivered by team of five singers (three who starred in L'elisir d'amore) and director Darren Royston stepping in as general lackey and clown.
Surprisingly, the music hangs together well, and the singers largely do a marvelous job displaying why these two mini operas deserve to be performed more often. Unfortunately, the story is lent nothing by the combination and the production quickly becomes messy, riding along on the cast's frantic energy and cheap gags.
Rita, who's been beaten by her husband for years is relieved to hear his ship has sunk and quickly looks for a replacement. She marries Beppe, a more amiable man, and is determined to have the upper hand in this relationship scares him witless. Rita opens a male health club, renting the property from Landlord Uberto, (and this is where La Serva Padrona starts). Uberto is constantly bullied by his sharp tongued, manipulative PA Serpina, brought to life fantastically by Penelope Manser. As she's already spending the majority of her time making his life a misery she sets her sights on marrying the poor man as well.
The theme for set and costume is modern day / Spanish / Halloween... and a little period costume to boot for the finale. The result looks like someone's raided the dressing up box. The idea is Rita's on the way to a Halloween party (for the duration of the opera?!) and therefore Royston has her clad in the often-seen Halloween outfit, 'Spanish lady / witch' ensemble. The construct seems to be that Rita is so intimidating to her poor new husband it should be highlighted by her scary costume. There is a major flaw to this plan; Rita (Clementine Lovell) fails to ever look more than slightly aggrieved, rendering set and costume design fairly incomprehensible.
The La Serva Padrona story works better in this venue; they interact with the audience and the plot's much easier to follow. Sung in Italian with pithy subtitles, Manser really brings the language to life and proves why it's worth performing in the original language. Aside from Lovell, who appears self-conscious and fairly wooden, the cast throws bundles of energy at the show. They pull off the repeated prop gags admirably, and, though these liven up individuals' arias, overall the jokes start to grate and seem a desperate attempt to cover up a failing production. This feeling is enhanced by the singers obvious tiredness as they limped their way through the finale.
Fresh from the interval, though, Beppe's (Cliff Zammit Steven) aria is a real crowd pleaser, tantalizing the audience with flirtatious feather play and a hint of coy stripping, followed by a full disrobing from Manser in the following duet. Alex Learmonth's (Gasparo) and her rendition of Stizzoso, mio stizzoso is vivacious with wonderful comic timing.
Despite its many other flaws, the production is a showcase for two must-see talented singers, Zammit-Stevens and Learmonth. The latter has a wonderfully versatile and resonant voice, and tempers his delivery perfectly to this stage above a pub. Zammit-Stevens showed off his vocal prowess in the last production and yet again rises to the occasion. He's a larger-than-life character, ideally suited to this commedia style production, and his strong, sonorous voice delivers on the high notes.
Overall, the cast negotiates these two fun operas well; not only hindered by a jumbled narrative, they even work with the constant heckling of a three-year-old on the front row. Milling around the audience pre-show, Darren Royston compares what's to come in terms of flicking between ITV and BBC in the evening. Therein lies the problem: when flicking between channels there's no cohesive idea or even any relationship between the programmes. Royston needs to go back to the drawing board.
Touring to a range of unusual venues—see www.popupopera.co.uk.
Reviewer: Louise Lewis