Rita, Sue and Bob Too
Andrea Dunbar
Out of Joint, Octagon Theatre and the Royal Court
York Theatre Royal
–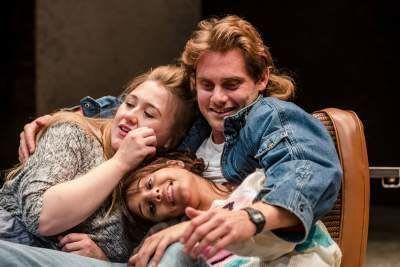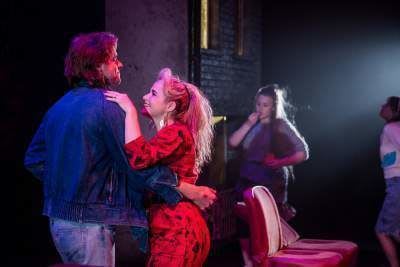 There's an elephant in the room, and his name is Max Stafford-Clark. Until recently, he was widely admired as one of the UK's leading stage directors. As the longest-serving artistic director of the Royal Court (1979-1993), not to mention the founder of Out of Joint theatre company, Stafford-Clark's credentials could scarcely be more impressive. And then it was revealed that he was forced to leave the company he started because a female colleague accused him of making lewd comments.
This scandal can't help but cast a shadow over Out of Joint's revival of Rita, Sue and Bob Too, which Stafford-Clark co-directed with Kate Wasserberg. It's depressing to think that the man who championed the work of Andrea Dunbar—just one of many female playwrights he has nurtured over the years—has been accused of such behaviour. The fact that Dunbar's second play concerns the sexual impropriety of a creepy older man is an unfortunate irony.
However, putting aside Stafford-Clark, it is a pleasure to see Dunbar's work back on the stage. Clio Barnard's startling film The Arbor (2010) has raised greater awareness of the playwright's tragic background, but it's still worth repeating: raised in poverty on a notorious council estate on the outskirts of Bradford, Dunbar was beaten by her father and found herself a single mother of three at the age of 18. However, she found a way of turning her unhappy life into three confrontational and blackly comic plays.
Rita, Sue and Bob Too, Dunbar's second and most famous play, centres on a menage à trois between two 15-year-old babysitters and a married father-of-two. Like Dunbar, Rita (Taj Atwal) and Sue (Gemma Dobson) live on a council estate where opportunities for self-advancement seem to be non-existent.
Bored by their day-to-day lives and game for a laugh, the two girls embark on a sexual relationship with Bob (James Atherton). If you only know Dunbar's play through Alan Clark's 1987 film, then you might be surprised to learn that Bob is supposed to be 27 rather than 40. At any rate, his affair with the two girls is still inappropriate and creepy as hell.
There is something about the cheerful amorality of Dunbar's characters that makes Rita, Sue and Bob Too irresistible. That said, I find the characters' blithe acceptance of Bob's infidelity problematic. If the play had been penned by a male writer then I have no doubt that critics would have more to say about the way Rita and Sue are blamed for the affair, as though Bob was the victim rather than the culprit.
This is an impressive revival that manages, for the most part, to capture the ferocious energy of Dunbar's play. The six performers are first-class and inhabit their characters with gusto. Taj Atwal and Gemma Dobson (in an impressive stage debut) excel as Rita and Sue, conveying the characters' youthful defiance and underlying vulnerability.
James Atherton is simultaneously charming and repellent as Bob, and Samantha Robinson is genuinely moving as his adoring (and supremely forgiving) wife, Michelle. Despite bordering on caricature at times, Sally Bankes and David Walker also make an impression as Sue's dysfunctional parents.
Tim Shortall's set design—a panorama of Bradford flanked by two tower blocks—endows the production with a clear sense of place, and the jukebox soundtrack (Blondie, The Specials, Soft Cell, Michael Jackson) roots it firmly in the 1980s.
The production zips along at a sprightly 80 minutes, and manages to balance filth and fun in equal measure. In this age of austerity, with a female Tory prime minister in power, Rita, Sue and Bob Too feels more relevant than ever.
Reviewer: James Ballands