Rites
Created by Cora Bissett and Yusra Warsama
National Theatre of Scotland and Contact Theatre
Contact Theatre, Manchester
–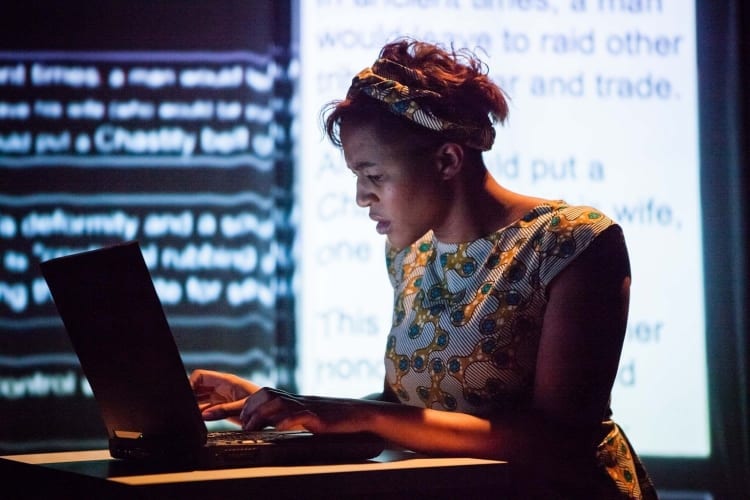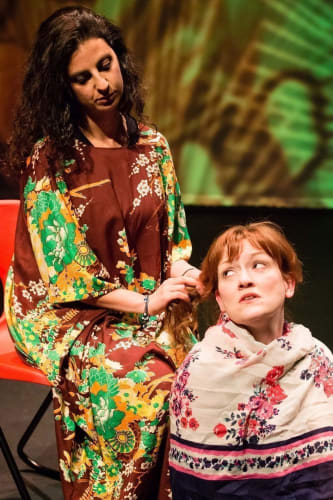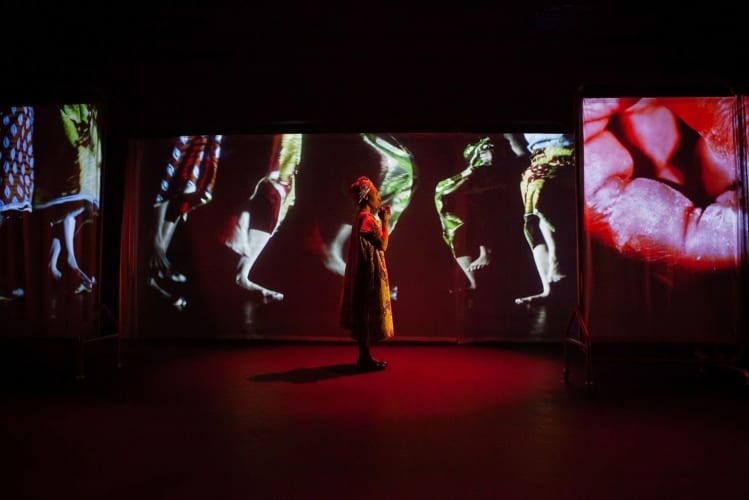 I recently heard a recording of a TED Talk from Australia about a woman who didn't realise what her Sierra Leonean mother had had done to her as a child—or that it didn't happen to everyone—until she joined a women's health group to discover that what her mother referred to as "circumcision" is labelled, in their adopted country, "mutilation".
The same happens to Fara (Paida Mutonono) in the closest thing to a continuous narrative in a piece that is largely based on the words of people interviewed for the purpose of creating this National Theatre of Scotland production: activists, campaigners, health workers and, of course, the women themselves.
Standing before a set that looks like it is made from hospital screens to create a white Brechtian half-curtain, which is also used as a projection screen (designed by Jessica Worrall), Fara tells us "I am being played by an actress"—another Brechtian technique—but that the words are genuine accounts from real people and, interestingly, "we do not all agree" on the issues portrayed.
A cast of just five actors portray dozens of roles, some only briefly, but all are distinct and believable. The stories they tell about their experiences of FGM (Female Genital Mutilation) are often shocking, of course, but often non-judgemental about those who carry it out. There is also a surprising amount of humour, which is especially effective from performer Elena Pavli, but there are also good, varied performances from Janet Kumah, James Mackenzie and Beth Marshall.
It's very much an issue piece, but there is no angry tub thumping, just very human stories that leave us feeling much better informed about the issue.
If there's a weakness, it's that we do not hear from anyone defending the practice—other than a brief television interview with a woman who decided to have it done as an adult—except through those who have had it done to them, but as they don't condemn they are able to put across the other side of the argument.
Fara's story goes beyond her own realisation at college about what had been done to her to fear for her sister's daughters as there are plans to take them to Africa; the resulting argument causes a family fall-out, with her sister denying that there is any intention of having them "cut".
It is made clear just how complicated the issues are, as the practice is culturally ingrained, even (or perhaps especially) in immigrant families, and prosecution isn't effective—and often comes after the damage has been done. However the piece ends on a note of hope, that educating the young people themselves may help to stop the practice from continuing.
While it is uncomfortable viewing at times, this powerful piece of theatre is perfectly constructed and extremely well-performed to effectively promote understanding of this difficult issue.
Reviewer: David Chadderton