The Rivals
Richard Brinsley Sheridan
Bristol Old Vic
(2004)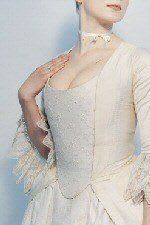 It's Bath time at Bristol Old Vic which is currently hosting an in-house revival of Sheridan's The Rivals. Featuring the award-winning services of designer Peter McKintosh, you'd have to go many a country mile to find a more handsome show than this production, which features a stunning set, particularly for a regional theatre, and period costumes which delight the eye.
Directed by Rachel Kavanaugh whose production of A Doll's House earlier this year disappointed, Rivals is thankfully imbued with a sense of zip absent from her Ibsen and is, in addition, blessed with some excellent performances.
The curtain rises on a multi-porticoed street in Georgian Bath which recedes to a further colonnade under a summer sky. The set brilliantly suggests both the public life and, with its many doorways, the private, arena of amorous intrigue. McKintosh's design also allows for the rapid transformation of the stage into an interior with the entry of curtains and a few items of furniture.
The play opens lickety-spick, aided by urgent staccato harpsichord. Despite this, however, I found the laughs initially slow in coming. This may be due to the amount of exposition which is perforce necessary to set the scene for a comedy of this type. Things pick up considerably, however, in the second half
Those who haven't seen the play will have a passing familiarity with one of the characters at least, Mrs Malaprop, whose George Bush-like propensity for verbal infelicities and syllogisms has spawned the term 'malapropism'.
As the play opens, Captain Jack Absolute is wooing luscious Lydia Languish, niece of Mrs Malaprop, but under an assumed name and identity. Lydia, whose head is full of romantic notions, thinks he is an impoverished ensign rather a comparatively high ranking heir to a toff and loves on that basis.
Her best friend, Julia Melville, is pledged to Faulkland, a wildly jealous suitor, much given to testing of his mistress' fidelity and worth. As if that is not enough, Mrs Malaprop is carrying on an epistolary dalliance with Sir Lucius O'Trigger. He, however, has been led to believe that his amorata is sweet 17.
The laurels must go to Dylan Charles as Bob Acres, terrific as the ingénue bumpkin, wildly out of his element among the great and good as he too woos Lydia. He gives the right amount of vim and utter conviction which successful farce depends upon. Also first-rate is James Hayes as Lucius O'Trigger.
Adam Rayner and Selina Cadell as Sir Anthony Absolute and Mrs Malaprop by contrast seem a little hesitant at first in their roles but eventually warm to the task and certainly by the second half the laughs are flowing freely enough.
Sir Richard Eyre, former director of the National Theatre, wrote that he couldn't quite see the point of this type of theatre and one knows what he is driving at. It isn't a play that demands to be revived and won't be everyone's cup of tea. However, there's fun to be had in a very attractive production which put me in mind as nothing so much as Goya's early work as a court painter, full of colour, light and a sense of the good life lived. Praise enough.
Reviewer: Pete Wood