Riverdance - the Farewell Tour

Palace Theatre, Manchester, and touring
(2010)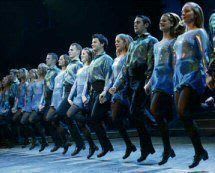 Riverdance has become something of a phenomenon in the 16 years since it first burst on the scene at the Eurovision Song Contest. It has developed into a very popular full stage show and embraces both the Irish Step Dance tradition of its origins as well as reaching out to various other dance styles. The Corrib dance company performing the farewell tour across the UK, directed as ever by John McColgan, acquitted itself very admirably over the course of the two hours in a packed Palace Theatre.
The show starts in ancient times and moves through different stages of evolution but the main and very well known step dance predominates throughout the evening.
The set is very sparse. The 4 piece band are to one side of a set of steps which leads to a screen upon which are projected a series of stills to evoke the atmosphere of the various dance sequences. There are some beautiful stage pictures and a good balance between the traditional line dances performed directly facing the audience and differing forms. These tend to be concentric circles or inverted triangles and are very pleasing on the eye, perhaps more so than the static main style.
Along the way there are some very different dance styles also on display. These include solo Flamenco which is beautifully realised by Marita Martinez Rey. Her gestures and feisty stomping are particularly striking. There is also a nod to American Tap and Jazz in a duel between two wonderful hoofers Parker Hall and Lee Payne and the lead Irish dancer Alan Kenefick and two of his colleagues. Each influences the style of the other and there is great use of humour and a very cool ethos which the audience lapped up. Then there is a sequence about freedom lead by the strong baritone of Riverdance veteran Charles Gray. Perhaps the most dynamic however is the section lead by the Moscow Folk Ballet Company. Their Cossack style country dance was very energetic and suitably dazzling. They made it all look very easy especially when the two male dancers twirled the two female dancers from their shoulders while circling.
The solo musical numbers were competently performed by the Riverdance band but sometimes went on just a little too long for this reviewer and implied an interlude to permit the dancers to change costume. This is to quibble as the Palace Theatre audience whooped and clapped along and were completely with the spirit of the performers.
Bill Whelan's music was alternately rousing and atmospheric and the choreography which owed much to Michael Flatley's original was striking when it needed to be. The main dancers were fleet of foot in their strutting and stomping steps. They had the appropriate gusto and looked delightful in their various outfits of bold primary colours.
The finale offered a reprise of the various different sections and all joined in a traditional step dance to finish the evening in joyous fashion.
Reviewer: Andrew Edwards