Road Show
Music and lyrics by Stephen Sondheim, book by John Weidman
Phil Willmott Company
Union Theatre
–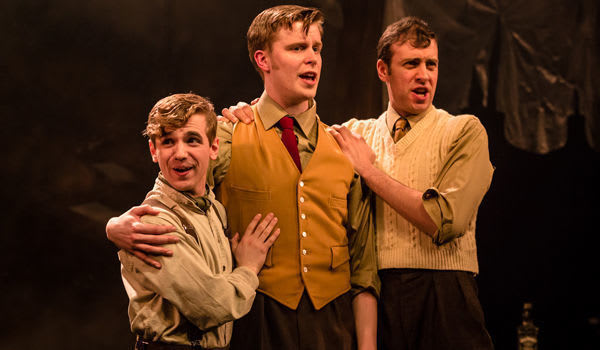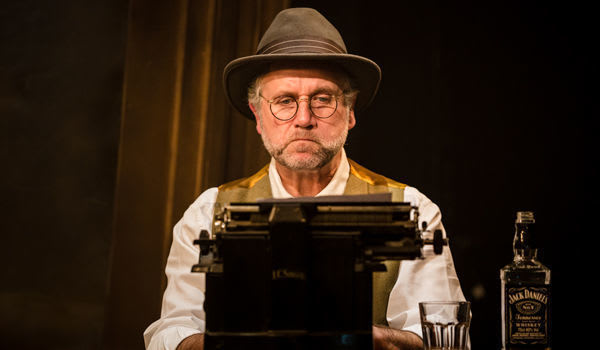 This is a show that has gone through several titles and changes, detailed by Sondheim himself in his book Look, I Made a Hat.
The composer first though of making a musical from the story of real life Addison Mizner and is brother back in the 1950s—but Irving Berlin had got the rights. It wasn't until 1999 that Wise Guys, as it was then called, opened in New York in 1999. After major changes, including the addition of a fictional lover, a new version played Off Broadway as Road Show and its director and designer John Doyle remounted this production at the Menier in 2011.
This, the first entirely British production, is that version with yet further modifications, with music and lyrics stamped with definitive Sondheim finesse in their wit and style and tightened so that it runs straight through with no interval in about one hour forty. It may be a true story, packed with feeling, but there is a fairy tale feel to this take on the American Dream when distorted by irresponsible greed.
The family are now called Meisner and the opening presents the elderly Addison Meisner (Steve Watts) at his desk looking back on his life as those who knew him sing of the waste of his talent and potential. He sits there throughout as the clack of his typewriter keys and the "ding" of the carriage return separate the episode of his history.
His younger self blames what went wrong on brother Wilson and then we go back to the turn of the century and Watts becomes Papa Meisner on his deathbed charging his sons with making America's future. "It's in Your Hands Now" he sings and Watts's fine performance makes you wish there were more of him as Pappa as well as his the focussed observer he becomes for the rest of the play despite being surrounded by bourbon bottles.
Dad is dead and the family broke when Mamma Meisner sees reports of gold finds in the Yukon and the brothers set off north to join the prospectors. "Gold" has a certain gold rush period touch to it but even more so sounds Sondheim.
It is cold in Alaska, but they are together and "Brotherly Love" is a song that looks back on their boyhood. They end up sharing a sleeping bag, which seems to turn Addison on but not Willy; he'd rather be cold than cuddled like that by his brother.
When Willy goes off to town to replenish provisions, Addy stays put digging. These are believable brothers and nicely contrasted. You can't help but feel for Howard Jenkins's more sensitive Addy and Andre Refig gives Willy a confident boldness that suggests the con-man's cocky charisma at the same time as you know you wouldn't trust him.
Addy finds gold and goes in search of his brother who should have been back weeks ago to find him in a saloon in a card game. Yes! The irresponsible chancer, who is losing, bets gold and their claim. But he wins! Then swaps their claim for the saloon. Addy has had enough; he insists on his share of the winnings and goes of to find his own fortune.
Every venture goes wrong until he reinvents himself as an architect. That's when a broke Willy turns up and marries his rich client. Addy has been looking after Mamma but it's still Willy who is her favourite. Cathryn Sherman delivers her "Isn't He Something" adoringly well but the lackadaisical dance routine for Willy that accompanies it is a distracting mistake, so different from the rest of Thomas Michael Voss's choreography.
It is not until he meets newly disinherited rich boy Hollis, who becomes his partner in bed and in business, that things really go right for Addy. "The Best Thing That Ever Has Happened" they both sing in one of the show's best numbers and both seem to mean it. The pairing of diminutive Joshua LeClair with Jenkins is charming and his performance particularly touching. They plan to create a new artists' colony in Florida but Willy is back with grandiose ideas to make money and talks Hollis into creating what became (the real) Boca Raton.
A sequence in which Willy escalates the hype in his promotional programme until it becomes ridiculous goes on far too long—but perhaps that's intentional to exhaust the audience's patience, just in case they have been carried along with it. It is here that director Phil Willmott's use of an upstage half transparent mirror (still in place from the preceding production) takes on oppressive significance, though he's already used it effectively earlier. It adds an almost melodramatic dimension to this chamber musical.
Apart from Addison's typewriter, which is a very real one, the production mimes all its hand props but the energy which the rest of this cast brings to it is very real. They are not just a stage crowd but are used to give a sense of what is happening in the world around the protagonist and their vitality, surging across the stage, increases the concentration on more private moments.
Reviewer: Howard Loxton