Roadkill
Created and performed by Splinter Group
Presented by Brisbane Powerhouse and Dancenorth
Barbican Pit
(2007)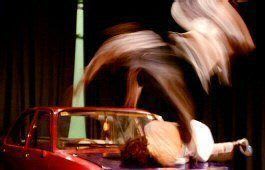 This dance theatre piece offers a simple set with a red Toyota and an intermittently illuminated telephone box against black. It begins with the soft twittering of birds, a dawn chorus that wakes two travellers (Gavin Webber and Sarah-Jane Howard) stranded in their car. The guy has a go at starting the engine, tries to sort out what's wrong under the bonnet, finds the telephone box, which doesn't work and then listens, Aborigine-like, for any vibration in the ground that might suggest potential help. He falls asleep again, lying almost under the wheels of the car. Then the girl wakes up and makes her attempt to start the engine, which if successful would have run him over.
These two take in the morning, before getting carried away with each other and playing lovers' game. They kiss, separated by the window glass, simulate sex with him outside the car and her inside it, then he goes back inside too and they get going in earnest. Suddenly, from nowhere, a stranger appears. Is he their rescuer or is he another more menacing danger?
What follows could be interpreted as a through-narrative story about a sequence of events involving the red Toyota, but I don't think that is the intention. To be able to perform with such concentration, the dancers who created and appear in this work must each have their clear idea of what every moment of their dramatic collages signifies to them, but it is open to each member of the audience to give it their own interpretation.
It is difficult for we Brits to imagine a world where the next petrol pump is 500 km away, where you can walk for eleven miles without seeing another human being - but that is the world this work gives us. These are the vast spaces of the Outback, this is the Australian bush: a place of great beauty but also of danger and menace, where the guy who helps you, the back-packer or the driver, could be your murderer or your alter-ego. These personations could be one or many people, living or dead, real ghost among the ghost gums in this endless isolation.
With music and a sound score by Luke Miles that incorporates radio news, country music and pop as well as his own synthesised sound and, in some scenes, sections of dialogue, this is dance theatre that eschews swans en pointe and whose equivalent of intersecting diagonal jetés is for the dancers to throw themselves spinning at speed over and across the car. They come together in new and imaginative conjunctions and they rush across the stage to represent the passing landscape with its gaunt gums and kangaroos.
In one sequence Grayson Millward becomes a drowning man, floating weightless within a phone-box: you know he must have at least two points of contact with a surface and be keeping tension between them to support himself - but it seems impossible. You cannot help but always be aware of the amazing balance, control and timing of these dancers, but that does not prevent you from drifting into their emotive symbolic world where a hail of white stones can fall from the sky or a wind blow them against a body like a final nemesis, while the final image of these 75 concentrated minutes offers the headlights of a tiny car riding over the contours of a body that becomes the landscape of Australia itself.
Premiered Townsville, Queensland 13th June 2007. At Barbican Pit until 10th November
There is a video clip on www.youtube.com/watch?v=VmLROtVyDik
Reviewer: Howard Loxton