Roald Dahl's George's Marvellous Medicine
Roald Dahl, adapted by David Wood
Curve and Rose Theatre Kingston
Curve Theatre, Leicester
–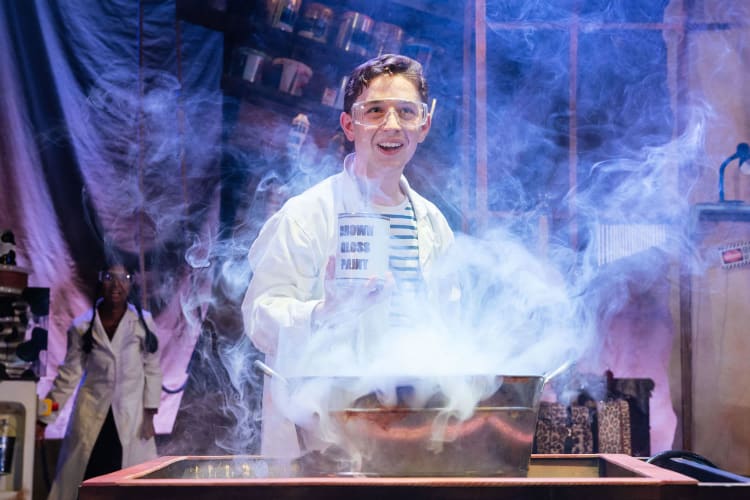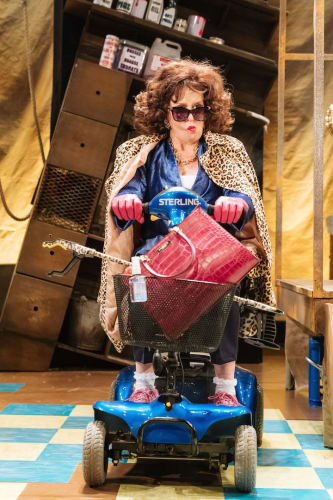 Continuing what is becoming something of a Christmas tradition, Curve serves up another dose of Roald Dahl for younger audiences; this year it is George's Marvellous Medicine, adapted by David Wood, and the third co-production with Rose Theatre Kingston.
Providing a little additional backstory not in Dahl's 1981 book, we see young George enjoying life with his mum and dad down on the farm. Cut off from his friends during the school holidays, he disappears into books and his imagination to pass the time until the whole family's world is turned upside down by the arrival of Grandma (something many may be experiencing, not just over the school holidays).
However, Grandma is not a very nice grandma and she soon has everyone living in fear of her next unreasonable demand. George bears the brunt, not least having to give up his bedroom for her, and he devises a marvellous medicine to transform her from nasty to nice. Inevitable 'hilarious consequences' occur, but, as ever with Dahl, matters are resolved in brutal, dramatic fashion.
This production is perfect for the four-year-old to early teen in your life, featuring bubbles, bangs and bodily functions as well as some small-scale audience participation. Preston Nyman immediately endears and engages as George, and we are more than happy with his plan to deal with his uber-horrible relative.
Lisa Howard is great fun as a brusque, Northern Joan Collins-esque Grandma, wielding her leopardskin grabber like an evil claw, whilst also managing to operate some very unwieldy-looking giant arms (an after-effect of said marvellous medicine). A fine performance from Chandni Mistry as Chicken and Catherine Morris (Mum) and Justin Wilman (Dad, and playing numerous on stage musical accompaniments) provide excellent support.
Director Julia Thomas keeps things moving briskly with some clever touches in Morgan Large's costume and set design and the whole creative team marry complex lighting and sound effects into a harmonious blend.
All age spectrums in the audience appeared fully engaged in the performance and, in an auditorium where the heady aroma of eau d'Haribo hangs thick in the air, some bang-up-to-date political references are a nice distraction for post-teen members of the audience.
Those with any health and safety concerns may also be pleased to hear the final song "Don't Try This at Home" heeds the fact that George's marvellous medicine comprises kitchen and bathroom cabinet staples.
Less gross-out than other Dahl adaptations, this show is no less charming with a strong moral message to absorb—be nice to each other, or else. A fun, family show—not just for Christmas.
Reviewer: Sally Jack