Roald Dahl's Matilda the Musical
Book by Dennis Kelly, music and lyrics by Tim Minchin
Royal Shakespeare Company
Curve Theatre, Leicester
–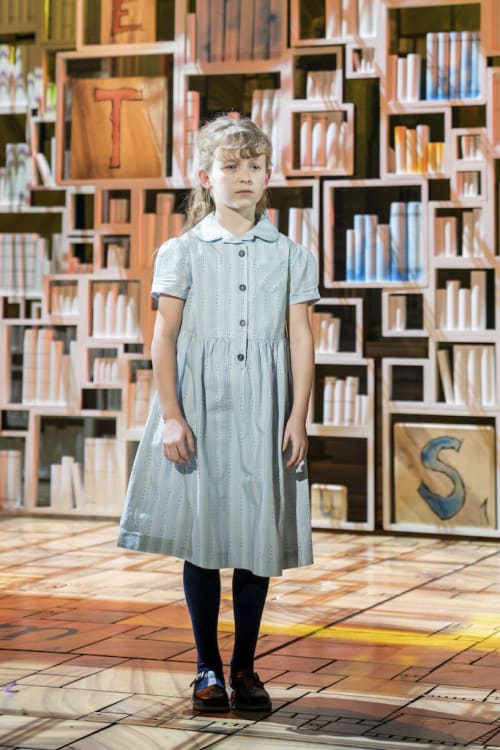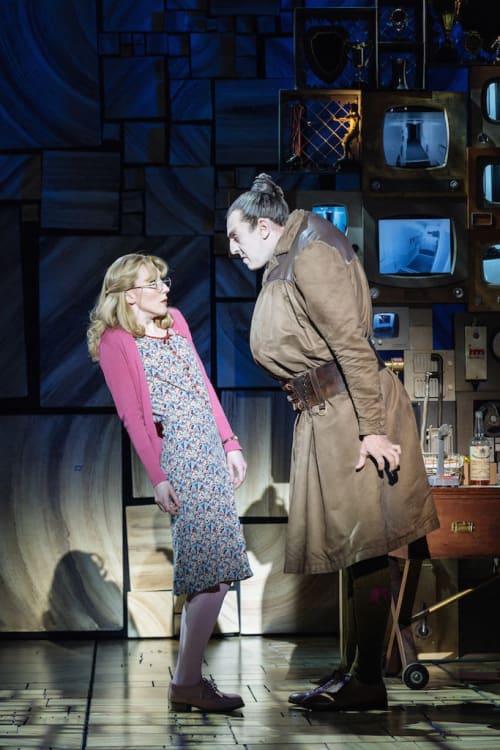 Despite what her deeply unpleasant parents might think, Matilda Wormwood is a marvellous miracle, and for those who have not been able to make the trip to the West End (this show opened at the Cambridge Theatre in 2011), it is now marvellous news that the RSC has begun the first UK tour of their multi-award-winning and widely-acclaimed production of Roald Dahl's Matilda the Musical.
Dahl was never one to allow his characters to shy away from pain and hurt, and Dennis Kelly's book loses none of the injustice and abuse served up daily to Matilda by the two people who should love her most, her parents. The abusive pattern continues when Matilda starts school with her Olympic hammer-throwing-turned-child-throwing headteacher Miss Trunchbull.
Ingenious and inventive, director Matthew Warchus oversees a very special theatrical experience. There's a nod and a wink to Dahl's illustrator Quentin Blake in Rob Howell's design, bookcases and children's alphabet blocks feature heavily on the spectacular set: a reminder of how books give Matilda the means to escape into a world of stories and nicer people.
Kelly adds a few additional touches to Dahl's classic, including a charming story within a story of an escapologist and an acrobat—Hugh Vanstone's lighting and effects in these sequences are spellbinding.
Tim Minchin's music and witty lyrics strike the right Dahl-istic tone; a high and often complex word count is challenging for actors, but nothing to worry about performance-wise—these are all excellent. The songs themselves, whilst intrinsic to the storytelling, are rather "fiddly" to be memorable show tunes, apart perhaps from "When I Grow Up" and "Revolting Children". A few more listens to the soundtrack may help here but there is a lot to take in, and I am sure many lyrical gems are missed as a result.
However, this is a story about a strong, independent-minded little girl called Matilda. Of the four Matildas in this production, Nicola Turner gave an astounding performance on press night. Craige Els as a spectaularly bullish (but strangely dainty) Miss Trunchbull has a very good go at stealing the show, however, Ms Turner is a perfect Matilda and we are with her from the start. We love her for how she deals so mischievously and witheringly with her parents (Rebecca Thornhill as ditsy Mrs Wormwood and Sebastien Torka's failed wide-boy Mr Wormwood). We love her more for her tender scenes with teacher-turned-guardian Miss Honey (Carly Thoms), as they ultimately find their escape route from abuse.
All the storytelling stars combine in this magical production, a tale of good triumphing evil, of trust and respect overcoming cheating and lies and a celebration of the power of imagination.
Reviewer: Sally Jack