Roald Dahl's The Twits
Roald Dahl, adapted by David Wood
Curve and Rose Theatre Kingston
Curve Theatre, Leicester
–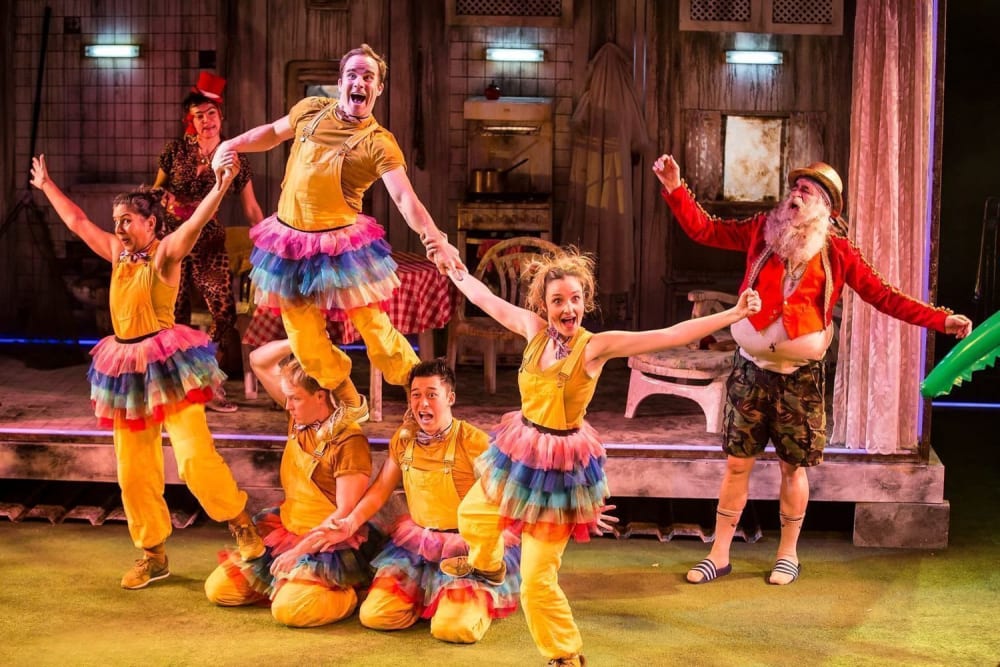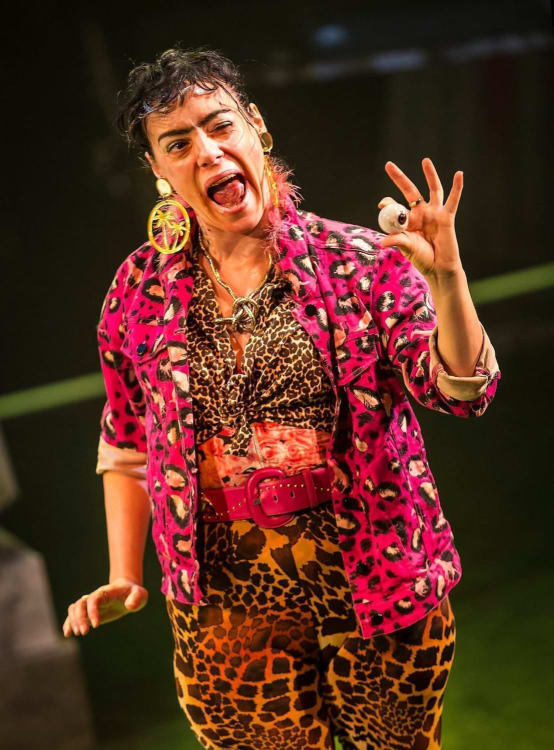 Two of fiction's most grotesque figures—Roald Dahl's Mr and Mrs Twit—come gruesomely to life this Christmas on Curve's Studio stage in this latest co-production between Curve and the Rose Theatre, Kingston.
"What a lot of hairy-faced men there are around nowadays," goes the opening line in Dahl's 1980 children's book The Twits. Holding a mirror up to today's society, this production immediately gets stuck in with a spot of audience participation with a "dad beard-off"—hipsters beware.
Georgia Lowe's design is perhaps best left undescribed, with the objects (and walls) in The Twits' caravan a motley collection of ominous stains and smears, likewise Mr Twit's food-strewn facial hair and "colourful" vest and pants. We first meet Mr Twit (Robert Pickavance) at his business on the toilet, complete with stomach-churning sound effects. Mrs Twit (Jo Mousley) is equally unappealing, relishing in her issues with verucas and dandruff, a penchant for head-to-toe leopardskin lycra and beating miscreants with her large stick.
Mr and Mrs Twit are wonderfully revolting, detest each other and are always looking for ways to trick one another via increasingly vindictive stunts. However, they join forces on a money-making scheme to kidnap and train monkeys (the Muggle-Wumps), getting them to perform upside-down at their circus. As a sideline activity, the Twits catch birds for bird pie. Our role in the audience is to help the caged Muggle-Wump family escape and literally turn the Twits' world upside-down for a satisfying comeuppance.
Max Webster directs this rollicking riot of a piece, incorporating circus tricks, slapstick, puppetry, music, waterguns and aforementioned audience participation to enjoyable effect.
And, this being Dahl, the story isn't afraid to delve into the darker, more disgusting areas of humanity, and thus we root for the lovable Muggle-Wumps (the multi-talented Luke Johnson, Liz Jadav, Alex Chang and Charlotte Workman) from the outset. Jack Horner teeters up high on stilts as The Roly-Poly Bird, and joins the Muggle-Wumps singing, dancing, playing various instruments and tumbling about the stage.
This is perfect entertainment for anyone over the age of five: surreal but understandable thanks to David Wood's clear and direct adaptation—and more gross-out humour than you can shake Mrs Twit's stick at. Glorious fun.
Reviewer: Sally Jack