Roaring Trade
Steve Thompson
Ann Pinnington Productions in association with STAMPTheatre
Park Theatre
–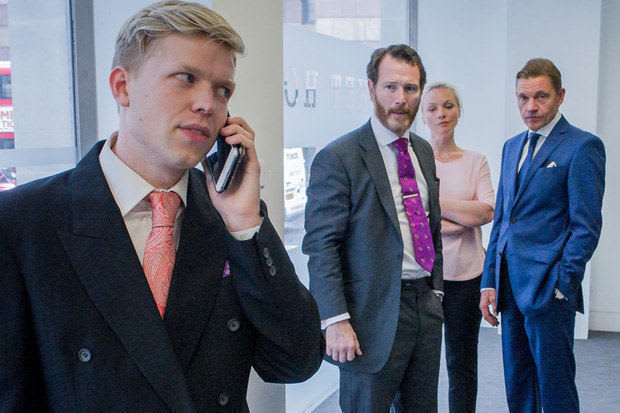 Set in a sterile office and with only a projected backdrop of the city to enhance the mood, Roaring Trade offers a cold and cynical look at the lives of four bond traders.
They exist in a ruthlessly competitive, "dog eat dog", and "survival of the fittest" kind of world in which bravado is as important a currency as the money they are trading. The repetition of theme gives the whole production a calculated edge and in places renders the dramatic moments unconvincing.
There is a sense of the grotesque in all the characterisations with Jess (Lesley Harcourt) painfully aware of her sexuality, Donny (Nick Moran) bragging and strutting and PJ (Michael McKell) drunkenly weaving his way through his working week.
Directed by Alan Cohen, the strong cast attack the script with zeal and make the most of their demonstrative characters with Moran particularly relishing flitting between comedy and acting the bully.
There are quite a few laughs, some at the seeming absurdity of their environment and some at the aggressive office banter, but very few moments of connection to give the characters much humanity.
Mckell makes the most of his domestic scenes, however, revealing a reflective side to PJ and Moran works hard to inject some heart into his moments with son Sean (William Nye).
As PJ's wife, Melanie Gutteridge captures a woman unfulfilled and playing at happy families.
Harcourt remains an ice queen, one step ahead of the boys, whilst Timothy George, as Spoon, strikes the right notes of boyish arrogance and quiet hostility.
Whilst the cast do give this their all, they can't alter the fact that the script (even with a few topical jokes thrown in) is a little outdated. The concept that everything in life is a commodity is sadly no longer a shock to us and even with an "emotional" ending it's hard to feel any sympathy for these characters who, addicted to the adrenalin and the lifestyle, bring it all upon themselves.
Putting corporate clichés aside, however, Roaring Trade contains a few interesting twists and turns, which are all delivered with a flourish by this vigorous cast.
Reviewer: Amy Yorston