Robinson Crusoe
Christopher Lillicrap
Proper Pantomime Company Ltd
Connaught Theatre, Worthing
(2009)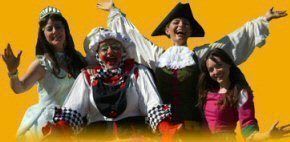 Hoist the main sail and set a course for the Connaught; those who set sail on this good ship panto are in for a grand adventure.
The star of this show is larger than life man hungry Mollycoddle Crusoe played by Christopher Lillicrap, who is not only an expert in the field of Dame, but also writes a wonderfully witty script and produces. Lillicrap is an anarchic dame; no man is safe in the audience and woe betide whoever does not join in with her swimming lesson.
Lillicrap heads a stellar cast who are well versed in the wonder that is the ad lib. They effortlessly incorporate the audience's interjections into the action, never dazed or thrown off course by a shout out, demonstrating real panto pedigree.
The narrative starts with the immortals pitting their wits against each other in perfectly scanning rhyming couplets. Magical Morgana (Nicola Miles, who also choreographs) is a majestic ghost of the sea, battling against the dastardly ghost of Davy Jones played by Matthew Rixon. There is great interaction between the two characters, something missing from many productions this year, as they fight to protect/ruin the principal boy.
To appear visible to our hero Jones adopts a human Pirate disguise, whilst Morgana transforms herself into a friend for Mr.Crusoe; a fluffy mute white dog. Miles summons emotion easily through her wonderful facial expressions and gestures and Davy Jones meets a cleverly penned end. In Peter Pan we clap to keep Tink alive, but here our disbelief in ghosts is what makes Davy Jones disappear for good.
Tracy Shaw makes a bold Robinson and Katie Sheridan a lovable Lucy Locket. Both deliver their roles well and provide some not-too-soppy romance in this swashbuckling adventure.
One issue facing producers who want to stage Robinson is that of Man Friday. Here he is best friend to Robinson from the start, and although named Manfred Day at birth, he is better known as simply Friday. Harvey James plays this comic fool with great aplomb and really knows how to interact with the audience, who greatly enjoy shouting back "Avast Behind", often timed to warrant a remark from Dame Mollycoddle herself.
Well choreographed musical numbers are danced by an energetic ensemble and come from a variety of sources. Queen's 'Don't Stop Me Now' and Cheryl Cole's current hit 'Fight for this love' make an appearance, as well as songsheet 'Sons of the sea (Bobbing up and down like this)'.
Seafaring scenery encompassing tropical islands and seaside docks is beautifully painted and creates a fine setting for some extremely creative costumes.
You'll be pressed to find a production which involves the audience more from start to finish. Audience, young and old alike, leave exhausted, face and stomach aching from laughing so much and hoarse from playing their part. This is such a strong production and it clear to see that a lot of love has gone into to creating it. Robinson Crusoe is proper panto fun from a company which rightly and justly calls themselves the Proper Pantomime Company.
Playing until 3rd January 2010
Reviewer: Simon Sladen