Robert Burns: Rough Cut
Donald Smith
Rough Cut Robin Productions
Scottish Storytelling Centre
–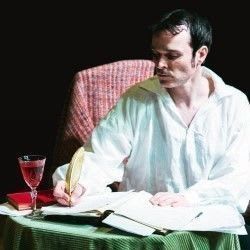 In a small room in Scotland's capital city, the poet Robert Burns has taken residence, as he plies his trade and hopes to increase his fame. As we follow the months and weeks of his stay, he recounts the travails and triumphs of his stay in Auld Reekie, while scratching feverishly on parchment snippets of genius.
The play is written and directed by Donald Smith and is based upon his novel Between Ourselves. Following the six months that Burns lived in Edinburgh, we are shown snippets of his daily life, peering into his affairs and writing, as well as his romances and daliances with the darker underside of the city.
Gavin Paul cuts a rakish figure as the ploughman poet, slyly winking at the audience whilst alternating between angry gnashings about publishers and the Edinburgh gentry, and lascivious intentions towards the various ladies in his life. His portrayal is sympathetic and endearing, an important factor in a man who was often callous with others, especially women.
The piece does however falter somewhat in the constant fading to black between scene changes, which have a staccato effect and distance the audience from becoming immersed in the situation fully.
More so, the many plotlines don't quite gel, especially early on, which leads to some confusion as to the actual overall point of the play, which, by the end, feels surprising, as the many lamentings over stingy publishers and the murky dealings with Deacon Brodie wind up something of red herring.
Still, it's an enjoyable romp and a fine introduction for those who would seek to know a little more of the man, and not just the poet.
Reviewer: Graeme Strachan