Robin Hood: Legend of the Forgotten Forest
Devised by The Wardrobe Ensemble
The Wardrobe Ensemble co-produced with Bristol Old Vic
Bristol Old Vic
–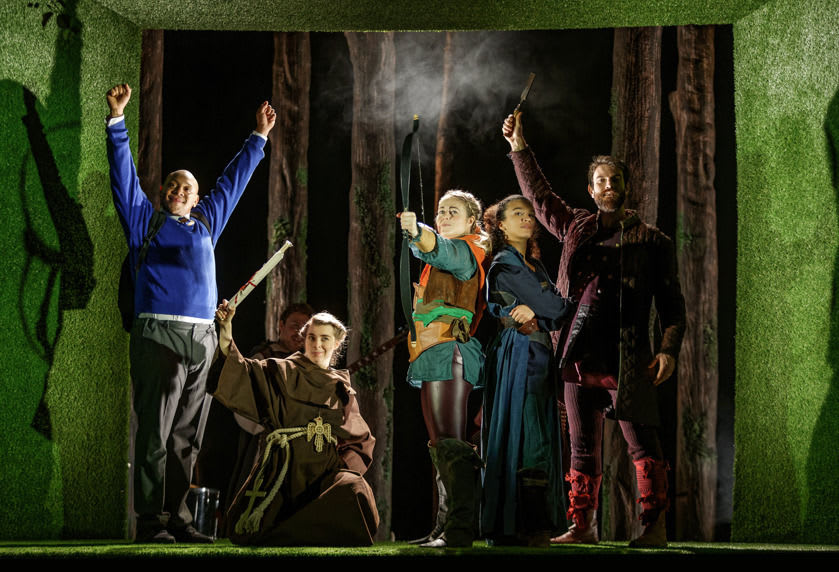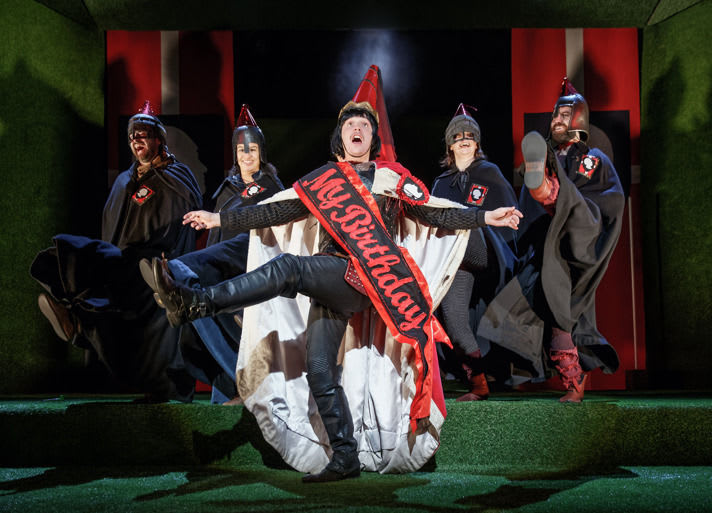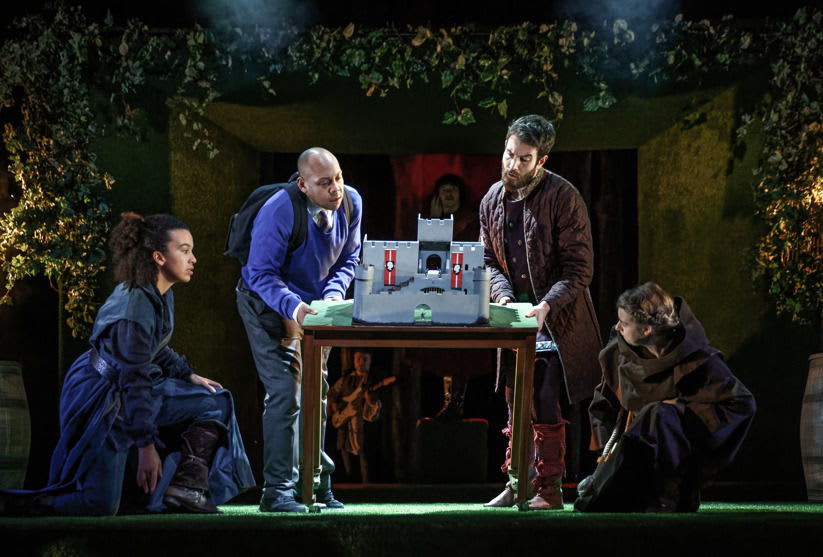 There's an irreverent take on Bryan Adams's memorable power ballad in The Wardrobe Ensemble's latest Christmas show. Nobody who was around in 1991 could forget "(Everything I Do) I Do It for You" lingering in the UK top ten for 16 weeks. It was the theme tune, of course, to Prince of Thieves starring Kevin Costner as the most geographically challenged American of all Robin Hoods.
Fortunately, Robin Hood: Legend of the Forgotten Forest, a devised family-friendly co-production with Bristol Old Vic, enters a whole other world. Here, the historical legend is framed within the story of 12-year-old JJ, a shy and lonely present-day schoolboy with a Robin Hood obsession. Slipping through a crack in the space-time continuum, courtesy of a dusty old book uncovered at his local library, JJ lands with a thud in the middle of 12th century Sherwood Forest.
The depth of Bristol Old Vic's main stage lends itself to the convincing recreation of a dark and eerie woodland, simply depicted by a stepped green carpet framed in black with a backdrop of tree trunks and ladders on each side to create height. Here, as expected, the dastardly Sheriff of Nottingham is present and correct, taxing the local peasantry down to their last penny.
Yet Robin Hood, who ought to be fighting their corner, is nowhere to be found. And so, it's up to JJ to track down his storybook icon, round up the disbanded Merry Crew and set about defeating the corrupt Sheriff's most ambitious and villainous plot of all.
It's witty, fast-paced fun, enhanced with simple props: usherette-style market stalls and sabre-length lights. Dorian Simpson as JJ is an endearing and intelligent protagonist with a strong moral compass, while Kerry Lovell's sorrow-filled Robin Hood subverts pantomime gender-swapping traditions in a way that would infuriate those still fretting over a female Doctor Who. There's a very large nod to Oceans Eleven and the general heist movie genre, as members of the Merry Crew are introduced, and their subsequent misadventures planned out in amusingly anachronistic detail.
Jesse Meadows has a ball as the drunken, karaoke-singing Friar Tuck with a fondness for misquoting the Bible, and Tom England is a larger-than-life, prose-scribbling Will Scarlet, now bogged down by family and child-rearing duties. Katja Quist's love-interest Marian is reinvented as a mad dog boxing professional, while James Newton as the Sheriff of Nottingham is a smug and preening old school baddie with shades of Shrek's Lord Farquaad, out-of-the-box primed for the audience's boos.
Not forgetting the music which—power-ballad tribute included—is a warm and atmospheric mix of original and well-loved songs, led by on-stage musician Tom Crosley-Thorne and featuring instruments ranging from guitars to piccolo recorder.
Fast-paced and tightly directed by Tom Brennan and Helena Middleton, this production showcases a certain maturity in The Wardrobe Ensemble's 10th year of devised performance, stepping up to a larger stage with the collaboration of Bristol Old Vic. Only in the second half does the story-telling flag a little, as the escapades and derring-do involved in escaping the Sheriff's castle become slightly one-note and overlong, but this is offset by an energetic and surprisingly poignant conclusion.
With COVID restrictions leading to online rehearsals and switched performance dates, it must have been a challenge to bring this show together, even for a collective that knows each other well. Out of this adversity has emerged a feisty and ingenious coming-of-age tale, both swash-buckling and heart-warming in equal measure.
Reviewer: Claire Hayes