Robin Hood
Andrew Pollard
Wiltshire Creative
Salisbury Playhouse
–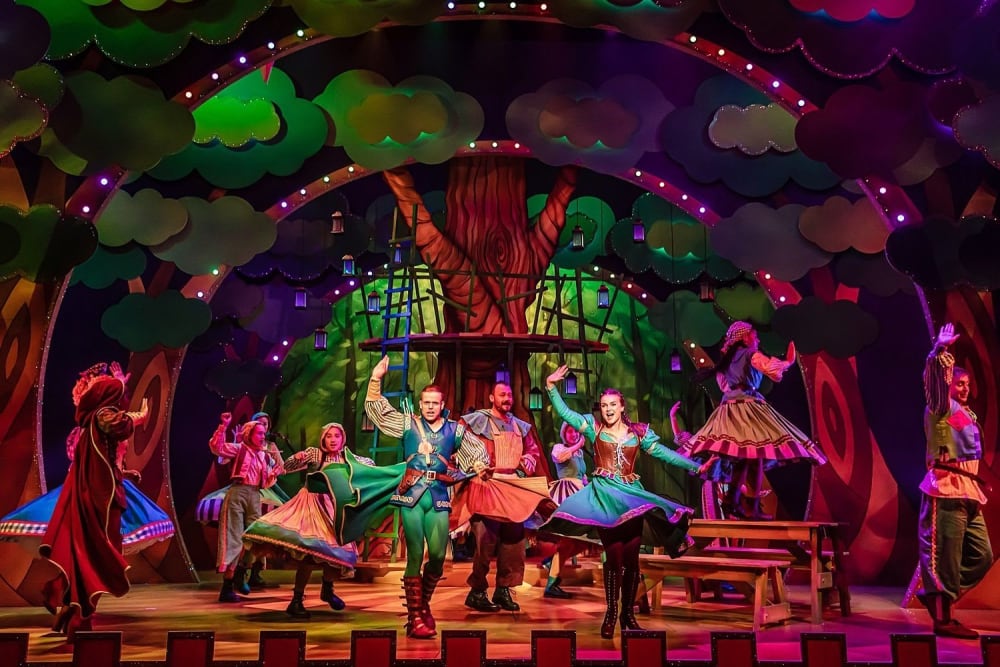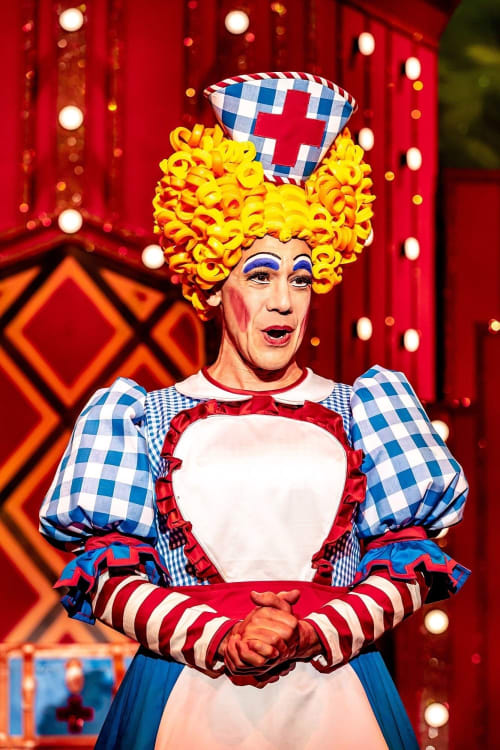 We've got used to them, haven't we, each year getting better and better? And as we flock to the Playhouse in our hundreds, we know that when we emerge we're going to be telling each other "oh yes. This was definitely the best one yet." Because it always happens, doesn't it?
Wasn't it only last year that they had to extend the pantomime season for an extra week to accommodate the demand for tickets? Well Andrew Pollard has been writing the pantomimes for quite some time now, this year being joined as director by Gareth Machin, artistic director of the Playhouse.
They've chosen to do Robin Hood so we're in Sherwood Forest. The stage's background shows lovely trees in full leaf, which is particularly appropriate when you think of all the climate change demonstrations that have been going on in the market square and concerns about the rapidly shrinking Amazon rainforest.
And there's live music on stage from Christopher Peake (keyboard), James Gilbert (percussion) and Luke Beirne (guitar), but we don't see them. They're in front, but tucked away from the audience's view behind low brick walls.
The first half is all story. We meet Robin (Giovanni Spano), handsome and amazingly athletic. When we read that he is also in real life a front man for a successful rock band, we're not surprised. But will he succeed in winning the heart of Maid Marion (Alice Stokoe)? Will he be able to help her in her desperate attempt to find her lost sister and escape the predatory Sheriff of Nottingham (Greg Barnett)? The one that gets boos from the kids in the audience every time he dares to emerge on to the stage? The one that cruelly rejects the tentative advances of the lovely Consuela (Bernadette Bangura) and is universally known for robbing the poor to enrich himself? No. He's definitely not popular.
You can't say the same about Friar Tuck though, the frying-pan-carrying Sheriff's cook (appropriately played by Leonard Cook) and his partner Nurse Nora Virus (Adrian Grove). That extraordinary pile of hair! How does she (he) manage to stop it from toppling over. This pair really are a special delight.
And then there's that other cross-dressed role of Alan (or, where called for, Ellen) a' Dale and his (or her) crucial part in the ultimate fulfilment of all—apart from the Sheriff's of course—their dreams.
I haven't mentioned the Red Arrows and the Blue Bows, have I? It's a wonderful tradition at Salisbury Playhouse each year to involve youngsters from local drama groups in the pantomime. They take it in turns, six at a time, to take on suitable roles. So this year we have two groups (archery is, after all, part of the plot, hence the arrows and bows) who dance, sing and perform along with the professional actors. You really can't begin to imagine anything more valuable for aspiring young thespians, can you?
After the interval, we have all the traditional greetings to groups and individuals who have given their names in, the competition to see which side of the audience sings "Robin Hood" the loudest and all the other traditional items we have come to expect.
Then comes the final spectacular wedding scene where we, reluctantly, have to say goodbye to all the friends we've made over the last two hours or so.
Memories of continuous laughter, along with the situations and observations which inspired it, will be with us for a long time yet. But, as the programme reminds us, in a year's time, from 28 November 2020 to 10 January 2021, the next panto, Cinderella, is due.
Could be a good idea to book tickets now just to make sure.
Reviewer: Anne Hill