Robin Hood
Trish Cooke and Robert Hyman
Theatre Royal, Stratford East
–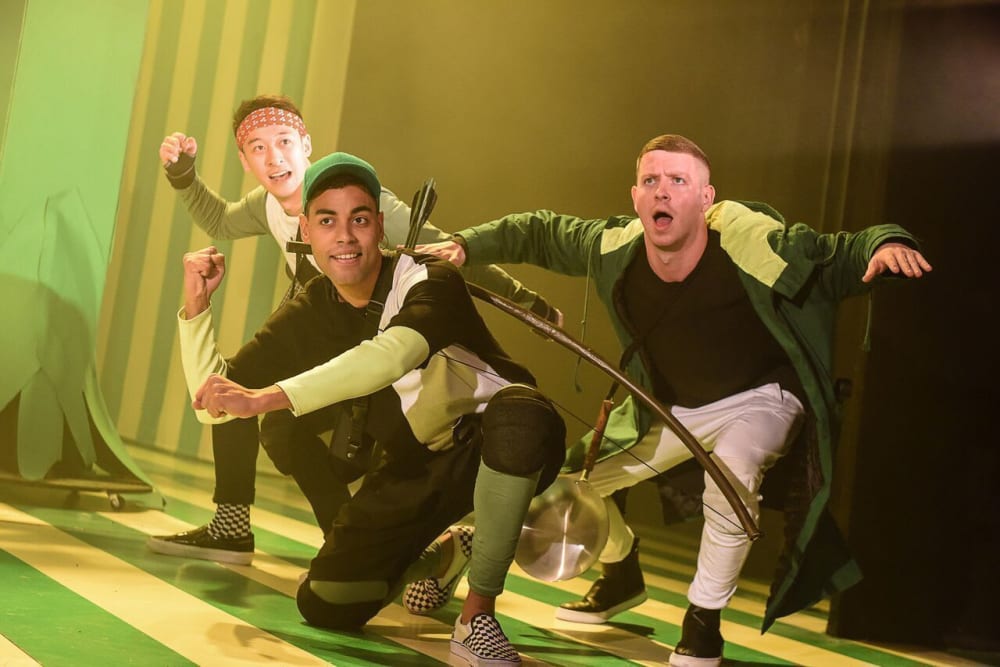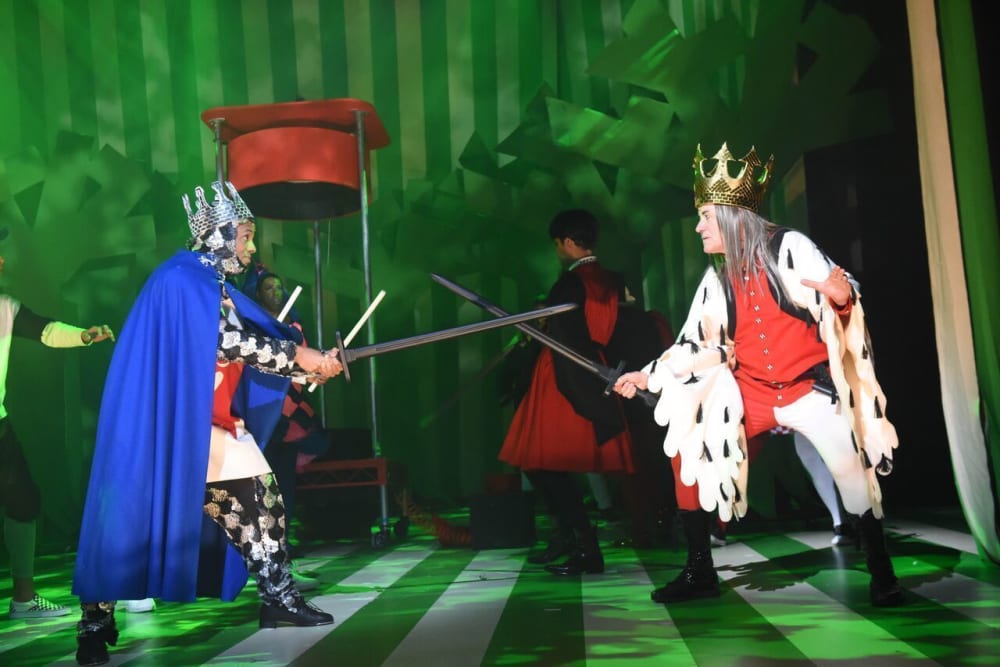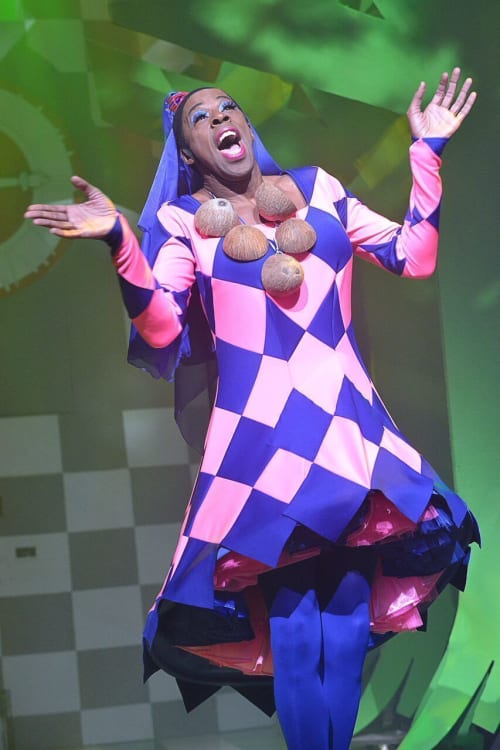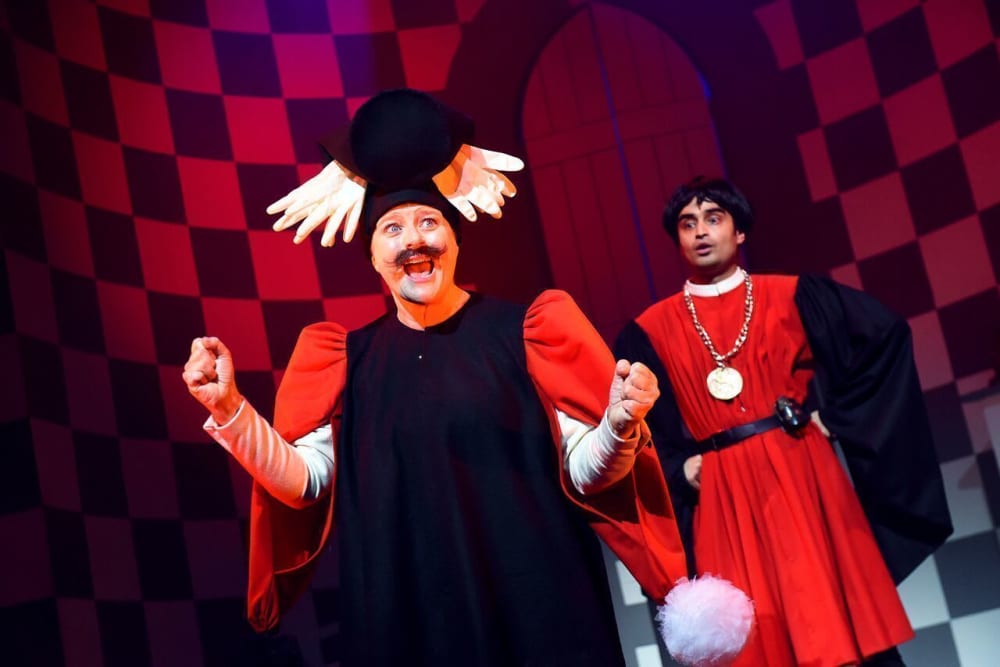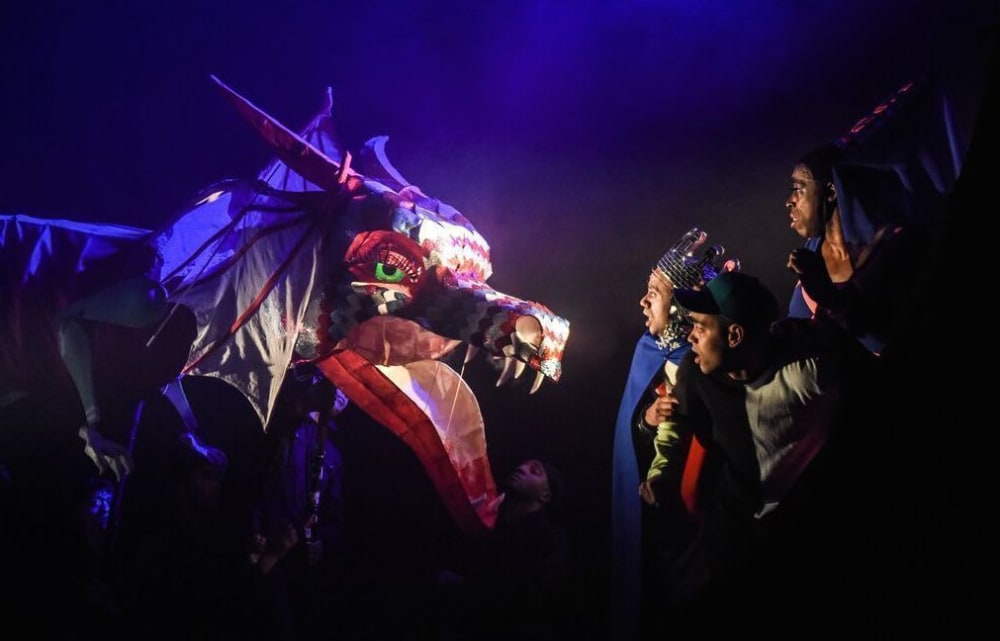 This was my first Robin Hood panto; I'd never seen one based on this story. It's not a fairy story plot but, standalone or linked with the Babes in the Wood, it's been around a long time: it was staged at Drury Lane in 1857 and at Covent Garden a decade later. But where's the Dame in Sherwood Forest, I wondered, where the Fairy Godmother?
For the Theatre Royal team that's no problem. You don't have to have a Fairy and you don't have to stick to history either. This is StratEastHam not Sherwood and though King Richard is still king and it's the middle ages this is a very modern Robin.
Harriet Barsby and Jenny Tiramani's designs have a medieval inspiration with chequer patterns and stripes, banners and tabards but Robin and his men are streetwise boys in baseball caps. There's nothing medieval about the catchy tunes that Robert Hyman's score sets them dancing to—and on keyboard in the pit and as MD he's at the lively heart of this joyful production.
Maid Marion is now a princess, King Richard's daughter, but it's his (now twin) brother Prince John whose in charge of the kingdom. He says Richard's been captured by pirates and the people (that's us) have to pay up for his ransom. But he's lying. He's plotting to steal the crown and marry his own niece Marion (to keep her money in the family!).
Robin is on the side of the people; can he outwit the wicked Prince John? With Stratford old hand Michael Bertenshaw playing the baddie he's going to be up against tough opposition. This is a man who knows how to twist an audience around his little finger and he's wickedly funny. He's been great dame in some previous pantos so are we going without one? Not likely! There's Derek Elroy, another Stratford alumnus, as Nurse, a coconut loving Caribbean lady still looking after a now grown-up Marion.
Marion is a bit of a surprise too, a dissatisfied princess who can get a bit overheated (though Nurse has a song we can all sing to calm her). She demands to be equal and is already rebelling, illegally taking up archery (banned to women). Already she can outshoot Robin, even though she only has one hand, but then she is played by multitalented Nadia Albini. Not surprisingly, Robin falls for her, but wedding bells aren't part of her plan.
Oliver Wellington's Robin Hood is a bright fellow, a man with the moves (he needs them for Omar Okai's lively choreography), though Ashley Campbell's King Richard has a tap routine that, like his costume, outshines him. This Robin doesn't like being bested and that gets him captured. His Merry Men have their names updated. Little John is now Titch (Ashley Joseph), Will Scarlet is Red (Alex Chang who plays a real guitar not an air one) and Friar Tuck just Tuck (a still hungry Geraint Rhys Edwards on trumpet) who's got his eye on the Nurse.
As you see, it's a new take on the story which, as well as knights on chargers, a jousting contest, an archery tournament, dungeons and dragons (well one rather fine one), has a giant worm who knows an escape root through a tunnel that is crawling with creatures and a comical squashing (I know that ought to be awful but it's of wicked Prince John!). There is even a neat little twist for Herman (Rebecca Deren), the sidekick of the Sheriff (Richard Sumitro).
Director Kerry Michael never lets things flag, though he leaves leeway for these personable players to interact with the audience. It's a show full of visual treats and plot surprises that adds a new twist while preserving the panto tradition and excluding the warmth that always characterises a Stratford East panto.
The Theatre Royal has done it again: here's a family show with a few bits of naughtiness for their parents, loads of involvement, never forced but eager and enthusiastic. Elroy's Dame plays a scene with an audience member that brings the house down without causing any embarrassment.
It's happy, healthy fun with a few barbs with political points that strike home—just like the arrows the audience fire in support of our heroes—but I promise it will give anyone a good time.
Reviewer: Howard Loxton