Robin Hood
Alan McHugh
Crossroads Pantomimes
Theatre Royal, Nottingham
–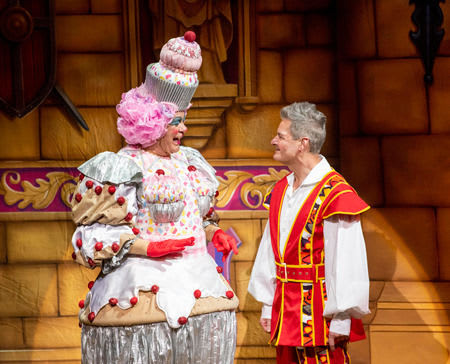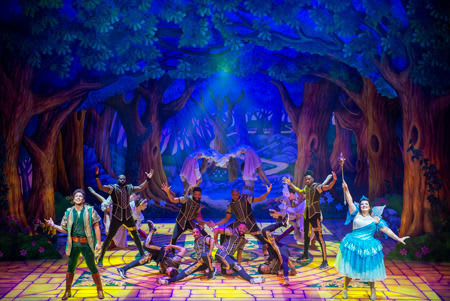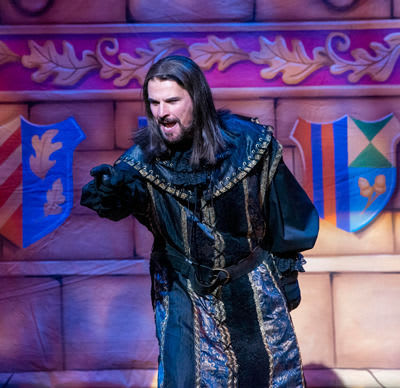 There's no better place than Nottingham to see a show about the legendary outlaw and archer Robin Hood. And the Theatre Royal's 2021 panto definitely hits the bullseye.
Star names, side-splitting comedy and superb singing mean Robin Hood is a good draw that undoubtedly appeals to all the family.
There's little plot in Alan McHugh's script as the legendary outlaw who robbed the rich and gave the money to the poor tries to outwit the Sheriff of Nottingham. There are contrived scenes to enable some of the performers to do what they do best. Overall, though, Robin Hood is just under two hours of quality entertainment that leaves audiences quivering with delight.
Septuagenarian Matthew Kelly could be argued as top billing in the role of Dame Tilly Tuck. The panto veteran is always game for a laugh and comes out with a few risqué remarks which go down well with adults in the audience.
Tristan Gemmill, appearing in only his second panto, makes a good baddie, his Sheriff of Nottingham encouraging everyone to boo him as he endeavours to make life even more unbearable for common people.
Most of the songs are left to Jodie Prenger who plays the Spirit of Sherwood and Matt Terry, winner of The X-Factor in 2016, who portrays Robin Hood. Naturally enough, they are vocally strong and earn plaudits for their performances.
There are other successes, though, in Robin Hood. Phil Walker gives a comedy masterclass as Silly Simon, working well alongside "mum" Matthew Kelly and having no qualms about appearing ridiculous as he gets plenty of laughs.
Kieran Powell as Alan-A-Dale is an accomplished ventriloquist with two puppets which charm younger members of the audience. He also has a good voice and is not uncomfortable in comic scenes.
Lucy May Barker gives a feisty performance as Maid Marian and the seven members of the dance troupe Flawless produce an energetic, acrobatic display as the Merry Men.
Russian circus performer Denis Remnev makes a guest appearance as Will Scarlet, thrilling everyone with his antics on what I am reliably informed is a revolving German wheel. It might seem out of place in Sherwood Forest but it's a jaw-dropping spectacle.
For me, the two most hilarious scenes are a tongue-twister featuring the Sheriff, Dame Tilly and Silly Simon which gets progressively faster and more clever; and a rendition of "The 12 Days of Christmas" with different words complete with props. The Sheriff, Robin, Simon and Alan-A-Dale try to keep up and there are attempts to sabotage one another's turns.
There are a couple of fight sequences which do not look totally convincing but on the whole director and choreographer Jonny Bowles does a fine job to present a slick show which gets the most out of his cast.
The show ends with a fervent rendition of the Clean Bandit and Jess Glynne song "Rather Be"—an appropriate finale as most if not all the audience agreed there was no place they would rather be than the Theatre Royal watching Robin Hood.
Reviewer: Steve Orme