Robin Hood
Laura Dockrill, music by Hugo White
Watermill Theatre
Watermill Theatre
–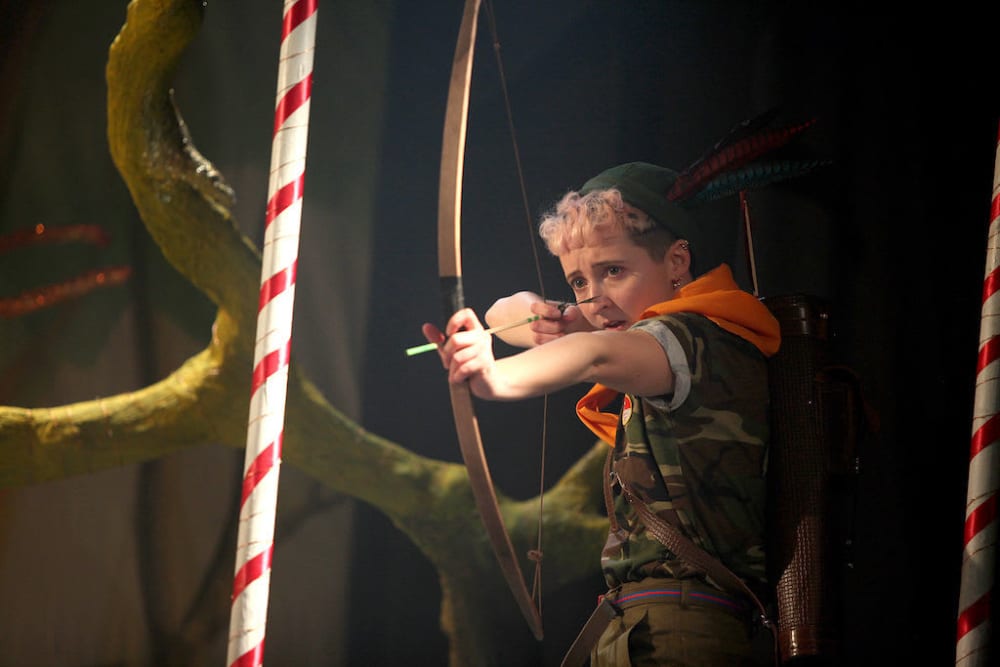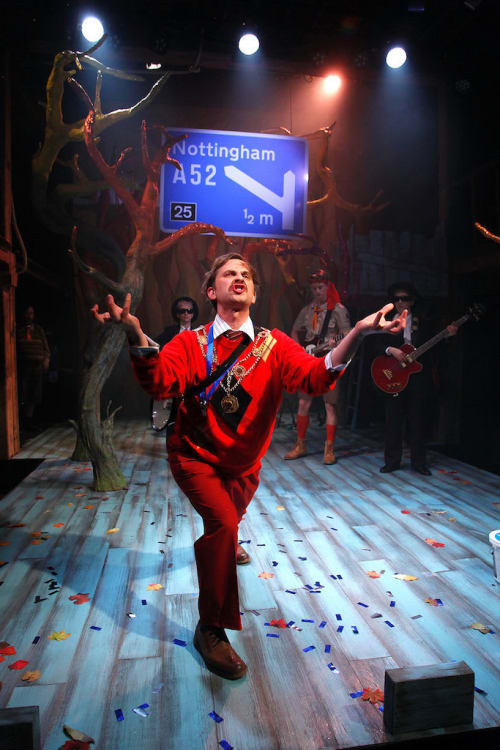 The Watermill Theatre's Christmas show is a refreshingly vibrant new production of Robin Hood written by award winning author Laura Dockrill with catchy, spirited music by Hugo White performed by a highly talented company of actor musicians.
Frankie Bradshaw's beautiful set design of fragmented trees with glitter creates a magical atmosphere and there is a modern feel to the costumes that works very well.
The story is well-known but in this version Robin is cast as a girl. Georgia Bruce gives a feisty, vivacious performance as our heroine who robs from the rich to give to the poor.
There is a wonderful take on the Direct Line television advert for car insurance as Little John, excellently portrayed by Daniel Copeland, is involved in an accident with Miss Snobs's coach and Robin pretends to be the insurance agent offering to help with the claim whilst taking her jewels and money as "evidence". A brilliant touch of tongue-in-cheek humour.
Leander Deeny is outstanding as the petulant, wicked and nasty Sheriff of Nottingham who relishes in being evil and drives the storyline with endless energy, taking full advantage of the witty script to insult everyone.
He has taken over Nottingham Castle and is forcing the poor to pay heavy taxes and Robin to live in the forest with her band of outlaws.
Joining them are the friendly Friar Tuck (Jorell Coiffic-Kamall) and Will Scarlet (Ned Rudkins-Stow) as they plan to defeat the Sheriff despite a reward of £20,000 for the capture of Robin dead or alive.
Robin seeks the help of her old school friend Maid Marian (Stephanie Hockley) who crochets dolls to give to the poor and is obsessed with knitted crochet dresses and cushions. But they also fight over the memories of their childhood squabbles.
Meanwhile, the villainous Sheriff has captured Will and Robin sets off to rescue him and take his place in prison.
But will the plan work? Will Robin save the day and will Maid Marian accept the Sheriff's proposal of marriage?
There is so much to enjoy in director Laura Keefe's inventive playful production from the rock 'n' roll and upbeat music to the breakdancing and floss dancing and oodles of audience participation in this fun-filled family show
If you are looking for the perfect start to the festive season then Robin Hood hits the bullseye; as my two young companions said, "it's brilliant." Don't miss it!
Reviewer: Robin Strapp