Robin Hood
Paul Hendy
Evolution Productions
Marlowe Theatre Arena, Canterbury
(2010)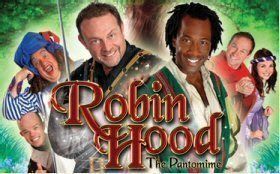 It has been 215 years since Robin Hood made his first pantomime appearance in Merry Sherwood; or, Harlequin Forester. We may not be in Sherwood here, but the Marlowe Theatre Arena in Canterbury provides the unique setting for a show full of pace, wit and energy.
Sid Sloane of CBeebies fame is our hero in a tale where legends are made. Along with his Merry Men, it is outlaw Hood's duty to protect Nottingham from the wicked Sheriff, played by John Thomson.
Thomson makes a wonderful Villain. His Sheriff is conniving, conspiring and delightfully camp, able to summon boos and laughs in an instant. His stand-up background means that any call-out from the audience is dealt with in true panto fashion with a quick witted ad-lib and it is obvious that Thomson has a strong passion for the genre.
This the first time Evolution Productions have produced Robin Hood and Hendy's script is full of the delights of pantomime. With gags galore, comedy features heavily and Ben Langley as Will Scarlett delivers much of this with panache.
An experienced pantomime performer, Langley is everything a Comic should be: friendly, funny and frantic. His facial expressions alone have the audience shrieking with delight and alongside Canterbury legend Dave Lee as Lady Nellie, the two have young and old rolling in the aisles.
This year the Marlowe Theatre Arena pantomime is presented on a thrust stage and due to Hendy's meticulous direction, regardless of where seated, a good view will be had by all. Hendy also ensures that whenever possible the cast mingle with the audience and much fun is had with some giant peas during a slapstick cooking scene.
Alongside the comedy, Robin Hood offers spectacle in the form of an impressive castle, complete with working drawbridge, and breath-taking illusions courtesy of The Twins. Pantomime is a smorgasbord of theatrical genres and it is nice to see so many referenced and incorporated into this production.
The musical numbers, apart from a small blip in 'Bad Guys', are well sung and danced by the talented cast and energetic ensemble. Wide ranging in scope and number, from 'Rocking Robin' to Pink's 'So What' and even 'What You Want' from Legally Blonde, there is something for everyone; however, one song, 'Do You Hear The People Sing?', sticks out like a sore thumb. Although rousing, it is impossible to ignore the musical number's French connotations, especially when flags, all be they English, are waved in the same iconic way as in the musical that celebrates its 25th anniversary this year. The issue here is that 'Do You Hear The People Sing?' acts as Les Misérables' quasi-theme tune and, as it is sung, ghosts of the West End production haunt the stage jarring with the musical number's patriotic function in its new home.
Robin Hood is a wonderful addition to Evolution's portfolio, complete with sword fights, silliness and a strong story. This hand-clapping, toe-tapping, rib-tickling production keeps the magic of pantomime alive for all to enjoy and is the perfect festive treat for the family.
Playing until 9th January 2011.
See Simon's interview with Paul Hendy
Reviewer: Simon Sladen