Robin Hood
Phil Willmott
The Corn Exchange Newbury and Hiss and Boo
The Corn Exchange Newbury
(2011)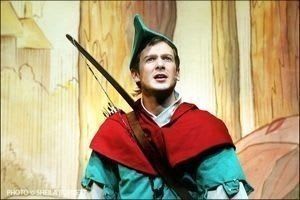 The Corn Exchange's panto Robin Hood certainly hits the target, scoring an absolute bullseye in this hugely enjoyable family entertainment written and inventively directed by Phil Willmot.
The opening night's enthusiastic and excited audience loved every minute and were soon into the swing of panto tradition, cheering the heroes and booing the baddies and enjoying the oodles of audience participation.
The majority of the company has performed together for several years and this really showed as this talented cast just oozed confidence and were having as much fun as the audience.
Willmot's twist on the story is focussed on the relationships between the venomous evil King John—a superb performance by Joe Wicks—and the valiant brave Robin (Jorden Bird). Jessie Lilley is a sweet Maid Marion who eventually catches her man.
Although the audience is encouraged to join Robin's gang, which they do with zeal, we only meet Friar Tuck and Little John in a brief tableau at the beginning of the panto, which is rather a pity.
Callum McArdle is the stoic King Richard off to fight in the Crusades and leaving his brother John in charge of the kingdom—a big mistake.
Mathew Grace reprises his role as Billy Bumpkin, a part he's played for three years and he just grows in stature with his excellent rapport with the audience.
The superb Clare Plested is simply dazzling as the punk hip-hop rapping minstrel, seductively captivating the audience with her comic interpretation of her role as Sharon-A-Dale. All great fun.
Every panto needs a dame and once again Ian Mowat as Lady Shania Tuck is outstanding with the most outlandish costumes. He surely must be one of the most consummate dames in the business with wonderful comic timing and a completely delightful bond with the audience.
There is sound support from Katherine Hare and Alistair Hole as the wicked Sheriff of Nottingham, and the chorus of young folk are a joy to watch with slick choreography by Holly Hughes.
There is a lovely surprise when Adam Brown, one of the regular panto performers currently filming in New Zealand with Sir Ian McKellen, sent an audio file to be included in the show which includes a comic extract from Sir Ian, a truly unexpected moment of magic.
With a spirited musical score of modern rock songs under the direction of Mark Aspinall and beautiful costumes and a fine set, this is an impressive evening of fun, "Oh yes it is."
The audience doesn't need the words on a song sheet to sing the final number and what else could it be but that famous tune from the television series, "Robin Hood, Robin Hood riding through the glen" and the audience joins in with gusto. The perfect start to the festive season.
Robin Hood runs until the 2nd of January
Reviewer: Robin Strapp