Robin Hood
Adapted by Oliver Gray
Illyria
Nottingham Castle
(2007)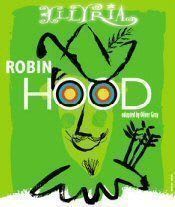 What better location for a play about Robin Hood than Nottingham Castle? Although the traditional stronghold disappeared centuries ago to be replaced by a 17th century mansion, the grounds are an intriguing place where you might expect an outlaw to be hiding behind a tree or crouched in the undergrowth to avoid the sheriff's men.
In recent times outdoor theatre at the castle was staged on a huge lawned area, with the audience seated in a grandstand. Now you take your own chair or rug and watch from a little glade which, on a warm evening, gives you welcome respite from the sun's rays.
Illyria have been going for the past fourteen years. This summer they've got four shows on the road, playing in the Netherlands as well as all over Britain. If anyone knows about performing outdoors, it's Illyria.
The character of Robin Hood has developed since medieval times from a malicious outlaw into a swashbuckling hero and even an environmental campaigner. But Illyria's artistic director Oliver Gray has taken a more traditional view of the fearless forester who didn't come out on top in every fight and wasn't the perfect leader of men.
Gray takes several tales of the greenwood and intersperses them with passages of verse which move the action on and form the basis of a clever show which appeals to the whole family.
Robin Hood has a cast of five who energetically and enthusiastically throw themselves into the production. They prove that in these times of technological wizardry you can still give a hugely entertaining performance with a trunkful of costumes and a few props.
A blue piece of cloth is unfolded to become a brook when Robin Hood scraps with Little John on their first meeting while improvisation includes a horse's head and a pair of coconut shells.
The cast - Theresa Brockway, Adrian Clargo, Matt Crosby, Edward Day and Annie Lees Jones - play an average of four roles each yet there's never any confusion as to who is playing which character.
It's an incredibly slick show with the actors sometimes making their entrance at the last possible second after a costume change in their behind-stage tent.
There's a bit of slapstick, plenty of water sloshing around and astute audience participation, with children joyfully throwing sponges at the sheriff while he's in the stocks.
Youngsters are, of course, encouraged not to emulate the actors and a song implores them Don't Do This At Home as the wicked sheriff has his fingers cut off and later has his arm and leg removed with a saw.
The action occasionally slackens off as the start of another tale is told or when the cast passably sing a ballad. But the quintet soon step up the pace again as the merry men live up to their name.
The humour may not be everyone's taste but you have to be impressed by Illyria's polish, precision and professionalism.
"Robin Hood" tours until September 8th
Reviewer: Steve Orme