Robinson Crusoe
Andrew Pollard
Greenwich Theatre
Greenwich Theatre
–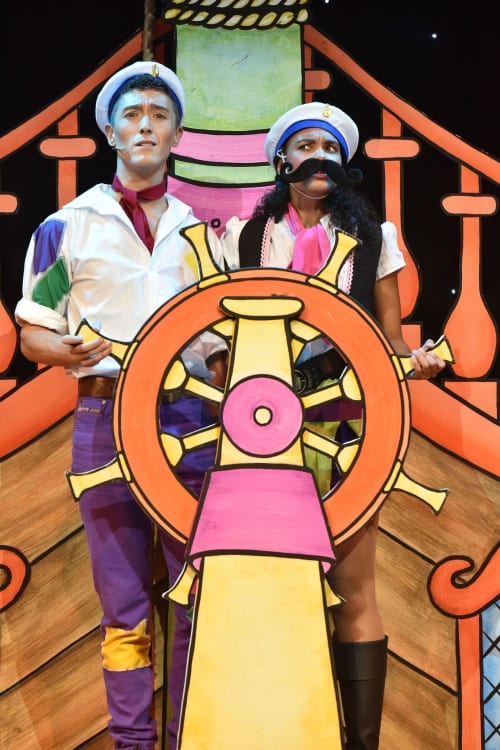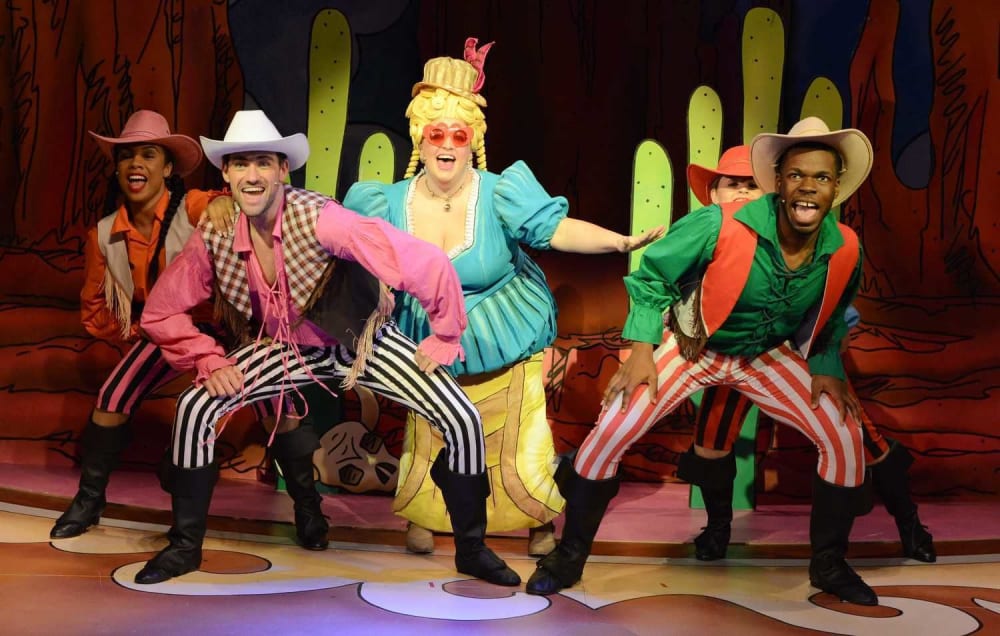 When Daniel Defoe published Robinson Crusoe in 1719, little did he know that it would later become the subject of a many a pantomime and a favourite of Victorian scriptwriters. The narrative's opportunity to celebrate Empire whilst popular in the 19th century, led to the title falling out of favour in the 1980s with production companies wary of how to present the tale without causing offence.
Greenwich Theatre is the only venue producing Robinson Crusoe this season and, with Andrew Pollard at the helm, the title is in capable hands as The Beano meets panto in a swashbuckling tale fit for the 21st century.
Full of slapstick antics and a vibrant set courtesy of Cleo Pettitt, Robinson Crusoe is a panto party for all. The show's simple plot of a discovered treasure map and the quest for gold is given a complete overhaul as Pollard transports the narrative to the Americas, with Friday's faraway island becoming Dodge City in the Wild West.
Such an approach enables Pollard to actively comment on the absurdity of Empire and pantomime's inherited past. In his production, Man Friday becomes Arabella Rodrigio's Manotopha, a female Chief without a tribe who seeks to fight back at those who have stolen so much from her.
But the moral of the tale does not end there. A headstrong, ninjutsu trained Polly Perkins in the guise of Michaela Bennison provides an inspirational Principal Girl, with the 'It's Behind You' sequence featuring the worst of all ghastly creatures: an orange-skinned, blonde thatched Trump beast who out trumps even the wind-blowing of Tom Guest's bumbling Captain Wallace.
Although Pollard's Crusoe suffers a little in the first act from a lack of narrative exposition, the second act really takes flight, with comic numbers and set pieces effectively integrated into proceedings that follow twist after turn and see a long lost father and daughter somewhat surprisingly reunited.
A mainstay of pantomime, cross-dressing is one of the genre's iconic conventions and Greenwich's production embraces this to the full. In one scene, Polly steals aboard the Saucy Nancy disguised wearing a tunic, breeches and oversized moustache—a nod to the Principal Boy days of yore. When she and Robinson perform their love duet, a well-timed interruption from Dame Polly results in a sublime moment of celebration for the LGBTQ community as she waves a Rainbow flag and reminds Robinson that love is love.
In the titular role, Matt Jolly is the latest in a long line of superb singers at the venue, but, along with Bennison's Polly, needs to rein in his performance somewhat as it veers on presentational and forced in such an intimate venue.
Lizzy Dive's Saucy Sal brings a new spectrum to the role of Immortal, slowly turning ever human as she evolves from the ship's masthead and constitutes a quasi-second Dame to the Master of cross-dressing Pollard.
After a year off, Pollard's Dame is greeted with some of the biggest cheers of the night as musical number 'Hello Dolly' heralds his return. Every aside, routine and number is a lesson in the art of Daming and cements his position as one of the industry's greatest.
Also back for another year of fun, Anthony Spargo's Captain Gingerbeard is surely one of the greatest Villains of all and well deserving of the Great British Panto Award he dreams of. A cross between Kenneth Williams and Mick Jagger with a hint of Harry H Corbett thrown in for good measure, his performance is a masterclass in villainy.
Steve Markwick's orchestrations and band constitute the best in Pantoland and demonstrate the importance of music to proceedings, bringing great energy and drive to the show, whilst James-Paul McAllister's choreography enriches but never distracts from the plot.
A riotous evening of pantomime joy, Robinson Crusoe successfully resolves the ills of Defoe and provides plenty of contemporary commentary ticking off Trump, Brexit, flossing, Baby Shark and The Greatest Showman to round up and round off the year.
Reviewer: Simon Sladen