Robinson Crusoe
Devised by Michael Harrison with additional material by Les Dennis and Andy Ford
Qdos Entertainment
Theatre Royal Plymouth
–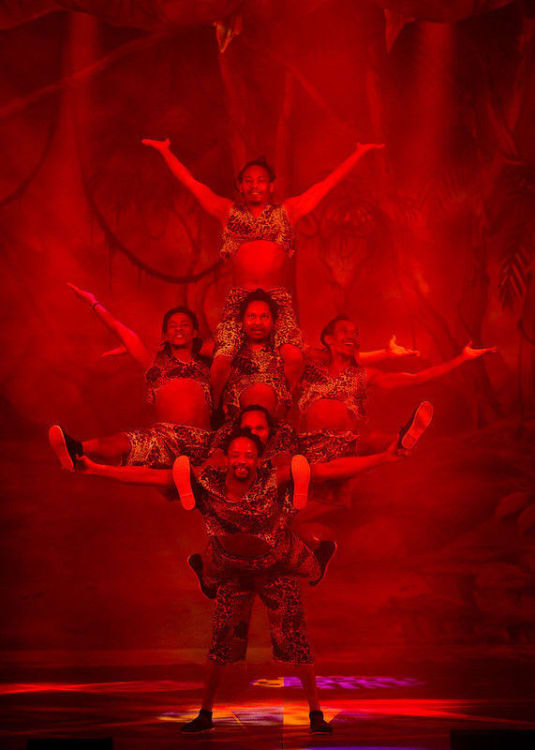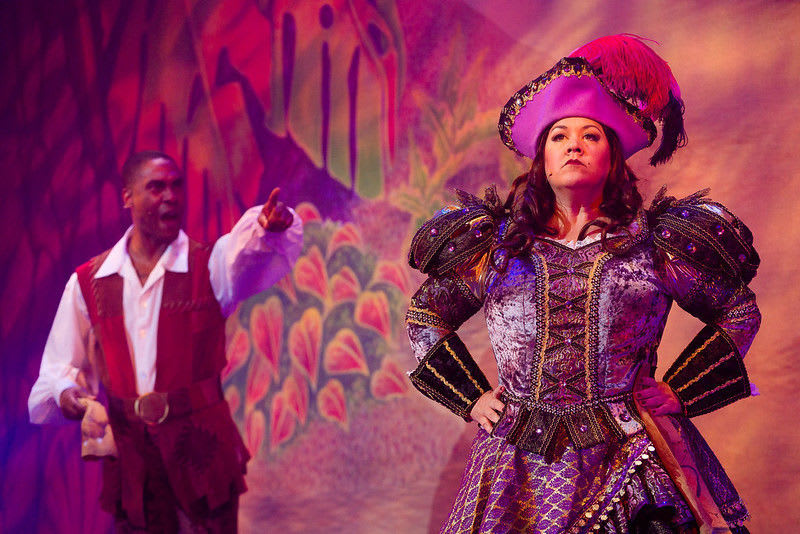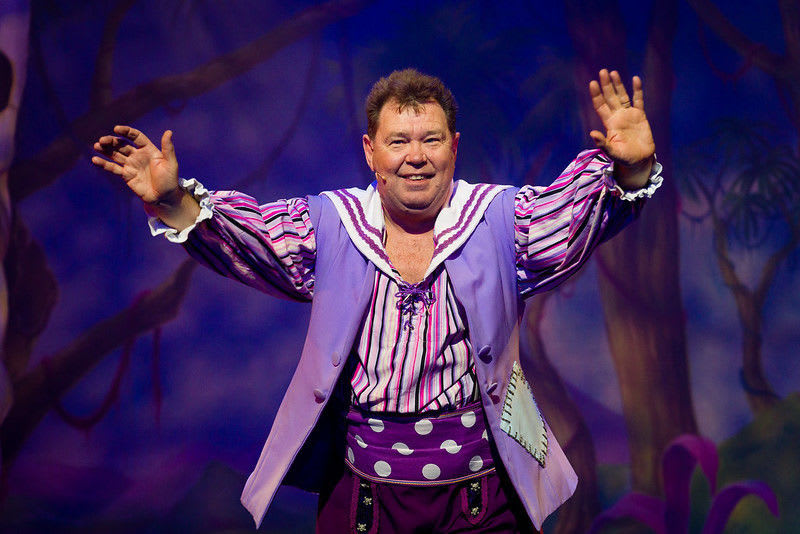 COVID restrictions may be stamped all over the festive panto but, thanks to the National Lottery, producer Michael Harrison and Qdos, there is one. And how good it is to be back at TRP.
Robinson Crusoe is nothing like the Defoe story save for being shipwrecked on an island: this version may be flimsy and no more than a speeding vehicle for song, dance and hilarity but has much swashbuckling with pirates, treasure maps and hidden riches to entertain.
With seven actors, a company of just three hoofers plus the superb Timbukto Tumblers, it is a pared-down panto with no dress changes and restricted audience participation—no singalong, no cheery refrains (replaced with waving), few props, no booing, hissing or 'behind yous', and no special effects but the scenery is up to muster and Delia Lancaster's costuming is as extravagant as we would expect even if there is only one outfit per character.
Les Dennis (the Dame) and Alan Ford (Billy Crusoe) are the comedic backbone of the show providing plenty of jokes at breakneck speed, tongue-twisters and silliness with the lip-synch account of Billy's disastrous date tremendous. Ford has become a perennial favourite in Plymouth and he doesn't disappoint with cheeky asides, clumsiness and general daftness.
But Dennis's emotional finale perhaps steals the show.
The superb Jennie Dale (best known for her role as Captain Captain in the CBeebies show Swashbuckle) gives her all as the menacing villain of the piece, the Pirate Queen, brandishing her sword and buckling her swash on a mission to relieve the lovelorn Robinson (Blue's Simon Webbe) of his half of the treasure map.
Suave Webbe has a fab voice which commands attention with his "One Last Time" duet with love interest Charlotte Haines as Polly Cockles a showstopper.
Connor McIntyre as Captain Cockles and Emily Beth Harrington as the magical Spirit of the Ocean complete the sparse complement of actors with Rebekah Bryant, Rachel Flynn and Leah Godbold the Magical Mermaids providing the dance and backing vocals.
Choreographer Paul Robinson and COVID-19 Marshall India Marsland have had their work cut out ensuring social distancing on stage and can be forgiven for times at which the resulting lines or clunky entrances or exits grate, but there are no such constraints for the dynamic tumblers whose acrobatics, skipping routine and limbo delights.
Hats off to TRP for getting a panto on under such constraints—the atmosphere may be toned-down due to using only every other row and keeping two seats between masked groups in the auditorium, and there is no interval in the 75-minute run (toilets are still open), but the fun is still palpable. There's no ice cream, no programme sales, no bar and an orderly instructed exit to keep people apart (not quite as well thought-out on arrival).
An entertaining evening for all the family supporting live theatre in our region.
Reviewer: Karen Bussell