Rock of Ages
Chris D'Arienzo
Selladoor Worldwide, Dan Looney, Adam Paulden, Jason Haigh-Ellery and Gavin Kalin
New Victoria Theatre, Woking
–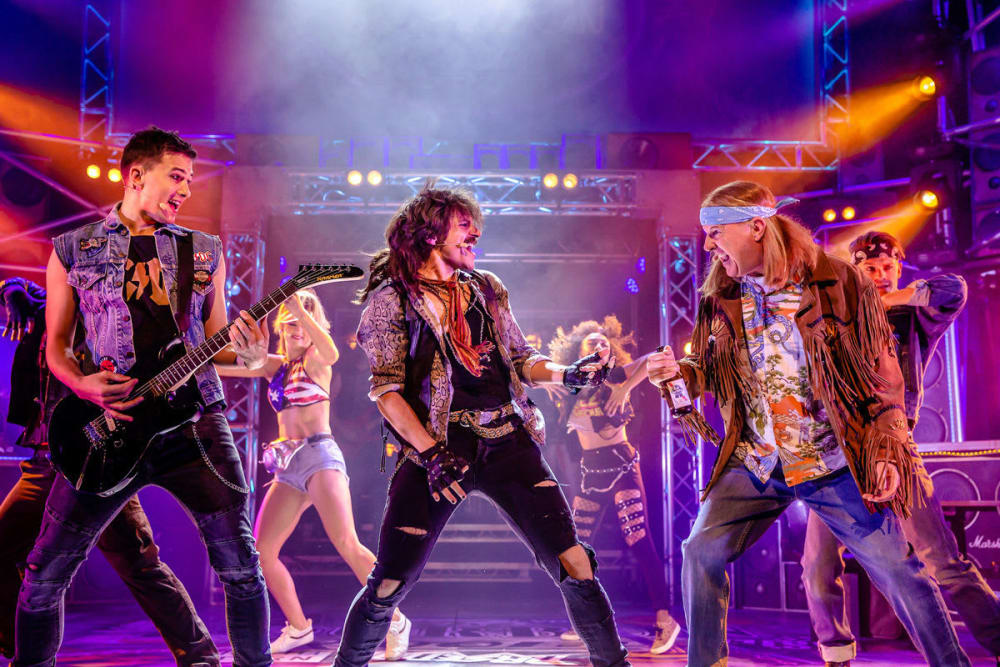 Lucas Rush (Lonny) opens the show with a camp flourish and has the audience aghast and in stitches within moments. These two emotions are elicited time after time in a hilarious performance of Rock of Ages.
The latest jukebox musical to set out on a UK national tour has over 25 rock hits, some great comic writing and a stellar cast.
Lonny narrates the show, setting us in a 'sexier' time on the Sunset Strip, a time of serious rock 'n' roll debauchery. The girls gyrate on stage in thong leotards and micro shorts whilst being objectified by all the men around.
Designer Morgan Large manages to invoke the feeling of a seedy bar using very little set; instead, some well-timed projections and excellent costuming transport us to the '80s on the Sunset Strip.
Lonny leads us through a predictable plot, (girl meets boy, it doesn't quite go to plan etc.) but the drama is elevated with Chris D'Arienzo's clever scripting. Rush (Lonny) constantly breaks the fourth wall, makes his whole act seem spontaneous and unscripted and revels in innuendo (or plain smut!).
The story revolves around the Bourbon Bar, owned by old-time rocker Dennis (Kevin Kennedy). Two young hopefuls have moved to LA in the hope of chasing their artistic dreams. Drew (Luke Walsh), a fresh-faced, earnest young man, wants to be a rocker, whilst Sherrie (Jodie Steel) aims for acting stardom.
Not only is our lovers relationship off to a rocky start, but the Sunset Strip where it all takes place is also under threat. German property developers (cue plenty of outrageous stereotyping) want to bulldoze the lot and introduce profitable 'clean living' into the area.
Rock of Ages is blessed with an amazingly strong cast. All bring bundles of energy to the stage and this, teamed with killer vocals and larger than life personalities, earns them their standing ovation at the end.
The music is really good—all played and sung live under the keyboards of musical director Liam Holmes and his rocking live band. In a cast oozing with talent, the young romantic pair Steel and Walsh still shine with great singing, but also worth mentioning are the stand-out vocals from Rhiannon Chesterman and Zoe Birkitt.
Rock of Ages follows the standard jukebox formula, but then breaks all the rules. It looks like everyone must have had a lot of fun developing this show, and the audience certainly had a fantastic time watching it.
Reviewer: Louise Lewis