Rock Pool

Inspector Sands
South Street Arts Centre
–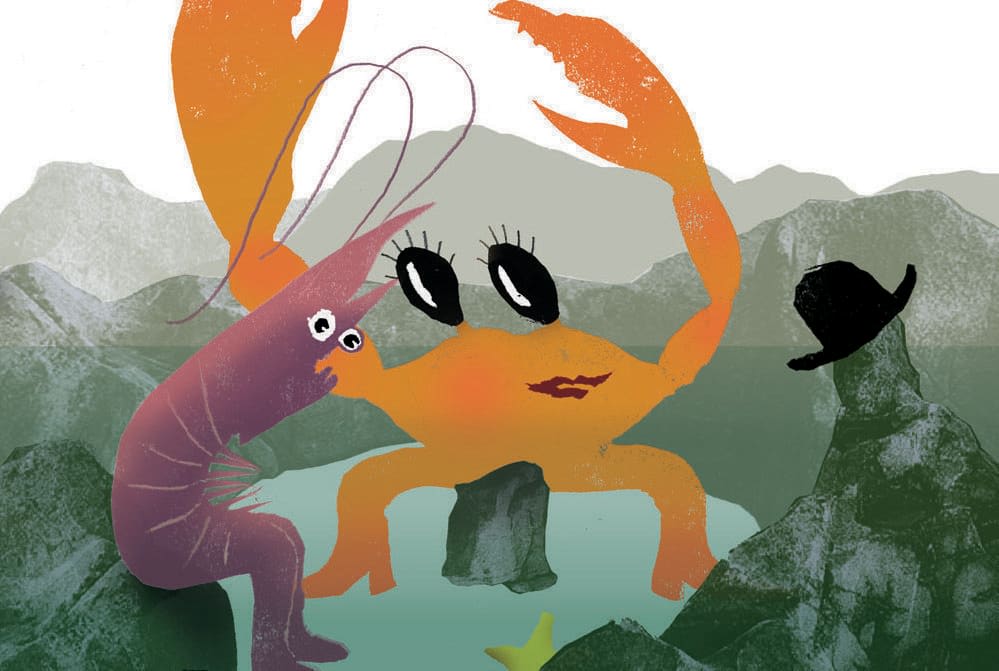 Inspector Sands's Rock Pool is an inventive and funny piece of young children's theatre, delicately layered and thoughtfully crafted. It is utterly charming throughout and really good fun.
In an homage to Beckett's Waiting for Godot, prawn and crab, thrown together by a large wave, wait patiently in a rock pool for another wave to take them home to the sea. Several minor perils befall the pair, who after a small disagreement, become firm friends.
Seagulls, evaporating water and crab's regularly rumbling tummy all add excitement to their otherwise uneventful little pool. They overcome these obstacles with bravery and team work, and you root for them all the way.
This is the first children's theatre piece for the company, whose previous work has been beautifully choreographed and constructed with subtle yet powerfully effective devices, especially their lighting and sound, and they have tried to bring some of these into their children's work, with varying success.
Prawn, who cannot breathe out of water, climbs up some stools with a tiny telescope to see above the edge of the rock pool, and, as she does so, her face alone is lit by a warm sunny spotlight, and we hear the sounds of the seagulls. This device works brilliantly unless the cueing is a little off, which it was at times, but this is excused as it was a tour preview and I always consider preview shows to be a form of 'dress rehearsal'.
That said, it may be that live cueing is too complicated for this type of show. Whilst some of the show is firmly seated in Cbeebies territory, it is mostly restricted to the slightly cheesy songs, whilst other elements, the gesture, characterisation and physical theatre, and the subtle puppetry bring a breath of fresh air to the children's theatre genre. The sea anemones bursting through laundry bags, is a moment of real, understated beauty.
It is hard to make theatre for under 5s and, whilst over 5s are by no means restricted from seeing the show, I do wonder if they get significantly more out of it than the under 5s do. My seven-year-old niece gave the show a hearty 10 out of 10 and laughed throughout, whereas the younger members of the audience spent most of their time trying to get on stage.
We were seated in-the-round, on little stools, the audience themselves forming the boundary of the rock pool. This was a lovely choice, but, as the stage area filled up with fun looking props—balloons, handbags, cushions—parents of the younger children were spending most of their time anxiously restraining their little ones from hurling themselves onto the set and grabbing whatever they could.
It would have been great if those young children could have interacted more, perhaps with some dancing at the rock concert finale. When I asked my niece if she thought it was interactive enough, she noted the countless moments where the audience are skillfully but subtley involved, especially as the show gets splashy, but this would have been lost on the younger children.
I don't think this is a failure of the show at all, I think it is testament to the amount that they have crammed in to the production and the narrative.
It is full of gentle laughter, charm and mischief and rounded off with a poignant, yet happy ending.
Reviewer: Liz Allum