The Rocky Horror Show
Richard O'Brien
Howard Panter for Trafalgar Theatre Productions
The Lyric, Theatre Royal Plymouth
–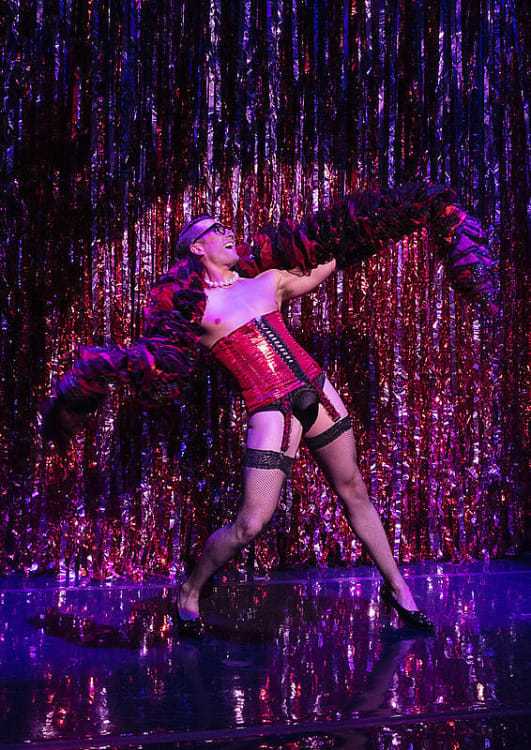 Dig out your fishnets, boa and basque—The Rocky Horror Show is back in town.
Brash, flash, sleazy and camp, Richard O'Brien's legendary—and timeless and tasteless—rock 'n' roll musical celebrates its 46th birthday delighting UK audiences which—particularly on press night—may have been relieved of water pistols, rice and loo roll at the doors but still rise—on glittering stilettos—to the challenge of timely retort and pelvic thrusting.
The pastiche of '50s B-movies has become a cult classic and director Christopher Luscombe's production has now toured for 13 years with three West End seasons, three Australian tours and worldwide cinema screenings under its belt to date.
Strictly winner and It Takes Two presenter Joanne Clifton as demure Janet and mellifluous—a lovely "Once In a While"—James Darch (Cats and An Officer and a Gentleman tour) as dorky Brad are the sweet and naïf newly-engaged couple preyed upon by the outrageous hedonist Frank n Furter—London Road's Stephen Webb strutting and pouting superbly in pursuit of carnal pleasure—when stumbling upon a strange castle after their car springs a flat.
The raunchy Gothic nightmare fuses bad sci-fi and retro horror as mini Atlas with half a brain Rocky (Jake Small acting up with resident choreographer Andrew Ahern singing) is created and escapes; Nazi sympathiser and scientist Dr Scott (Ross Chisari) unmasks alien shenanigans while searching for biker Eddie (Chisari again); and, amidst cross-dressing and much undressing, the clean-cut innocents are crudely duped and Frank n Furter denounced.
Laura Harrison doubles up as the Usherette (a fab opening "Science Fiction—Double Feature" setting a high bar to meet) and Magenta; Kristian Lavercombe channels his inner O'Brien as Riff Raff (greatly helped by costume designer Sue Blane resurrecting her original costuming for Rocky Horror's stage and film) and Miracle Chance is at times garbled as the kooky Columbia.
Hugh Durrant's set is basic and versatile paying homage to the '50s flimsy scenery but leaving plenty of space for gyrating, high kicks and "Time Warping" as an accomplished company wows with strong renditions of the tremendous songs and iconic dance. Musical director George Carter's brilliant live band needs a bit of volume control as they occasionally drowned the singers, particularly when at the back of the stage, but who cares really when the music is that good?
Philip Franks is suave and urbane as the Narrator, with excellent timing and great control of the inevitable audience participation keeping the pace with apposite parries and plenty of local references. A tough job slickly executed.
All very grotesquely glorious.
Reviewer: Karen Bussell