Rocky Shock Horror
Devised with music & lyrics by Harry Humberstone, Emma Keaveney-Roys, James Newton, Katy Sobey, Tom Crosley-Thorne, Tom Brennan
The Wardrobe Theatre
Factory Theatre, Tobacco Factory Theatres, Bristol
–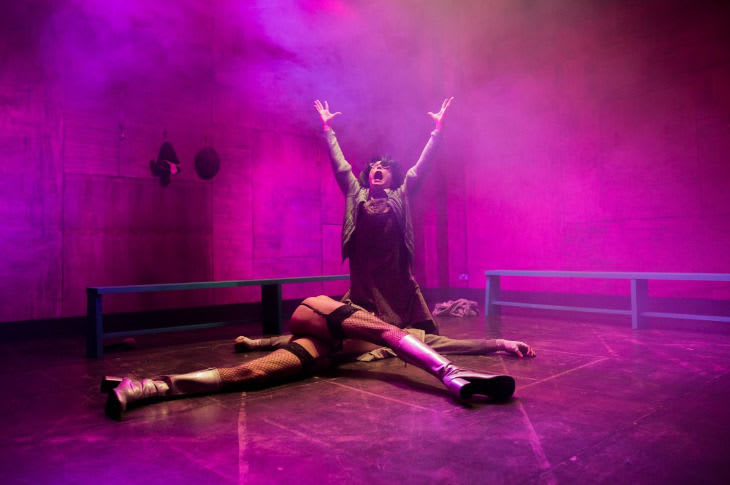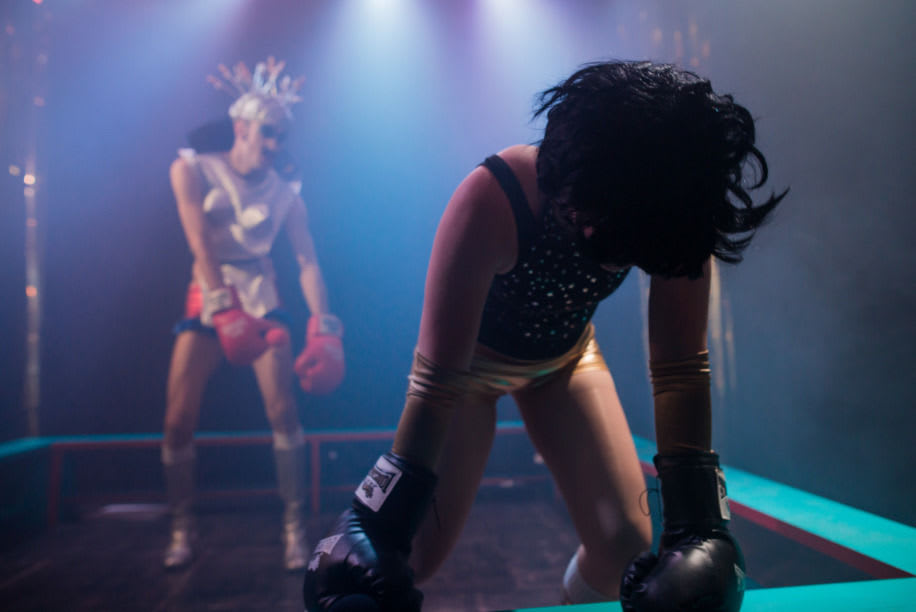 The Wardrobe Theatre's alternatively adult Christmas comedies have become something of a Bristolian institution over recent years, splicing together two popular genres with unlikely but hilarious results. They've previously bestowed Muppits Die Hard and Goldilock, Stock and Three Smoking Bears on an unsuspecting world.
Now, with Oedipuss in Boots about to open in their home venue, director Tom Brennan has revived 2016's hit Rocky Shock Horror with a new cast and a tour of the south of England, kicking off in the Tobacco Factory. This madcap musical charting the increasingly surreal exploits of Rocky Featherboa is about to reach a whole new audience.
The clue, as always, is in the title; the 1976 film starring Sylvester Stallone about a small-time boxer who takes on the fight of his life collides with Richard O'Brien's cult sci-fi parody The Rocky Horror Show. Down on his luck and low on self-esteem, Rocky's life is going nowhere. Even his coach Mickey berates him and his relationship with Adrian, the shy girl he loves, is faltering thanks to some Trump-style locker room advice about what girls like from best friend Paulie.
The touring four-strong cast may not have had a hand in the script's original devising, but they capture its spirit from the first; deliberately clunky and repetitive dialogue is tackled with comic overacting, dodgy Philadelphian accents and multi-rolling, gender-swapping verve.
There's plenty of potential for chaos, but the show is elevated by its constant flow of clever, exposition-filled songs, split-second timing and smart choreography. There's a riotous attempt at Thanksgiving, grappling with an over-sized turkey and an ingenious yet oddly poignant ice-dancing date in an abandoned skating rink. And when world heavyweight champion Apollo Creed materialises in flamboyantly unlikely boxing gear to issue his challenge, the storyline takes off into delightfully bonkers and risqué territory. For it's not only the fight of Rocky's life, he must take on a quest to save the whole of humanity…
Caitlin Campbell does an admirable job in the central role of Rocky, a gutsy but none-too-bright straight man with a good heart and a bad wig. Daniel Norford swerves between macho posturing (albeit in high heels) as Mickey and increasingly assertive femininity as Adrian, a heroine for the #MeToo generation. This is a woman in touch with her sexuality, taking what she wants when she wants it, once her coy veneer has been stripped away.
Kim Heron is a blur of dextrous physicality in the roles of Paulie and Riff-Raff, presiding over much of the action on roller skates. Meanwhile, Alex Roberts as Creed steals every millimetre of limelight whenever he appears; strutting about the stage and flirting with the audience, he's the outrageously over-the-top brazen drag-queen of boxing.
Maybe in the second half the storyline becomes too bizarre and unresolved, but it doesn't really matter, because the belly laughs keep on rolling. Rocky Shock Horror is the perfect antidote to traditional Christmas fare; a hugely enjoyable and audacious flashback to the seventies, with enough contemporary edge to keep its audience hooked.
Reviewer: Claire Hayes