The Rocky Horrror Show
Richard O'Brien
New Victoria Theatre, Woking, and touring
(2006)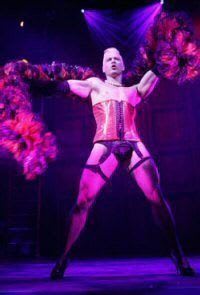 Who would have thought that a raunchy (and more than suggestive) show with outrageous costumes, first performed at the tiny Royal Court Upstairs theatre in 1973, would have such a huge impact on audiences for the next 30 thirty-odd years? Certainly not Richard O'Brien. "It started as a way for me to spend winter evenings when I was an out of work actor," says O'Brien. "It was the first thing I'd ever written, and to me it didn't even seem like writing – more like doing a crossword puzzle." However, on an initial budget of £2,000 it ran in London for seven years, attracting the late night glitterati of the time, before transferring to Los Angeles where it was again a success – even Elvis came to see it!
It was invented as a bit of fun – a rock and roll musical mixture of science fiction and B-movies - something to enjoy for a few weeks before moving on to pastures new. Instead it has become a cult, so beloved by its fans that they are able to quote whole sections of the script, word for word – and they do! The narrator (in this show Clive Mantle) is well used to the interruptions which have become part of the action and has the matter firmly in hand, skilfully steering the story safely back on track with his quick-fire responses
The story – if there is anyone who doesn't know it – is about a group of aliens from 'Transsexual Transylvania' (you get the picture already?) who are studying the ways of earthlings, and just by the way their master Frank'N'Furter happens to be making a man "in just seven days".
It all begins ingenuously enough where two young innocents, Brad and Jane, are attending a wedding. Janet catches the brides bouquet, does a lot of girly, flirty eyed hinting, and Brad proposes Meanwhile the 'phantoms' are lurking in the background watching - something sinister is about to happen, and it does.
On their way to visit an old friend and tutor, there is a tremendous thunderstorm and Brad's car breaks down, so they seek help at a convenient castle – and here begins a night "that they will remember for a very long time".
Suzanne Shaw is the young and innocent Janet – well innocent until she meets the wily Frank'N'Furter – and Brad is played by Matthew Cole who manages to look suitably 'nerdy' not only in his Y-fronts, but even when he gets to wear a basque and fishnets.
Frank'N'Furter is portrayed by David Bedella, fresh (if that's the word) from his role as Satan in Jerry Springer the Opera, followed by the BBC series Holby City. This man is nothing if not versatile – and he performs here with the extravagantly flamboyant confidence that the role demands, managing his five inch glittery platform shoes with panache.
Iain Davey is servant Riff-Raff – a role originally played by O'Brien – and he looks and sounds like the original. Julian Essex-Spurrier is Rocky, the athletic newly created man – and what a fine job Frank'n'Furter has done here – a superb body in his little gold knickers.
Music, provided by a five-piece band set high at the back of the stage, is great – if a little over-amplified – and splendidly sung by all participants.
People attending the show - or even the movie - expect to dress up in outrageous costumes (Oh yes I did!) and to join in the Time Warp dance (that too!). "Give yourself over to absolute pleasure – don't dream it – be it." Well, don't go too far – just enjoy!
This review was first published in Theatreworld Internet Magazine.
Peter Lathan reviewed this production in Newcastle and Louise Hill saw it at the Playhouse in London.
Reviewer: Sheila Connor