Rods and Cables
Written and Directed by Allison M. Keating
3-Legged Dog production
3LD Arts Center, New York City
(2009)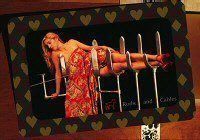 While absurdism and free association have their place in theatre, it's frustrating when the terms become excuses for laziness and self-indulgence. Allison M. Keating's Rods and Cables claims to be wild, vulgar and cartoonish, but its amateurish attempts to shock come nowhere near productions like Mike McShane's Fatboy, although there is a similar aesthetic at play.
The massive team of designers has done well in creating a world where the visual elements - props, costumes, makeup, set - evoke a unified, circus-like sphere of being, and as The Little Man in the Big Suit, Jason Linder gives the sole sympathetic performance. Interjected video projections offer nothing to round out the content of the production, and, at the close of this ninety minute demonstration of mental, verbal, physical, and metaphorical masturbation, there is nothing to redeem Rods and Cables beyond a free glass of vino at its outset and the comfort of knowing that only a dozen or so audience members were subjected to the undeserving mediocrity of the production.
One wonders what Keating was attempting to communicate - the tale, which begins with a woman (Lucille Duncan) with a steel rod shoved up her vagina, leads to the extraction of 'a sultry flight attendant' (Jessie Paddock) who emerges in childlike nakedness only to be, several scenes later, raped by that woman's former lover, a perverted clown (Joshua Koehn) with overtones of a paedophiliac bent. Through all this, narration or stage direction fails to bring any illumination to a script which desperately needs it.
Absurdism is, despite appearances, not something easy to do well. Keating's strung-together snippets of horror show faux-psychology offer no illumination of the human condition, nor do they shine a light on audience members' relationships. About fifteen minutes in, I suspected there would be little to redeem a production which carries no higher message and is completely at odds with the delicate whimsicality of the booklet, drinks and donuts given to the audience at the outset, and neither Keating nor her performers ever managed to prove me wrong - however much I wished they would. This was one production where I wished I had paid for my ticket (although even the fifteen dollar student special seems like a gross misjudgment of value for money), simply to have had the option to walk out.
Reviewer: Rachel Lynn Brody