Roma and the Flannelettes: A Love Like Yours
Richard Cameron
Theatre by the Lake, Keswick
–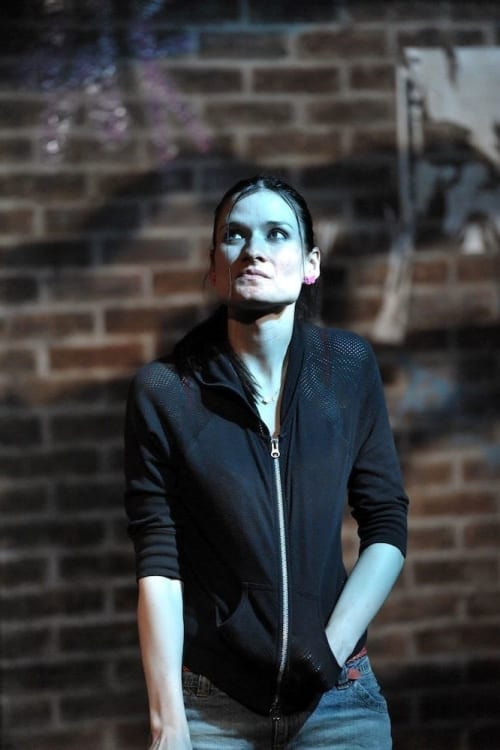 This year's world première in Theatre by the Lake's summer season happens to also be this year's musical piece, but, unusually, this play with music is performed in the studio rather than the main house.
But then the title is a little misleading as it seems to suggest something upbeat and up-tempo with lots of singing and it starts exactly like this, but then it becomes a much more serious piece of drama and the singing less a part of it. In fact, the concert that the songs are being rehearsed for is a classic example of what used to be known in Hollywood as a "MacGuffin": an apparently important goal for the characters that doesn't really relate to the real goals of the plot. As such, it works quite well.
The play is set in a women's refuge in a former pit village in South Yorkshire run by Brenda, helped a lot by George, the only man who is granted free access to the premises. Jean is a resident who ran away from her violent husband after many years and is being kept away from her stepdaughter's wedding as a result. Delie is Brenda's niece who is physically an adult but exhibits the behaviour and innocence of a hyperactive young child and has come to stay to give her mother a break. Jim is the local community policeman, but it seems that an adulterous affair with Brenda has turned sour, threatening their working relationship.
Roma lives locally in a caravan on the site where her dream home is about to be built, but her partner Dean is involved in criminal activities and she requires the services of the refuge later in the play.
This is, at times, a very powerful piece that doesn't remotely shy away from the issues involved in this situation or look for easy answers. Quite the reverse; Cameron collides with these issues head-on with some heated debates about how to deal with an abused woman who wants to go back to her husband, what the police should or can do to help and a great deal more that are never resolved and so leave the audience to debate them afterwards as in the best political theatre.
There are some powerful performances to match the issues. Central to the play is Jessica Ellis's exhausting, whirlwind portrayal of Delie, who has some really touching scenes with Roma, very sensitively played by Augustina Seymour in a relatively small role for a title character. Nicky Goldie holds everything together well as Brenda, and Louise Yates develops the character of Jean from the nervy person at the start to someone with the confidence to offer ill-judged advice later. Stephen Aintree is great as the avuncular George and Philip Rham is a little shifty as policeman Jim.
While a bit overlong and in need of trimming in parts, this is a genuinely adult piece of theatre that leaves the audience with some very interesting issues to think about and debate and well worth seeing if you are passing through Keswick this summer,
Reviewer: David Chadderton