My Romantic History
D C Jackson
A Bush Theatre and Sheffield Theatres Co-Production in association with Birmingham Repertory Theatre Company
Crucible Studio Theatre, Sheffield
(2010)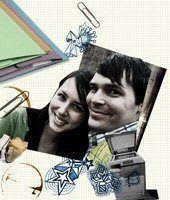 'If you haven't met someone by the time you graduate, you're going to marry some idiot from your work. It's that simple. Do you know how they get animals to breed in captivity? They put them in the same cage'.
In D C Jackson's witty and well constructed My Romantic History the 'cage' in question is a contemporary office. After a drunken evening at the end of his first week, Tom falls into bed with Amy, and can't wait to extricate himself from a casual relationship. Amy is less than thrilled by the encounter but wants it to turn into something more permanent. Does this sound familiar? Entertainingly, Jackson contrasts the relatively polite exchanges between the couple, with their honest thoughts, which are directed to the audience. Tom has 'never met a girl I couldn't make chuck me', and Amy is appalled at the thought of spending a night in his stinking flat.
The complicating factor is that each retains a romanticised memory of a teenage love: Tom deeply desiring but being constantly rejected by Alison Hamilton; and Amy, thrilled that Calvin Kennedy tattooed her name somewhere on his body (not too sure where after 20 years) but then went off with somebody else. This was all immensely enjoyable for the first hour or so in an uninterrupted performance, but I was beginning to wonder where it was going. The vitality (and coarseness) of the writing is reminiscent of Orton at his best, but without the bite. Although billed as a non rom com, the final scene struck me as a bit Mills and Booney. Into the sunset with the possibility of a restored relationship!
Director Lyndsey Turner is a welcome addition to the staff of Sheffield Theatres after her successful time at The Royal Court and her recent Alice. Though any long term follower of the RSC is used to the adaptability of boxes, I was really impressed by the way Turner had broken the rules and pushed this on. So, the cardboard boxes, which mainly constituted the set, were receptacles in which items could be dumped, and receptacles from which items could appear. I really liked the way half a glass of Guinness and a glass of wine could disappear into a filing cabinet and emerge later untouched. This helped enormously with the pace of the production, but must have presented a challenge for the actors who were already multi-tasking in a variety of roles.
Splendid performances from the three actors: Alison O'Donnell as Amy, Iain Robertson as Tom and Rosalind Sydney as Sasha. Iain Roberston has rightly won acclaim for this performance and for earlier ones: he is an energetic, charismatic actor with a superb voice. Alison O'Donnell strongly counterbalanced his male take on the situation with a strong and intelligent performance. Rosalind Sydney was remarkable in a plethora of roles (several male), each well and individually delineated.
"My Romantic History" continues at the Crucible Studio Theatre until 2nd October.
Howard Loxton reviewed it at the Bush Theatre
Reviewer: Velda Harris