Romantics Anonymous
Emma Rice based on the original screenplay by Jean-Pierre Ameris and Philippe Blasband
Wise Children
Bristol Old Vic
–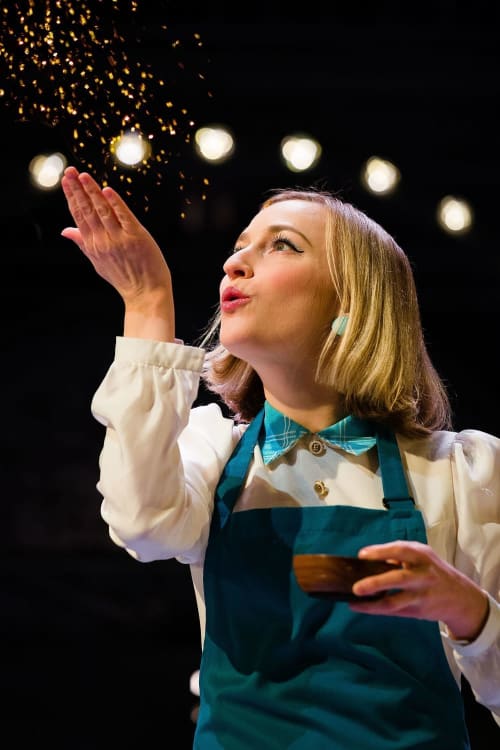 It isn't often you get a play, let alone a musical, about life's misfits. Emma Rice's Romantics Anonymous is an adaptation of the 2010 French film, Les Ēmotifs Anonymes. This light-hearted musical version tells the story of a cripplingly shy young couple who need to either overcome their deepest anxieties or go through life alone without ever knowing their potential for love or the possibilities in their own lives.
Overwhelmed by her gregarious and avariciously promiscuous mother, Angélique (Carly Bawden) is so pathologically shy she faints if she is even asked to speak in a room of people. A gifted chocolate maker, she is taken under the wing of the avuncular Mr Mercier who sells her chocolates but agrees to keep her identity secret despite the growing reputation of her confectionary.
The chronically awkward Jean-René (Marc Antolin) runs the family chocolate business he inherited from his defeatist and risk-averse, deceased father. The business is not keeping up with the times and is fast heading towards bankruptcy. The loyal staff know the writing is on the wall unless something is done fast but they fail to make themselves understood to their boss as he keeps himself shut away in his office.
But crises for both Angélique and Jean-René loom when the avuncular Mercier dies and Jean-René's family business finally loses its last customer. Both are forced to confront their anxieties—each choosing a different route. Angélique seeks support in group therapy meetings. Comically surrounded by stereotypes across the entire cross spectrum of social awkwardness—from train-spotting anorak types to thick-rimmed computer geeks—when it is her turn to introduce herself to the group she opens her mouth—and faints. Jean-René meanwhile becomes ever more reclusive as he resorts to idiotic self-help tapes, shutting himself off even more from his staff, knocking at his door.
All this is punctuated by some whimsical musical numbers composed by Michel Kooman with lyrics by Christopher Dimmond. It is a light-hearted musical evening but nevertheless manages to be both funny in moments and heartbreakingly sad. The possibility of the couple finally getting together feels as fragile and delicate as the flavours used to nuance the taste of the chocolates themselves.
Where this production excels is in Emma Rice's use of the carefully crafted ensemble and choreographed musical pieces. The achingly timid couple are nudged along the path to happiness by the strong support cast of Brett Brown, Me'sha Bryan, Harry Hepple, Sandra Marvin, Laura Jane Matthewson, Craig Pinder and Gareth Snook. Together with Bawden and Antolin, this superb cast sing and dance their way through the evening choreographed by Etta Murfitt. Lez Brotherston's set gives the whole a Parisian Belle Epoque, chocolate box feel and clever use of space gives the live band, playing throughout, an elevated position on the café balcony above the action.
It is all delightful. But it is achingly thin. So much potential from so many strong secondary characters and subplots which could add more humour, tension, texture and depth to the evening are completely bypassed. We end up going from being introduced to the main characters to finding out what happens in a straight line with nothing else to draw our attention and never any doubt about the ending.
Nevertheless, Rice gives us reason to celebrate life's most unlikely heroes. Pathologically crushed by fear, this couple are an inspiration, despite their sweaty hands and arm pits.
Reviewer: Joan Phillips