Romantics Anonymous
Book Emma Rice, original screenwriters Jean-Pierre Améris, Philippe Blasband, lyricist Christopher Dimond and composer Michael Kooman
Globe Theatre
Sam Wanamaker Playhouse, Shakespeare's Globe
–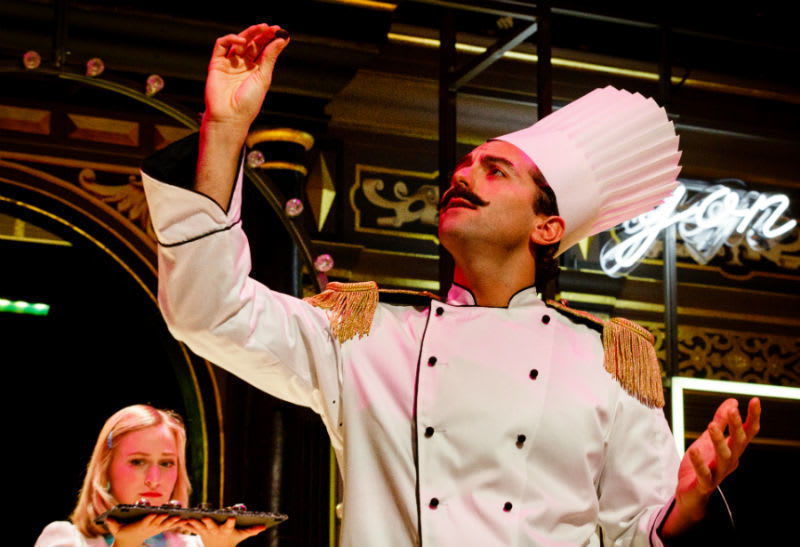 There is "magic" chocolate to open the musical Romantics Anonymous.
Every member of the audience gets a piece, and on a signal from a cast member they eat the chocolate changing instantly something in the show.
It's a small joke in a show that takes the original story of the 2010 French/Belgian film Les Émotifs Anonymes, adds over sixty minutes to its seventy-seven minute running time and turns up the volume with more songs, a few dances and a modified car chase.
This is the tale of timid people too shy to take their rightful place in the world.
Angelique (Carly Bawden) makes exciting chocolate but can't sell it because she is so timid she is likely to faint if people simply look at her. It's a problem she tries to deal with by attending the "Les émotifs anonymes" support group.
Jean-René (Dominic Marsh) is the boss of a local chocolate factory who also has a problem of timidity. He tries to hide away in his office, daily meditating with a self-help tape that gets him to repeat the words "I am at peace. I am strong and stable." (That got a big laugh.)
Getting a job at the factory, Angelique soon realises its chocolate is too traditional and dull. When the place is threatened with closure for lack of sales, she is faced with a dilemma. Can she reveal her brilliant recipes to save the factory?
Emma Rice has swapped the usual mass of expensive candles in the Wanamaker for an electric multi-light signage design, but the show itself is decidedly old fashioned.
It belongs to a more innocent age. The songs are light, the lyrics and sound used simply to emphasise dramatised scenes.
The dance routines are sometimes reminiscent of those early Hollywood movies but with none of their subversive wit.
The humour harks back to English television comedy as the boss tries to overcome his timidity by attempting to touch his workers, and take a new female employee out to dinner. Such things don't sit easily with the post-Weinstein revelations.
The entertaining dance routine of a group of cast members wearing striped sweaters and berets dragging out a double bed during the enjoyable song "Don't Think About Love" does remind us of the show's French source even if we have never seen a French person wearing such clothes outside of English situation comedy.
But none of this is meant to be taken seriously. This is an innocent story of romance overcoming the paralysis of timidity, saving a factory and raising everyone's spirits.
And if that isn't enough, there is the chocolate—which really does taste good.
Reviewer: Keith Mckenna