Romeo and Juliet
William Shakespeare
Icarus Theatre Collective and Kings Theatre, Southsea
Georgian Theatre Royal, Richmond, North Yorkshire
–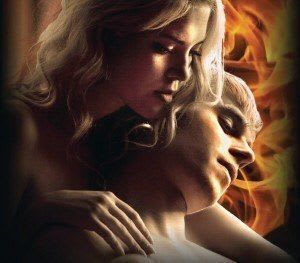 It's so nice to see a company concentrating on Shakespeare's text rather than doing contemporary interpretations in modern dress. Max Lewendel's careful direction makes perfect sense of the tricky text, finding as much humour as possible in the early comic scenes. He keeps his actors on the move, each with purpose and justified intention.
All the actors in this production have a vibrant energy. Most are fresh from drama school with the polish of talent untarnished and shining like new silver. I hadn't realised how much sex Shakespeare had hidden in this love story, but Lewendel has found every reference, plus a few extra inventions of his own; elaborating each citation with the blade of a sword or the grasp of a groin.
The fight scenes between Mercutio and Tybalt are extraordinary, especially so when you take into account the shoe-box sized stage and the length of an Elizabethan longsword. I was indeed very close to the cut and thrust sitting in the Coleman Box, which is almost on the stage. The company had already thought about this fact as they'd kindly left a message for me at the box-office. I wasn't to worry about the fight scenes, they advised, although they looked scary; they were confident that I wouldn't need to have an ambulance on stand by.
I particularly liked David McLaughlin's quick-witted, skittish performance of the anti-romantic, Mercutio. It's such a shame has to die so early in the plot, his death marking the turning point when tragedy begins to overwhelm the comic aspects of the story.
Kaiden Dubois lends melancholy to Romeo's poetic, adolescent character, the lust for love in his eyes is far greater than his desire to be part of the family feud. Katrina Gibson gives a delicate childlike performance as Juliet, who is, after all, supposed to be just 13 years old when she falls in love with Romeo.
I did like the traditional touch when Friar Laurence marries the two star-struck lovers as he uses a cord to bind them together, literally and emotionally tying the knot.
Gemma Barrett's Nurse is overflowing with exuberance, each entrance full of brilliant breathless angst, and her passion for the lewd and sexual is played with great comic timing.
There is so much to like about this production, so many little things like the crosses on Romeo's shoes, Lady Capulet's fabulously complex plaited hair and Friar Laurence's pince-nez reading glasses but what is very special is the lighting. And since Romeo doesn't appear to like the light, preferring to do most of his love sworn deeds in the dark, lighting designer Zachary Holton has used the dimmer to great effect. He's found a ticklish quality of light to dress the stage with the colour of autumn; his morning rays of daybreak sunshine mingle with effective smoke to make for a good deal of magic to surround the final death scene. As if that's not enough Holton also plays Lord Capulet with great presence and is the company stage manager too.
As comedy turns to tragedy, there's blood, plenty of real red stuff, punctuating the death of Mercutio and his rival Tybalt (a rather gorgeous smokey eyed Gabrielle Dempsey). The vial of poison turned out to be a bottle of turquoise liquid, a rose perhaps in disguise that Juliet fondled for quite some time before she succumbed to drink.
The death-marked pair cannot survive the play, a double suicide being the most dramatic death for ones so young and so newly in love. Excellent.
Reviewer: Helen Brown