Romeo and Juliet
William Shakespeare
Feelgood Theatre
Heaton Park
–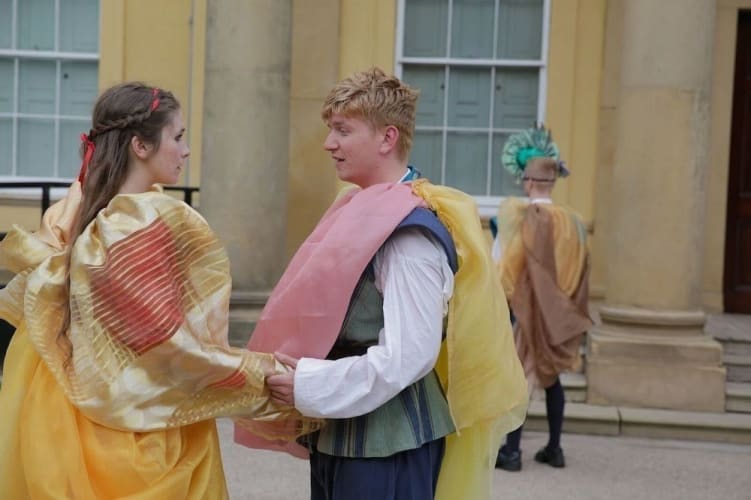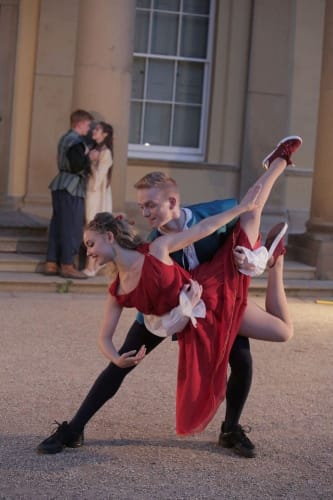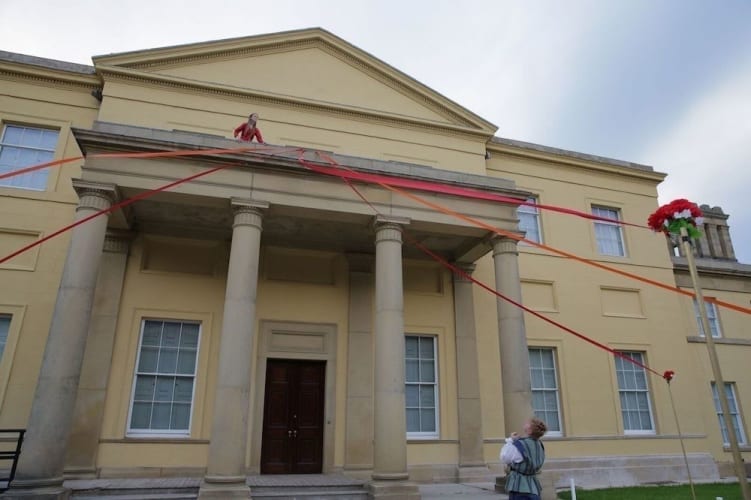 As Feelgood rapidly approaches its silver anniversary, the company's annual outdoor Shakespeare production in Heaton Park, now an established fixture in the Manchester theatrical calendar after 20 years, was blessed with unusually dry weather for its press night.
The production takes place in the beautiful surroundings of Heaton Hall and the surrounding parkland which provides, from its high location, panoramic views across to the Pennines on a clear moonlit night such as this one. There is a bit of walking to do between scenes, but not often so you can settle for a while—some audience members bring mats or folding chairs to sit on, whereas others prefer to stand unencumbered by luggage.
Director Caroline Clegg's interpretation of the well-known tale of woe has some very interesting little twists, but they tend to promise more than they deliver. An opening scene has been added in which a modern young man encounters a group of people who, it is casually suggested, are ghosts who put on plays—and they happen to need a young man to play Romeo. An intriguing play-within-a-play idea that Shakespeare himself used, but it isn't carried through and we never return to the ghostly players.
The opening scene of the play proper is a cut-up version of the script, with the famous words of the prologue mixed in with the dialogue from the first scene of combat between the two families. This gives it a lively, jarring, unpredictable feel that works well, but again this doesn't carry over to the rest of the play, which is pretty conventional other than its promenade staging and the inclusion of a couple of dancing doubles of Romeo and Juliet (Kezia Coulson and Ryan Upton) who appear only rarely.
The script has also been localised, so that Romeo is banished from Heaton, which isn't actually a place, and hangs out in Manchester, just down the road—Shakespeare didn't have him banished from Southwark, preferring the exoticism of distant Verona, so this seems odd and sometimes comes across as funny.
However Clegg utilises a location she knows very well to the full, as she leads the audience around the hall, through the woods and finally through a lovely tableau in the building itself to the final moonlit scene and firework finale. The balcony scene can have rarely been staged with such a large vertical distance between the lovers, Juliet looking down from top of the grand Palladian entrance to the building to Romeo on the ground. She has also used well the natural acoustics of the location, so that the well-spoken verse is always clearly heard.
The non-dancing lovers are played very effectively by Ned Cooper, in an impressive professional debut, and Nia Coleman, who not only gives a good acting performance but also has a strong operatic soprano singing voice. Toby Hadoke's Scottish Friar is a self-flagellating Yoda-like mentor to Romeo, toughening him up through fighting at least as much as looking after his spiritual wellbeing. Nicola Jayne Ingram brings the spirit of the fussy but caring northern working class woman to the Nurse.
A couple of the characters have been made female—Sophie Coward as Benvolio and Sylvia Arnold as Montague—and the songs range from Gounod and Fauré to Elbow and Liam Gallagher, but otherwise there are few surprises after the first scene. The total running time is a good three hours, but, while some scenes do feel longer than necessary, the lead up to the ending has been accelerated, with Romeo learning of Juliet's 'death' from Balthazar through some brief shouted dialogue in the dark and no apothecary scene.
The whole thing is achieved as slickly as you'd expect from a company—and a director—that has been doing this sort of thing for two decades. There were plenty of families in attendance on press night with quite young children who seemed very attentive for most of the time.
So if you fancy taking the family with a picnic to the park for evening out in the warm weather (*not guaranteed) with some well-performed Shakespeare, this is your ideal ticket.
Reviewer: David Chadderton