Romeo and Juliet unzipped
Mark Powell
Salisbury Playhouse Bare Bones
Salisbury Playhouse
–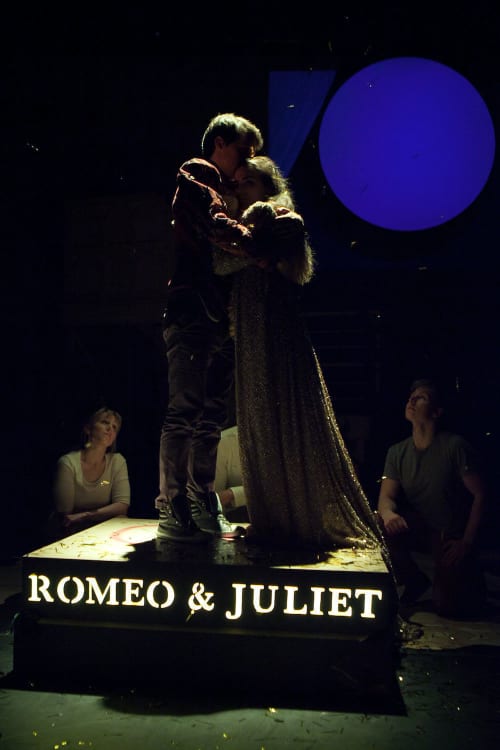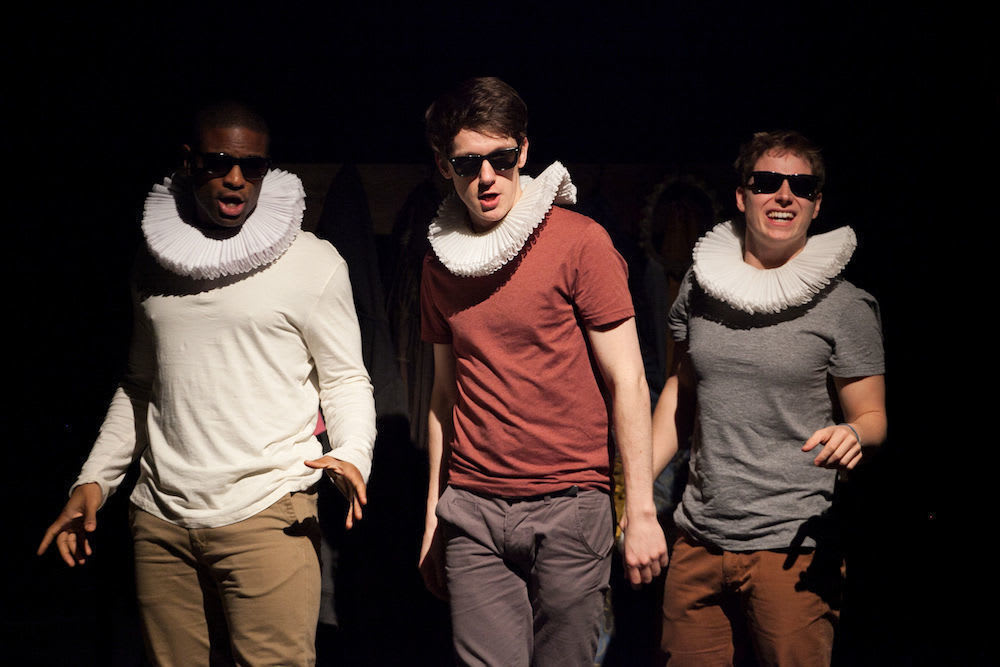 It goes without saying that this isn't your conventional R & J.
For one thing, there's no low buzz of conversation as you enter the Salberg, the Playhouse's studio theatre, because the seats are empty and the acting space is filled with the audience—mostly teenagers—warming up noisily under the direction of the cast. And the workshop atmosphere is reinforced by the two long racks of costumes at either side of the acting area. With only five actors and multiple costume changes this is going to be a pacy production.
Mark Powell, the writer and director, knows his Shakespeare (Mastering Macbeth and Taming the Tempest) and his work with the Playhouse's Stage 65 youth group means that he also knows how to inspire and motivate youngsters.
There's a balcony of course, with steps up, although the word balcony is never actually used in the play. (We're treated to little snippets of information like this throughout, the narrative being supplied by various means including readings from tabloid newspapers.)
Then there's a tree, a small platform just big enough to hold a couple of corpses and a large shining moon, also used for giving information. At the start it's used to display the image from the publicity material of a young man's fingers and thumbs arranged in the shape of a heart and pointing downwards towards... well, the title's a bit of a giveaway, I suppose. It's only a couple of inches or so but the meaning's pretty explicit. Yes, guys, this play's seriously sexy.
It's also seriously funny.
The play opens, unusually, with our hero and heroine already dead, police sirens screaming and crime scene tape in place. So how did they die? In just over an hour they romp through the whole story, with their cast of five.
Stephan Boyce, Francesca Binefa, Abigail Hood, Mark Donald and David Marken swap roles, interact and flirt with the audience and don doublets and ruffs at breakneck speed. The wedding scene takes all of three seconds from start to finish, although the nurse is given extra time. In fact there are two nurses, one motherly, the other unsympathetic, verging on bitchy.
Same dialogue but which was the real one? And was Mercutio gay? So many things to ponder in this clever and thought-provoking production.
I suspect that, for a lot of the youngsters at this performance, their experience of the orthodox Romeo and Juliet is still in the future. So, will this pared down version spoil their exposure to the real thing? Quite the reverse, I believe.
And if there are still those who think, like UA Fanthorpe's disillusioned teenager in Dear Mr Lee, that Shakespeare's a national disaster, please can they be steered towards Romeo and Juliet Unzipped? They'll gain insight and knowledge, enjoy a lot of laughs and, perhaps, even shed a tear as well.
And when someone says, at some future time, "Romeo and Juliet's on at the theatre. Anyone want to come?" no one—but no one—who's been at the Salberg tonight will groan.
Reviewer: Anne Hill