Romeo and Juliet
William Shakespeare
Hull Truck Theatre Company
[email protected]
–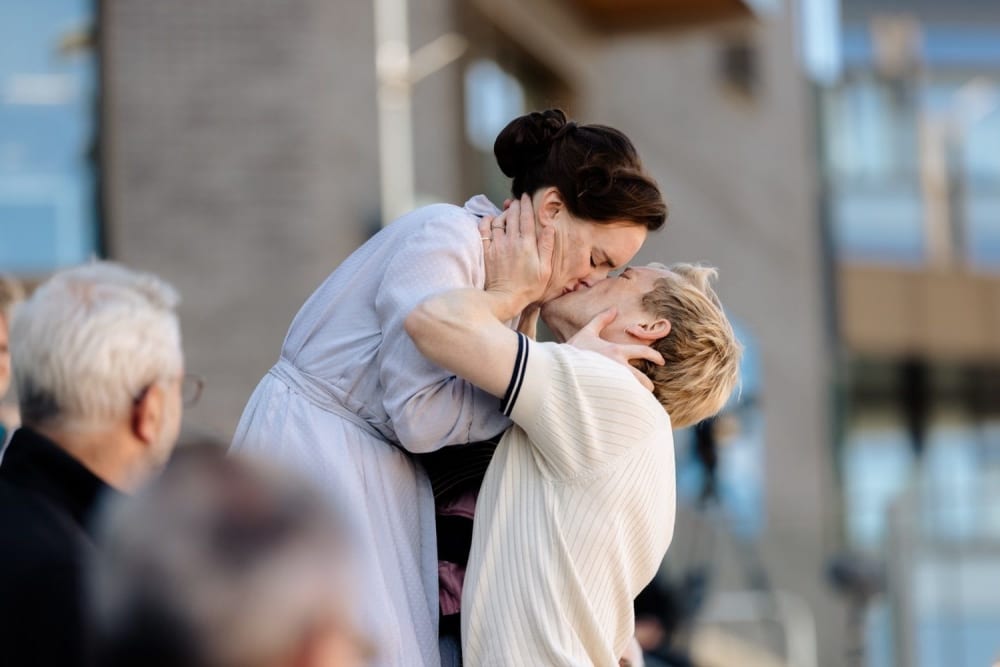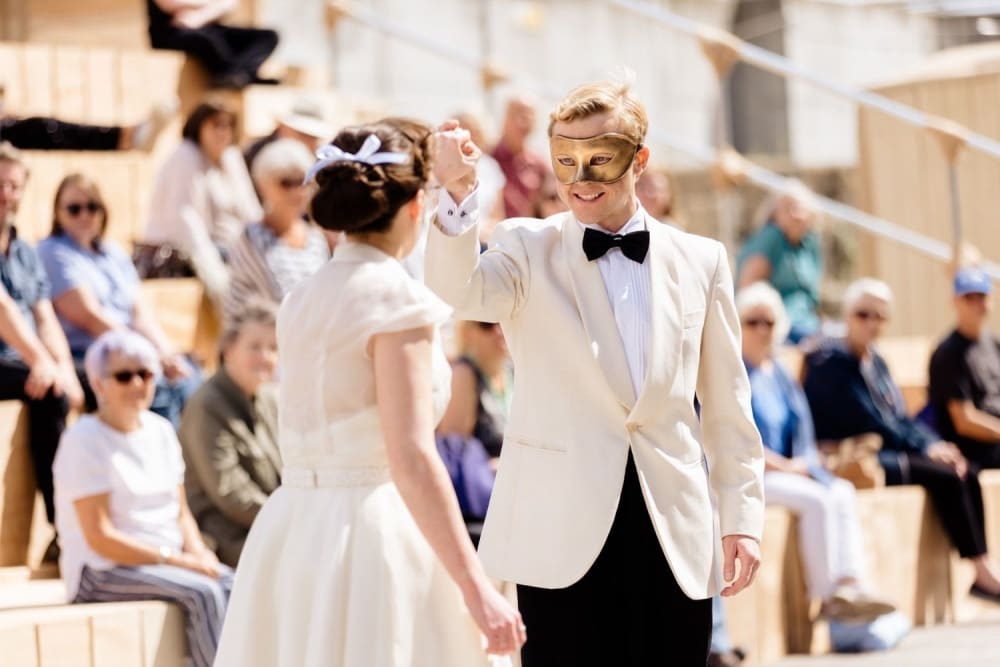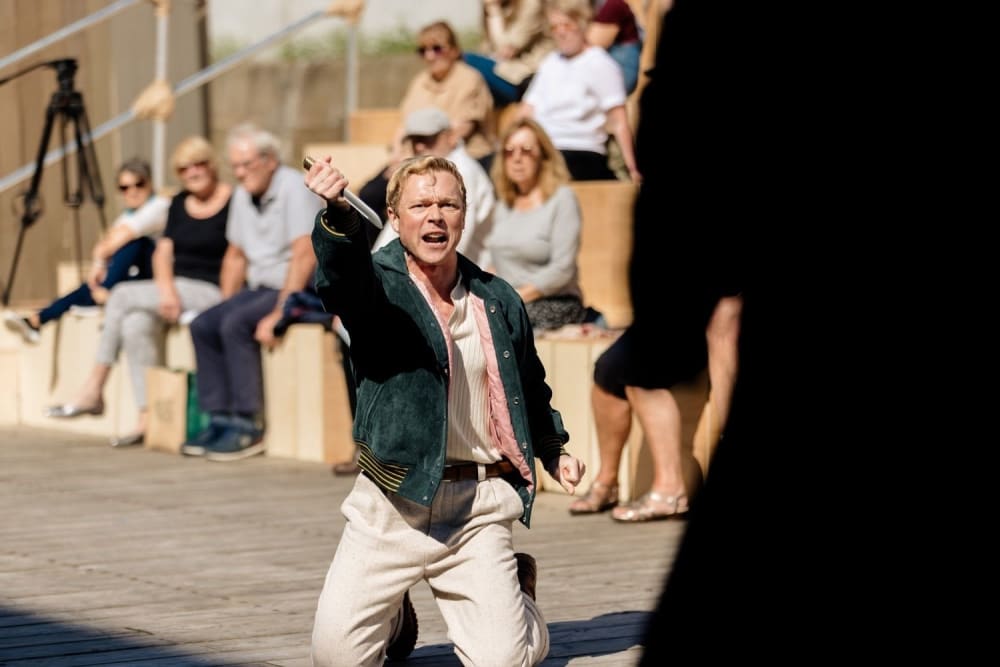 Hull Truck Theatre welcomed audiences back with their Homecoming season of three one person shows, each with a short run, but this major new production of Romeo and Juliet staged outdoors at the Dock marks their return proper.
If you had to choose the most famous play in the world, I guess it would be a toss-up between this eternal tale of star-crossed lovers and the one about the Danish malcontent stomping around the battlements of Elsinore whilst his entirely reasonable uncle attempts to get on with the business of government. Romeo and Juliet, set in a stifling and violent Verona, more suits a summer rendition, especially during a July heatwave.
Intriguingly, Mark Babych's energetic and resourceful production uses a real husband and wife team of Jordan Metcalfe and Laura Elsworthy as the eponymous duo, so the potential farce of a socially distanced pair of lovers was avoided; I don't think even the most tantrically inclined spatial awareness would work on a stage, but if anyone has had a positive experience…?
Realised in a traverse staging, Babych's production emphasises the dynamic of street brawls, skilfully choreographed by fight director Kenan Ali, creating a Verona of dirty knife fights rather than honourable duelling. Antagonists Tybalt (Laurie Jamieson who is also superb as Friar Lawrence) and Mercutio (Richard McIver making his UK stage debut) spar with a sense of menace, allowing the testosterone-fuelled horseplay to build to a compellingly murderous climax. McIver also deserves considerable credit for making the most famously boring character in Shakespeare (County Paris) genuinely sympathetic. Important to mention too Em Williams, who gives far more attitude and character to the rather dull Benvolio than is often the case. The chemistry between the friends is a central strength of the production.
In truth, however, there is a downside to this 'distanced' production. Such a large arena was crying out for a larger company, especially during the Capulet Ball and when the Prince (Nicholas Goode, also the composer) condemns the endless civil disruption of the families of Montague (Amanda Gordon—also excellent as The Nurse) and a ruthlessly lethal Capulet (Carolyn Backhouse). The talented cast work hard to overcome what at times seems like a lack of a 'centre' to the production, but those 'big company' moments don't come off with the tension or solemnity that's needed.
The greatest strength of this production, however, is its irreverence. Far too often, actors rendering Shakespeare fall into the fearful trap of speaking beautifully at the cost of character and credibility. Not here, however. It doesn't matter how many times I've seen this play or that the plot has more holes than a string vest, it always 'gets' me at the end. But this time it 'got' me earlier—in the balcony scene, to be precise. The youthful exuberance of the two leads is unfiltered, naïve and preempts none of the tragedy to come. Juliet's rejection of Romeo's swearing on the moon is a moment of pure joy (I kid you not, Laura Elsworthy manages to get two syllables out of the word 'moon' when she expostulates in fluent Hull "Swear not by the Mooo-on the inconstant Mooo-on" in genuine outrage). If Jordan Metcalfe's Romeo lacks strength in the earlier scenes, he makes up for it in his genuinely touching journey from immature adolescent to heartbroken and vengeful husband at the play's climax.
Laura Elsworthy is one of the most successful actors out of Hull from her generation and it's not hard to see why. This was a Juliet of the 21st century: cheeky, questioning, passionate, emotional, indignant, courageous and, ultimately, an angry young woman prepared to sacrifice herself in the name of love. There are many reasons audiences should support this production, her performance is the most compelling.
Reviewer: Richard Vergette